Tomorrow's World
The robot revolution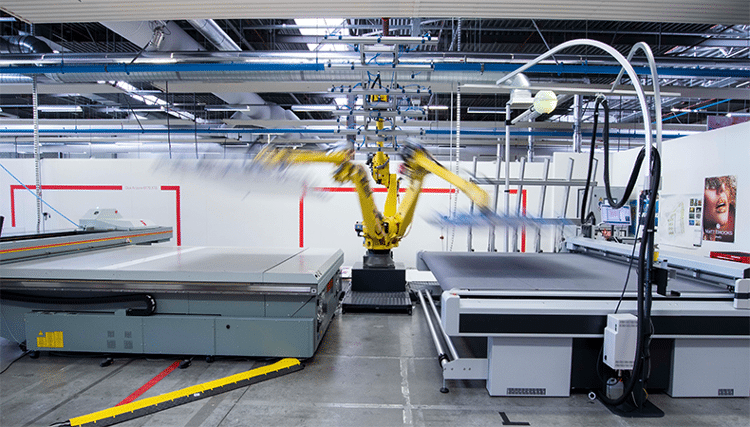 Will the rise of robotics destroy print jobs or open new horizons?
For years, Hollywood movie directors have been filling our minds with all of the incredible things we can expect from robots. Ranging from the helpfulness of the human-like machines in I, Robot with Will Smith, through to the not-too-positive actions of the Terminator in Arnold Schwarzenegger's film of the same name, it appears robots can be programmed to carry out all sorts of roles.

Some of the leading manufacturers in the print industry are seemingly behind this revolution, integrating robotics with their printing technology. Although we are not quite at the stage where you can employ an entire workforce of robots to carry out printing tasks, the kit that staff work with is increasingly utilising robotics.

But what does this mean for both printers and their staff? Does the increased use of robots threaten the position of some employees and do PSPs risk being left behind if they do not embrace new technology?
Why should you "do the robot"?
Robots may certainly sound and look impressive, but what specific benefits can they offer to the printer? Stefanie Schumann, European Product Specialist DGS, Industrial and Production Solutions at Canon Europe, says automation is key in the modern print market and PSPs must realise this if they are to remain both competitive and successful.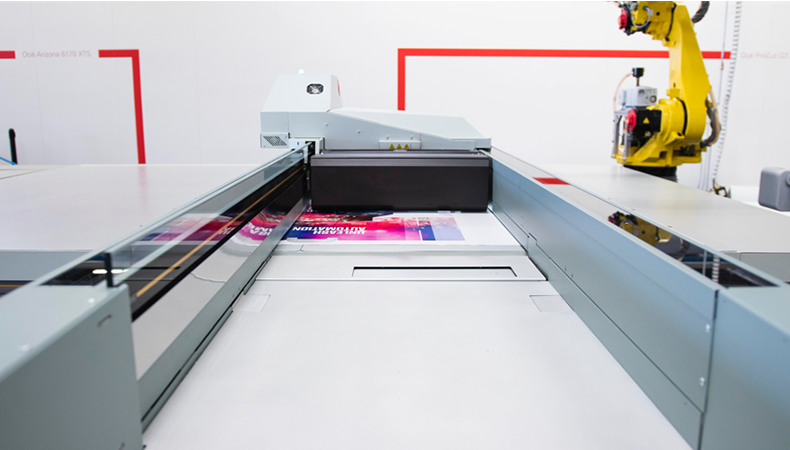 Canon explains that robots can help ease the strain on human workers
and work through the night
Schumann said that robots can be used for labour-intensive short-run jobs more efficiently, meaning staff are freed up for more interesting work that requires human creativity and adds value to the business.

She said: "PSPs are most likely to operate complex workflows that include pre-press, finishing, packing and delivery as well as the actual print process, and by integrating robotic co-workers into the line, they can operate for longer – in some cases 24/7."

Chris Logan, Director of Product Management for digital finishing at Esko, is very much of the same view, pointing out that a number of significant trends are impacting printers, meaning robotics and automation in general are coming to the fore in their investment planning.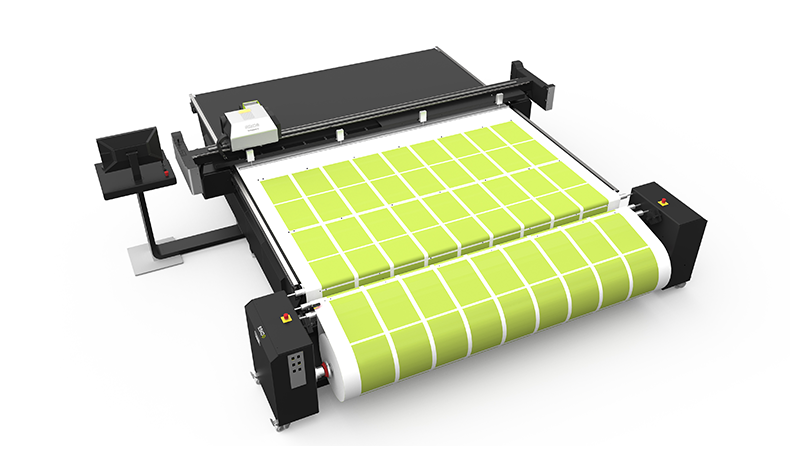 Esko is embracing robotics technology, integrating a Motorised Roll Feeder with its Kongsberg digital cutting table range

Logan said increasing business globalisation means that printers are no longer competing on a local or national scale, but having to respond to an international marketplace, which in turn increases labour costs – and robotics can help with such costs. Another concern is an increase in production complexity, shorter run lengths and faster turnaround times as a result.

With this in mind, Logan said that as more printers seek automation solutions to drive their business, robotics can help solve modern challenges.

He said: "Our current view is that the penetration of robotics is fairly limited in general today in the print market. However, as labour issues impact on US and European converters in particular, we are likely to see an acceleration of their adoption, similar to say the automotive or electronics manufacturing sectors."
Practising what you preach
Having established that robots can help boost efficiency, next up is to consider exactly how they can assist the printer: i.e. what can they actually do? Logan said Esko has observed a range of low value-added or heavy activities turning to robotic options.
Robotics should mean improved quality of jobs and satisfaction for employees, rather than a low-skilled or declining workforce
Examples include material handling throughout the print workflow, stacking or placing of products pre- or post-printing, as well as internal movement of product through to packing, palletising and shipping. Logan said an additional benefit of this is the data capture coming back from automation solutions bringing "huge value" in understanding the business, workflow and bottlenecks.

Chris Logan, Director of Product Management for digital finishing at Esko, said that when supported by appropriate retraining and investment, robotics can help improve quality of jobs and satisfaction for human employees
Logan said: "Printers are recognising the ability to integrate and connect their entire print workflow from design to finish, to bring about quality, efficiency and long-term cost competitiveness, as well as service differentiation."

Canon's Schumann agrees, saying the increased ability of robots to identify and handle different kinds of media like paper or carton board creates more opportunities for use in printing lines. She added that robots are reliable and can perform unattended as part of a workflow with defined tasks.

Schumann said: "They can take care of a range of work, mainly repetitive tasks such as picking, packing and sorting, or airing and separating sheets. They can also perform heavy manual tasks such as lifting huge rolls and pallets of paper. This takes the strain off human employees, and because robots don't have to work shifts, they enable printers to operate overnight with ease."

Debbie Thorp, Business Development Director at software specialist Global Inkjet Systems (GIS), said the company is taking this a step further by using robotics to inkjet print (and coat) directly onto complex 3D objects, particularly industrial parts.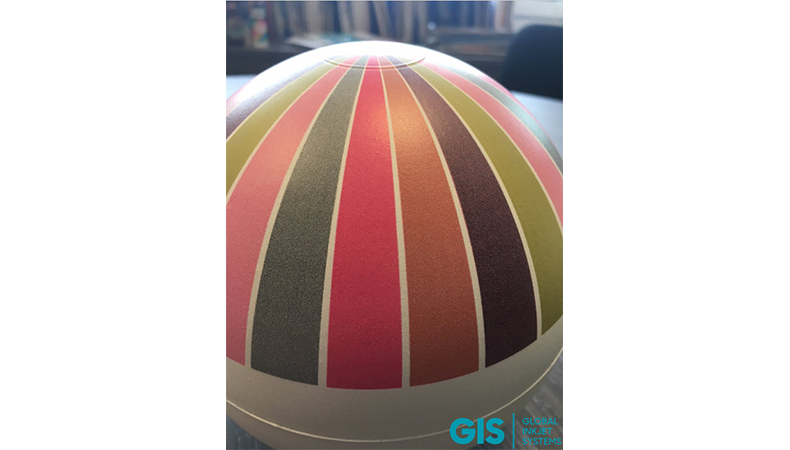 Software specialist Global Inkjet Systems is focusing on using robotics to inkjet print directly onto complex 3D objects, particularly industrial parts
Thorp said: "Depending on the application or object, these items are currently decorated or coated using screen, stencil, pad, float graphics or spray technologies."
Stretching the boundaries
Heavy labour tasks appear to be the main focus for robotics, but as demonstrated by Thorp and GIS, there is potential to take this much further.

Thorp said there are already examples of inkjet being used to replace spray coating on injection moulded parts – which can reduce fluid waste and VOC emissions by over 70% – and GIS is developing the workflow and software to implement inkjet printing onto these complex shaped objects.

Thorp said: "We create print paths that take into account the constraints of the object to be printed, the inkjet printhead, the capability of the robot – and through intelligent image management apply colour correction, printhead stitch correction, nozzle-out compensation, geometry and nozzle density correction."

Schumann also weighs in, saying that as PSPs work more with this technology, they will identify other areas in the business where robots can help. For example: in more complex finishing or combining robotic process automation (RPA) with artificial intelligence to handle and sort incoming jobs.

And such is the pace of this evolution, Schumann said that some customers are now looking for digital printers that can run in fully automated operation.

Logan largely agrees with Schumann, saying while print is still some way behind the likes of the automotive, pharmaceutical or electronics industries in terms of using robotics, Esko is expecting to see the integration of more virtual reality solutions in manufacturing, the take up of simplified robotics in small to medium sized companies and demand for robotics to continue for value added, repetitive tasks.

Logan said: "For Esko, our success with the Kongsberg digital cutting table range and the latest launch of the Motorised Roll Feeder for soft signage applications, are indicative of the need for printers to automate and simplify heavy and/or repetitive tasks with accuracy and efficiency. The solutions work alongside the human but offer improved quality, efficiency and cost performance."

Taking this sort of development into account, Logan said the industry is likely to see an increase in the number of manufacturers looking at integrating robotics with their kit as part of ongoing R&D efforts.

Logan said: "This is a large focus of R&D efforts across the world and robots that are empowered with this technology can improve on their own, learn new techniques and adapt to a specific business environment."

Schumann concurs, saying that what Canon learns from robotics applications in practice will then be channelled back into development. She added this includes major collaboration between Canon's wider business: Canon EMEA, Canon National Sales Organisations, Océ R&D and integrator Rolan Robotics.
Humans vs robots – the battle for print?
Despite encouraging the uptake of robotics, both Logan and Schumann are keen to stress that print will not get to a point where robots can replace human workers. Logan said robotics are likely to mean that low-skilled, low-value-adding roles are replaced with different, more complex jobs, with research suggesting that when a robot is installed to replace a job, the number of staff in a business actually increases.

Logan said: "Supported with appropriate retraining and investment, robotics should mean improved quality of jobs and satisfaction for employees, rather than a low-skilled or declining workforce."
Robotics has the potential to improve employee satisfaction and give people greater opportunity to learn new skills, meeting the growing drive for life-long learning in our era of digital transformation

Schumann agrees, pointing out that while robots can be helpful when it comes to certain tasks, they are not creative and cannot think up new business models like humans can. Instead, what robots do is give business owners and staff more time to devote to these important tasks.

She said: "Robotics has the potential to improve employee satisfaction and give people greater opportunity to learn new skills, meeting the growing drive for life-long learning in our era of digital transformation."

While some see robotics as a threat to the traditional print workforce, it seems that this sort of kit, as useful as it is, has its limitations in what it can do. Yes, it is likely that some manual labour positions are at risk from robots, but the creative talent that drives the print industry cannot be replicated in robot form.
Robots working alongside humans to drive print towards a positive future – it sounds like a Hollywood blockbuster waiting to happen, if you're reading, Mr Spielberg?
Become a FESPA member to continue reading
To read more and access exclusive content on the Club FESPA portal, please contact your Local Association. If you are not a current member, please enquire here. If there is no FESPA Association in your country, you can join FESPA Direct. Once you become a FESPA member, you can gain access to the Club FESPA Portal.