Tomorrow's World
The evolution of packaging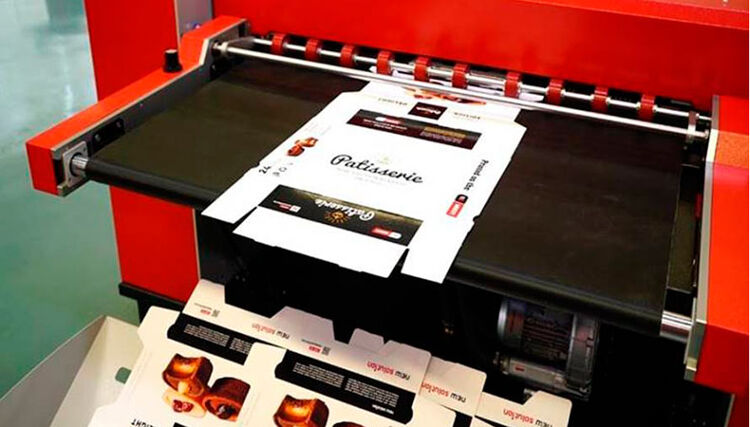 What is shaping the future of print packaging?
The world economy may be on the cusp of a slowdown, but the packaging industry is charging ahead. The global market for flexible packaging was valued at $228.5 billion last year, and is expected to see a compound annual growth rate (CAGR) of 3.95% until 2024. Rigid packaging, meanwhile, has been valued at $504.6 billion, and is estimated to grow at a CAGR of around 6.85% – figures driven by changing consumer demands, continual product innovation and an increasingly competitive brand landscape. "There's great momentum for every aspect of the sector," says Mark Sanderson, chief revenue officer at CMA Imaging. "Undoubtedly, though, digital print packaging is helping to move things on."

According to figures from Smithers Pira, come 2024 the total digital printing market will be 225% of its size in 2013, spurred on by its inherent benefits in versioning, customisation and time to market. "Once upon a time, brands would keep a packaging design on the shelves for anywhere up to 18 months," says Sanderson. "But the internet has changed the way people shop, and companies want to keep their packaging fresh and enticing. Designs are changed frequently and even everyday items are being packaged luxuriously, with soft touch laminates, embossing, special effects and so on. Digital printing has made a lot of this possible."
Fast responders
Digital printing means manufacturers can respond quickly to market demands, as well as leverage new innovation such as personalisation, which Sanderson says is set to become a major packaging trend. Brands such as KitKat, Coca-Cola and Nutella have all experimented with customised packaging – a feature driven by so-called 'experience design' – intended to more deeply connect the brand and customer. Coca-Cola saw massive viral success with its 'Share a Coke' campaign, where bottles were adorned with more than 1,000 names – a project that wouldn't have been possible without digital print. Printing the labels using analogue methods would give the same number of individual bottles, but they would then be labelled and delivered together. Randomly printing names sequentially was the only way to get the right distribution at the point of sale. "The campaign threw a great big curveball into the packaging industry," Sanderson says.

But while the industry can certainly expect personalisation to drive digital trends, take-up is likely to be slow, especially in Europe, predicts Neil Osment, managing director of packaging research group NOA: "Digital is really finding its feet with high-quality print packaging and labelling, but if we're talking about corrugated, a lot of people have described progress as quite small and a bit disappointing," he says, pointing to digital's high costs and volume limitations. According to Osment, the appetite for and success of digital corrugated packaging is bigger in the US. "It's a vast country, so it's found a few markets, particularly in produce. You make a generic box for peppers, for example, and then vary the print."

Osment adds that the number of independent players in the US has also helped move things along. "In Europe, though, we're well advanced with flexographic printing, and huge strides have been made in plate and ink technology, which has allowed high-quality post-print to really flourish in the hands of a dozen or so major companies that represent 80% of the market."
Digital invasion
Progress may be slow, but it's progress nonetheless. At drupa 2012, Bobst was the only supplier talking about digital direct-to-corrugated printing, now a raft of other companies are touting their digital wares to the packaging sector. HP's PageWide range, for example, offers a number of options for PSPs looking to take advantage of single-pass production. DS Smith bought the PageWide T400S because of its eye-watering speeds of 305m/min, while HP's recently-launched C500 has already been adopted by LIC Packaging in Italy and Smurfit Kappa Group in Austria.

"We're seeing huge interest in the C500 because it offers a real solution to existing print packaging pain points," says Niv Ishay, worldwide marketing manager of HP PageWide Industrial Post-Print. "With rapid changes in consumer demands and preferences, brands and therefore converters need to provide shorter and shorter turnaround times. And with the proliferation of SKUs, converters see more jobs per day with shorter runs." Mouvent's solution, meanwhile, is a modular printing station based on its cluster print-head, which can be adapted to nearly any size of any kind of substrate, including folding carton, flexible materials and corrugated board.
Packaging and food
Of course, these machines must be used with their own inks which, Osment says, contributes to the high costs involved in digital print packaging, but this will ultimately give the industry a steer on the future of packaging inks. "Despite the efforts that have been made to make UK inks more food-compliant, the only long-term answer is water-based inks," says Mouvent's marketing manager, Jan-Frederik Lange. Equally, as HP's Ishay notes, "As corrugated packaging increasingly accounts for food and sensitive items, such as infant care products and cosmetics, standards are becoming more and more stringent."

Last year, the new Swiss Ordinance on food packaging came into force, removing many carcinogenic, mutagenic or reprotoxic (CMR) substances from the positive list for printing inks. Packaging giant Nestle has gone further, forbidding further components to packaging inks, including those that give off odour that could possibly taint food. Vegetable oils and fatty acid esters with strong odours are banned, as are press washes and fountain solutions with odorous solvents and certain photo-initiators.

Lange adds: "Brands are beginning to set lack of odour as a prerequisite requirement, and due to the distinctive odour of UV curable inks, ban this technology completely. Water-based inks can meet their requirements."

And as water-based inks can come into direct contact with food, the need for additional barriers is eliminated, which has clear cost and environmental advantages.

Indeed, environmental concerns will be high on the agenda for the future of packaging. It's no secret that plastic has come under renewed fire of late, so any technology that better allows paper and card to step into the spotlight will find favour with those looking to improve their CSR credentials – and brand perception. More than 23 million in the UK have already switched products because of concerns about the packaging used, while 73% of shoppers feel brands aren't doing enough to introduce environmentally friendly forms of packaging, according to Pro Carton's European Consumer Packaging Perceptions study. Furthermore, 85% said they'd rather buy a product packaged in cartonboard than plastic.
Plastics pact
However, it's unlikely that packaging will ever see a complete eradication of plastic, nor should that be an end goal, says TrakRap CEO Martin Leeming. "Plastic is being demonised at the moment, when really, we should be having a conversation around 'good' plastics – the type that can be recycled and turned into an equally valuable material – and 'bad' plastics, which just end up in landfill and clogging up the oceans." Leeming cites the UK Plastics Pact as a guiding voice in this narrative, and says that the all corners of the packaging industry will be forced to review its material choices, but as long as sound judgements are made, "plastic will continue to feature". The pact – which is voluntary – calls for 100% of plastics to be reusable, recyclable and compostable by 2025. "It's an aggressive target," says Leeming, "but I think it's achievable."

Digital print – regardless of the substrate involved – will also help improve packaging's environmental credentials, largely because of its ability to restrict waste. "There's a lot of messing around when it comes to designing packaging," says Sanderson. "Brands and designers have something in mind that they want to see and traditionally, the only way to produce that is to put it on the press. At CMA Imaging, we can proof a product digitally and create accurate prototypes without having to use materials and resources. And when the job's ready to go, digital printing means runs can be as short as 50, 20 or even one or two packages."
Streamlining workflow
And this will have major benefits for packaging workflow issues, too. "One thing digital is really good for is speeding up the print approval process. So much time is wasted on jobs setting up the presses, getting client feedback, tweaking things, running it again, and so on. Digital makes it so much faster," says Osment. Indeed, there are multiple digital print management solutions out there to help make things as efficient as possible. Esko, for example, allows printers to work virtually, in real-time, with internal creative, marketing, package design and engineering groups, external vendors and suppliers. "We'll probably see more companies adopting this kind of workflow system in the future," says Osment.

Despite these innovations, however, there has historically been some reluctance in the industry to adopt digital printing processes on a large scale, so it will take some time to fully reach the packaging sector. But all signs point to that eventuality, and it's an avenue PSPs are well-placed to explore, given packaging's trend towards PSP wheelhouses such as customisation and short runs. Plus, according to Canon's Think Packaging report, some three-quarters of the print industry are at the very least researching digital print packaging options, so opting out could prove to be a risky choice.

Become a FESPA member to continue reading
To read more and access exclusive content on the Club FESPA portal, please contact your Local Association. If you are not a current member, please enquire here. If there is no FESPA Association in your country, you can join FESPA Direct. Once you become a FESPA member, you can gain access to the Club FESPA Portal.