Tomorrow's World
The bigger picture on plastics in print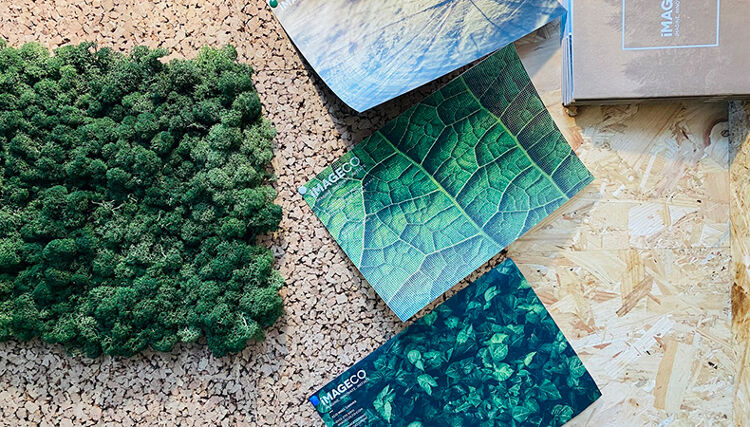 Printers need to consider alternatives to plastic while recognising the need to match performance and durability. Any steps towards lower carbon products can only be positive.
2020 saw a further rise in concern for environmental protection and the need to integrate REDUCE, REUSE and RECYCLE over the TAKE, MAKE, WASTE approach of previous times. Materials derived from fossil fuel feed stocks have offered great performance in their end use for many decades. However, the need to reduce greenhouse gases and achieve Carbon Zero by 2050 is forcing manufacturers and printers to look at lower carbon alternatives.

During the pandemic, the demand for this almost indestructible material has increased due to the unprecedented need for protective screening and disposable PPE. But even before the pandemic hit, studies suggested that plastic production was set to increase by as much as 40% up to 2027, potentially adding to the pressures on our natural environment.

As evidenced by the introduction of the EU Plastics Levy earlier this year, and by the UK government's plans for the Plastic Packaging Tax due to take effect from April 2022, every industry has a responsibility to reduce the use of these materials, and the print industry is no exception. While there's no exact data on how much plastic the print business uses and discards, the very nature of its operations means it clearly makes a significant contribution.

As such, print companies looking to address this issue are exploring alternatives to plastics that have always been used in their business by substitution or by reducing their impact with products that feature higher recycled content, or that can be more easily recycled themselves.
We need to be careful not to demonise plastic. The problem is how we use and dispose of it, not plastic itself
There are an increasing range of options – many of which overcome previous issues around cost and performance associated with plastic alternatives. There are many examples of where these changes are occurring within the speciality printing one example from ink manufacturing in the textile sector is MagnaColours' Make the Switch campaign which supports the move from PVC-based plastisol to water-based alternatives. An interesting aspect is with adapted working practices, this environmentally beneficial switch also allows for positive marketing that can improve business performance.
In September in 2020, another example of this shift can be illustrated by Heytex and their introduction of their Ecotex range of banner materials that present an alternative to traditionally used PVC banner stocks. Also, UK-based Swanline Group introduced its plastic-free, water-resistant Cygnus Eco Board, made of up to 70% recycled content which can itself be recycled up to eight times. In addition, Dufaylite manufactures recycled paper honeycomb that is designed to replace corrugated centred boards, foam board and rigid PVC, which can be simply sent to a standard cardboard recycling service.
Further to these examples, CMYUK's UFabrik canvas eco range – is designed to create graphics for expos, events and retail – is made using recycled PET yarn from plastic bottles. At the end of 2021, Verseidag-Indutex will roll out its Vertex range, a PVC-free coating made with post-consumer waste from the automotive industry and intended to form the basis of a whole product line of print substrates for interior and exterior use.
Cleaner and greener options
Clearly, there is no shortage of alternative materials for printers to consider. But regarding sustainability the situation is more complicated than simply making a straight swap. For example, in November 2020 Neschen presented Easy Dot, a new PVC- and solvent-free self-adhesive matt film. But the film is made from polypropylene, the production of which is high in energy use, performs badly outside and is rarely recycled.

Re-board – often known as one of the most sustainable and well known honeycomb boards in use in the printing industry – relies on a high proportion of virgin fibres in its printable line. In comparison, CMYUK's new range of super durable, PVC-free Kavalan banner materials has been designed specifically for sustainable waste-to-energy conversion, unlike traditional PVC which can create harmful health and environmental impacts during incineration. But Kavalan's benefits are only realised if it's routed to a clean energy conversion plant once uninstalled.

And then there's the ongoing bioplastics debate. According to a study by Industry Arc, bio plastic is almost 90% capable of replacing all existing conventional plastics. However, those designed to biodegrade depend on the availability of adequate composting facilities (and a market that will take them), while those made from 'renewable' bio-based polymers, such as corn or starch present agricultural concerns. Some studies suggest that the farming, fertiliser and water consumption required to create this material actually produces more greenhouse gases than its traditional plastic counterpart.

This understandably leaves printers in some confusion. The need to move away from plastics is clear, but with such a balancing act to consider many are unsure how to do so without being part of the problem.

What's needed, argues environmental consultant Clare Taylor, is a complete change in how we view plastic. "We need to be careful not to demonise plastic. The problem is how we use and dispose of it, not plastic itself," she says. "For many purposes, it is the best environmental option. We don't need to stop using it, so much as to understand it, use it better and to set up the infrastructure for managing plastic."

Indeed, the recycling infrastructure around plastic falls short compared to other waste streams – a factor that's still not considered in the design of materials. "The problem with recycling most plastic is not that it cannot be recycled, but that we do not have the infrastructure to do so," says Clare, who points to the West's history in exporting plastic waste rather than developing its own ways to manage it.

"We have also failed to think ahead in design and development, so there are myriad types and they are frequently mixed within one product; some polymers are easier to recycle than others, composites are frequently unrecyclable. Most products are not yet designed with the end in mind."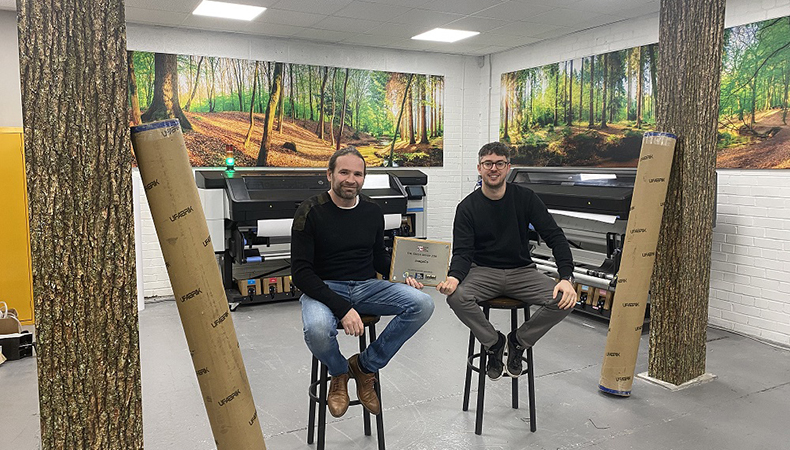 Nathan Swinson Bullough of Imageco (left)
Changing the landscape
It's this end-of-life that printers should be focusing on, says Imageco Managing Director Nathan Swinson Bullough, rather than trying to eliminate plastic from operations entirely and causing further, unintended, environmental impacts. "One of the biggest problems is the fact that recycling services differ between geographical areas, so while you might be using something that has many sustainability credentials, if it's not being responsibly managed at the end of its life then it's not really that sustainable."

Imageco – which is pursuing environmental ISO 14001 certification with the help of a mentor – is exploring partnerships with companies that can help it better manage the unavoidable plastics in its supply chain.

UK-based waste company Blue Castle, for example, runs a PVC banner recycling scheme that enables banner material to be completely recycled, keeping vinyl out of landfill and extending the life of the material. "We're also exploring a project with a company that recycles polyphenylene ether into furniture, to see whether we could send them the material to be repurposed into boards for applications like exhibition stands," says Nathan.
We put a great deal of focus in our sustainability practices, so now we're a first choice for forward-looking customers
These kinds of initiatives are already something that the print industry sees flowing downstream. HP, for example, operates a cartridge send-back scheme for printers, ensuring that all elements of the product can be disposed of as sustainably as possible. But now printers themselves have to take more decisive action, says Nathan, who notes that while a wider focus on sustainability can be an undertaking, Imageco is already seeing the benefits of its efforts. "We put a great deal of focus in our sustainability practices, so now we're a first choice for forward-looking customers," he says, adding that this will only increase in the future as sustainability continues to dominate the global narrative.

All four devices in the HP Latex 700 and 800 series use the HP Eco Carton – a cartridge made with cardboard material that reduces the amount of plastic used by 80%
"Work with suppliers to find a solution, do the research, reach out to other companies to establish partnerships," he says. "Yes, it's important to find alternatives for plastics, but looking at the bigger picture and changing the landscape overall is critical. We all have to do the work."
Become a FESPA member to continue reading
To read more and access exclusive content on the Club FESPA portal, please contact your Local Association. If you are not a current member, please enquire here. If there is no FESPA Association in your country, you can join FESPA Direct. Once you become a FESPA member, you can gain access to the Club FESPA Portal.