Tomorrow's World
Tharstern integrates automated carbon footprinting into MIS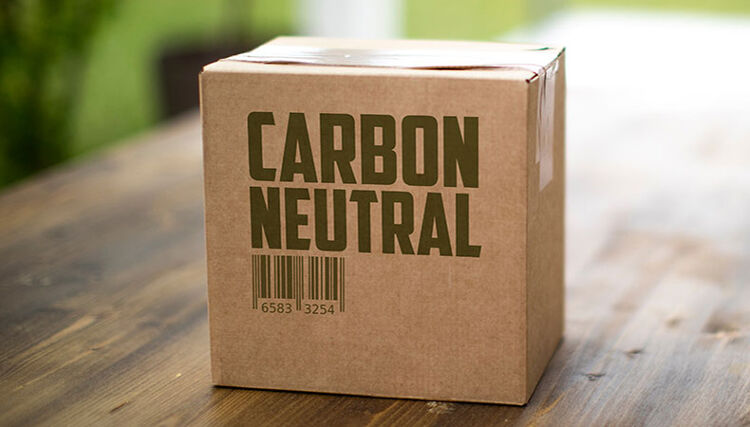 Carbon emissions and offsetting costs are automatically generated with every order or quote.
Workflow automation provider Tharsten has partnered with CarbonQuota to launch a live carbon footprinting tool in its management information systems (MIS). CO2 calculation and carbon quotes will appear on all estimates and invoices produced by the Tharstern MIS, so firms can now calculate and compare carbon footprints on all their prospective projects. They will also have the opportunity to offset their carbon costs.

Dominic Harris is Co-founder of CarbonQuota, the print industry's carbon measurement expert. "Carbon accounting is becoming as mainstream as cost accounting, and we're now entering an era when it's as normal to ask about the environmental footprint of goods or services as it is price," he says.

"Historically, print businesses often only looked at the carbon footprint of paper, which accounted for about half of the total carbon footprint of the job, so we were determined that our calculations not only measured paper, but also included production, consumables, transport, postage, outwork, fulfilment and end of life, as that truly reflects the total lifecycle environmental impact of a job."

The first business to use the new carbon-integrated system was Gecko, a direct marketing agency in Leeds, UK, which had already achieved accreditation for ISO 14001, ISO 9001 and ISO 27001, as well as being FSC certified, but was looking for further improvement.

The first step in the project was for CarbonQuota to carry out a carbon footprint assessment of Gecko's operation, which took a few weeks. The data from this study was included in CarbonQuota's database and algorithms so it could work out the carbon footprint of every single process within Gecko's operation, which in turn were loaded into Gecko's instance of Tharstern.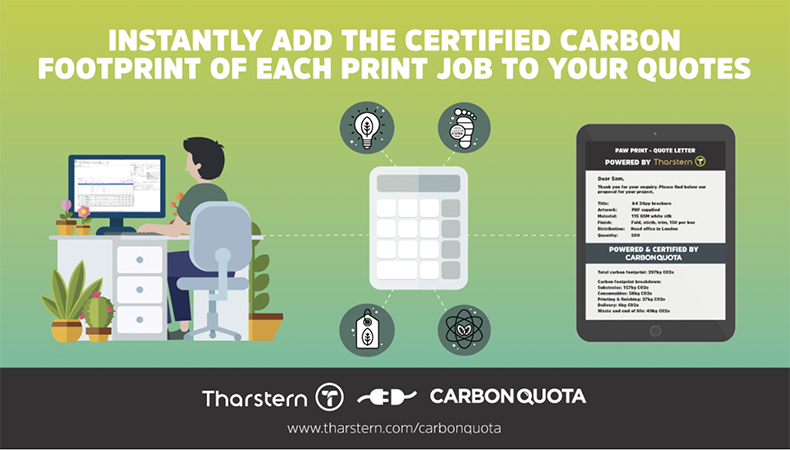 This enables CarbonQuota to calculate and apply unique 'carbon emissions factors' to every single substrate, consumable, production process and distribution stage, as well as an assessment of the carbon impact at the end of life of each job. Gecko can now use its MIS to show clients the carbon footprint of each job, offer lower carbon alternatives, and give them the chance to offset the carbon impact of that job. The offsetting can be done to the PAS2060 Carbon Neutral standard, which is governed in line with the latest Net Zero protocols.

"The project at Gecko shows that carbon footprinting for the packaging and print sector can be automated and science based," says Lee Ward, CRO at Tharstern.

"Once the assessment has been carried out by CarbonQuota and the carbon tool in Tharstern is configured, our users just continue to use Tharstern in the same way – nothing changes other than the new addition to each quote and the ability to report on the company's carbon footprint as a whole. It saves a huge amount of time and opensuperior levels of carbon measurement for our customers."

Calculating and offsetting carbon emissions is increasingly important in a globalised market. Dominic says: "With many of the world's organisations making pledges to be net zero, the need for scientific measurement and detailed reporting of packaging and print is often a prerequisite for doing business with these organisations. So, printers who want to be included in these supply chains will have to be able to provide details of their own carbon footprint."
Become a FESPA member to continue reading
To read more and access exclusive content on the Club FESPA portal, please contact your Local Association. If you are not a current member, please enquire here. If there is no FESPA Association in your country, you can join FESPA Direct. Once you become a FESPA member, you can gain access to the Club FESPA Portal.