Tomorrow's World
Tackling the challenges of recruitment in print in Croatia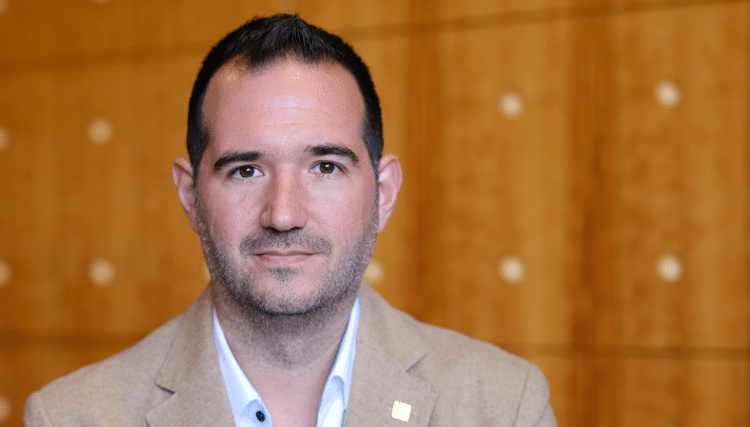 Club FESPA Online spoke to Dag Knepr, President of FESPA Hrvatska (Croatia), about the challenges of convincing educators and young people that print is a good career choice – and some reasons for optimism.
A print industry with no young people interested in working in it would be a serious problem. How has a lack of young people in the print industry manifested itself so far?
We have experienced problems with recruitment and retention for the past 15 years or more. And in the Croatian print industry, it's even more visible because we have a huge departure of the workforce as people go to Germany, Austria, Switzerland and other countries for better wages. When you combine this with young people's lack of interest in industry, you find yourself in a really bad situation.

Right now, I am looking for sales agents for labelling materials, but we are only getting applications from those without the relevant skills. We need to invest a huge amount of time in people to train them in the role – around one year of education before they are really confident in the role. What if after this year they discover it is not for them and go into something else? That year we would have invested in them for no reasons, this is a challenge.
What's the situation with apprenticeships in Croatia?
Traditionally there were numerous apprenticeships where young people spent some time at various companies. They saw the up-to-date technology, they received experience from working in a business, and they even got paid for it.

In Croatia we have graphic middle schools and graphic universities. Then we have some universities with graphic segments as well. However, in the past five or six years, there has not been much interest in the printing industry from parents and their children. The middle schools and universities were having trouble getting people to enlist and not fulfilling their quotas. This then meant their very existence came into question, with the Ministry of Education debating whether the quota should be decreased.

To solve this issue they changed the names of the schools and the courses they are teaching into 'multimedia'. Now they're not selling print school and print university – they're selling media, augmented reality, virtual reality, video games. When you mention these key terms in your materials, young people become interested because they think they will be programming video games. The sad truth is that they train for three or four years, then discover there aren't that many companies creating video games. It is a great niche and people are making a lot of money, but out of 5,000 young people, maybe 50 are talented enough and have the skills to do it.

And so they have a lot of students who don't care about print or the graphics industry but do care about computers and Photoshop, Premiere Pro and Final Cut. And what happens is that there's no point in coercing these young people to go to the printers for an apprenticeship.

In some instances, parents even worry about the safety of their children when applying for apprenticeships. They worry about their children being surrounded by dangerous print machinery. Fewer and fewer students are going for print apprenticeships and instead are opting to do practical work at the school.

This creates a gap between the teaching of the brand-new technology at the school and what the printers actually need. The teachers aren't informed of what's happening in the printing industry – they tell their students what they think they need to know and perhaps misinform them about the success of jobs in the print industry.
So you believe students are not interested in careers in print? Do you think this is perhaps due to the misconception that print is a dangerous industry?
There's a saying in Croatia: "Go to university, otherwise you'll have to work for a living!" We have a lack of manually skilled workers. Wages for offset print operators have seen their wages double or triple in the past seven or eight years, because there weren't any new operators coming through.

Of course, the print business is not as dangerous or unhygienic as it used to be. Unfortunately, parents are not aware of this. The owner of the biggest advertising agency in Croatia commented: "When we put out an ad for web design, we receive 300 applicants because we are a very famous name and everyone wants to work here. But if we want a packaging designer, we get seven or eight applicants, and none of them have any real contact with packaging production or design, they just think they can do it. And that's the situation on the market. But the schools are still producing web designers like crazy, and not caring about packaging."
How can the print industry or the education sector give the impression that print is a high-tech, creative and multidisciplinary job?
Here is a good example of how not to do this. In November last year there was a university fair in Zagreb. Each university had a stand to promote themselves to middle school pupils to recruit. Most stands had good-looking stands and visuals, but at the graphics university stand there was nothing but a projector pointed at the wall, and four students, no faculty members. I spoke to one of those students working who said: "The teacher told us a few days before we were in charge of doing the stand. We had no budget, and we had to create a stand alone."

I took photos of all the stands, and I put them on LinkedIn, saying this was sad for an industry that does visual communications for a living. It caused a lot of arguments. Someone from the university told me: "Do you know why we aren't making an effort to do a better stand? Because our quota of students is full. We don't need advertising. So, there is no sense in us investing time and money into promoting this."

I said he was wrong. I said that if he had contacted us at FESPA we would have done the stand ourselves because promoting the graphic sector is important and might shift the perceptions of the parents and young people who attended. It is very difficult to change this cultural mindset.
So how can businesses in Croatia avoid having to deal with a cynical higher education sector to reach young people directly?
I think we should employ the services of an advertising or PR agency to promote the values of print careers and the print industry. It won't be cheap, but every time I talk to advertisers, they surprise me with their ideas.

In the next two weeks, we are organising two buses of first-year students from the university for a one-day tour of three companies: an offset printer, a digital printer and a heat offset printer doing magazines. It's to demonstrate to them that the industry isn't just on the screen, and I'm sure they'll be amazed by what they will experience.

I bought 15 airplane tickets to sell to FESPA members to go to the FESPA Global Print Expo 2017 in Hamburg. We sold 13 and gave the remaining two to the university. Two students were selected by a digital print tutor, and we told them that the only thing we asked was that they wrote a diary of their trip and made a report with photos showing what they saw and how they experienced it. The outcome was superb: the two students said they were very impressed at everything they experienced at the expo. They told their university classmates what they experienced and how wonderful it was. Therefore, for a very small cost it is possible to have a high-impact result. Both these two students are still in the printing business.
In a panel event you ran on "The future of the workforce in the graphic industry", you concluded that the connection between education and printers has to be improved. How can we do that?
We heard of a project where the Austrian Embassy's commerce division was promoting connections between Croatian teachers and Croatian companies. This was due to the fact that Austria needs skilled Croatian workers. Nevertheless, we promoted it too, and of the 60 companies involved from all industrial sectors, 19 were printers. Printers are very much aware that they are in 2023, but unfortunately the education surrounding the industry is outdated and stuck in 2010. It's extremely important because the teachers are working directly with the market. They see that billboards aren't being screen printed, but they're printed digitally, and they start changing their opinions about what they should teach their students who are fascinated with digital printing.
Are you optimistic about the future of the print industry?
I'm optimistic that yesterday, the graphics university called me and asked me if I want to get involved in the next university fair, the one that went so badly last time [see above]. If they start to change their minds, I can help to get the standard right, take photos, promote it with PR and hopefully achieve have a positive effect throughout the market. Therefore, I'm optimistic about it. And every time I meet a young person who is enthusiastic, I start to become optimistic too!
Become a FESPA member to continue reading
To read more and access exclusive content on the Club FESPA portal, please contact your Local Association. If you are not a current member, please enquire here. If there is no FESPA Association in your country, you can join FESPA Direct. Once you become a FESPA member, you can gain access to the Club FESPA Portal.