Tomorrow's World
Sustainable alternatives to plastic substrates 3: Dufaylite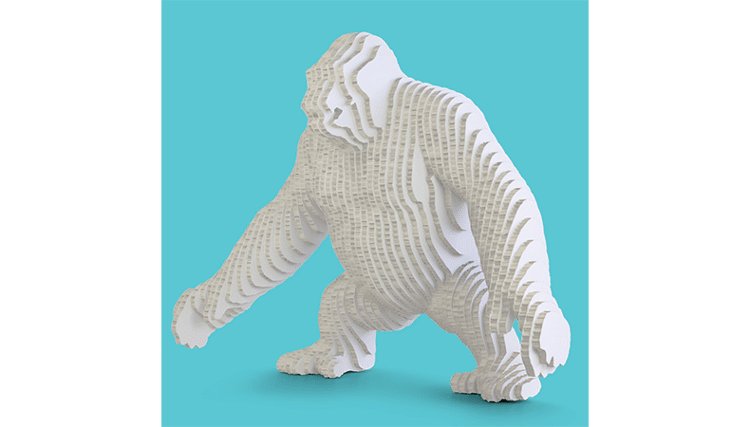 Plastic board may be an obvious choice when it comes to signs and displays but it's far from being the best choice in terms of ecological impact and sustainability. Here is the third of our alternatives that provide excellent printing performance without any of the environmental concerns associated with plastics.
With its HQ in Cambridgeshire, UK, Dufaylite has been manufacturing recycled paper honeycomb since 1955 and is one of Europe's leading sustainable suppliers for exhibition stands, graphic displays, packaging products and ground movement solutions. Dufaylite MD Ashley Moscrop explains the benefits of Dufaylite products for the print industry.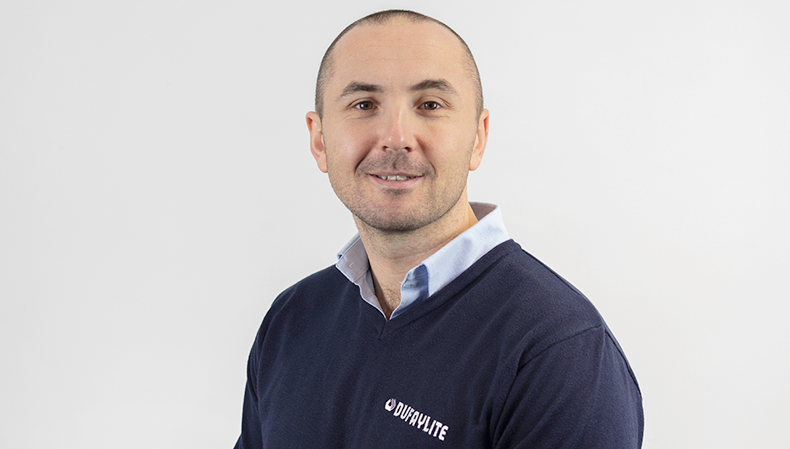 Ashley Moscrop, MD of Dufayite
What sort of products is Dufaylite designed to replace?
Dufaylite provides its customers with environmentally friendly substrates to replace existing substrates such as corrugated centred boards, foam board, rigid PVC, MDF and timbers, fluted polypropylene.

What are the benefits of Dufaylite products in comparison with plastics?
Dufaylite products are generally lighter weight and are entirely recyclable, so are easier to dispose of. When we double the thickness of our board, we only increase the material content around 16%, while solid plastics double the material content. Therefore, the thicker the requirement, the lighter we will be compared to plastic. Our products also boast more rigidity and strength, which increases their suitability for converting into wider applications. We are incredibly proud of the fact that not only are our materials recycled but they are recyclable, and, for the recycler, there is no need to understand what type of plastic it is and which recycling route it can or can't go down. The easier it is to do, the more likely it will happen!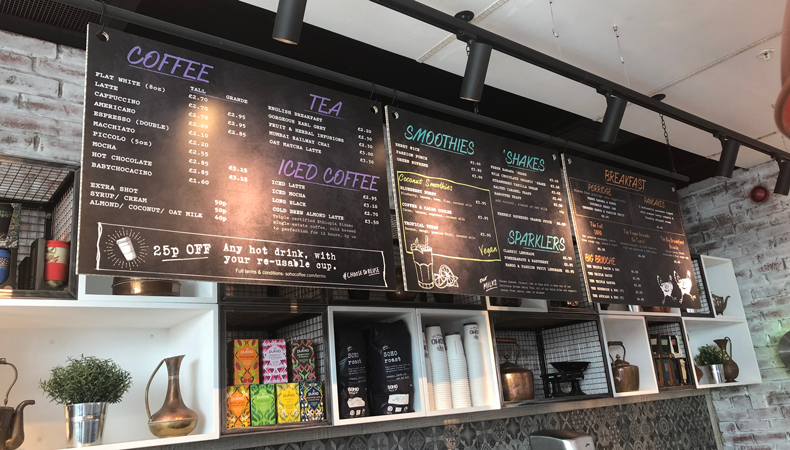 When campaigns are over, Dufaylite products can be sent to normal cardboard recycling schemes
Conversely what can Dufaylite products not do that plastics can?
They are not able to survive in external wet conditions and our minimum thickness is 6mm.
How does Dufaylite products hold up to conditions outdoors?
They are not really designed to be used externally. They lose strength when wet and the glue bond degrades over time causing the boards to fall apart. However, there have been significant developments in paper and moisture resistance and the demand to remove single use plastics will certainly help to drive this development further and quicker.

Do Dufaylite products degrade over time?
Depending on volume and paper types etc, paper typically takes two to six weeks to biodegrade. The ink will depend on what type of ink is used UV, latex etc. I believe the ink types don't have an impact on the paper recycling process, which is the route paper should be going down – not landfill – to biodegrade.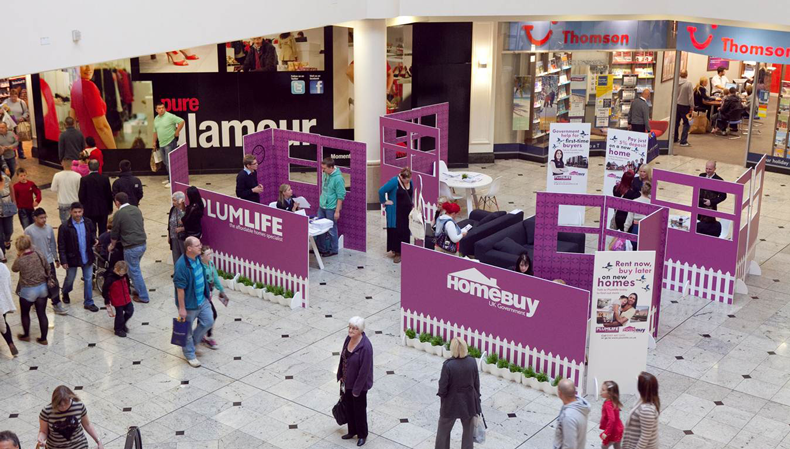 Dufaylite holds up well at an exhibition stand
How are Dufaylite products made?
Our HQ is a 2.5-acre site in St Neots near Cambridge where everything happens. Our products are made on a continuous manufacturing line that bonds the facing papers to the honeycomb using PVA glue. We are fully equipped to do this using our design expertise, technical knowledge, skilful manufacturing of the raw board materials through to conversion into the final solution.
Which printing presses can be employed in production on this board? Can you print using UV, solvent and latex-based printers?
The facing papers we use are manufactured to industry brightness specification ISO 11475 CIE Whiteness % – 125. We always select those most suited to the print industry to allow our boards to perform the same as printing on white stock paper. These are often whiter and more vibrant than white plastics and allow for more vibrant prints without optical brighteners.

Generally, UV and latex inks are used on flatbed digital printers. The boards can be screen printed with typical screen inks and recycled.
How easy is it to recycle Dufaylite products at end of life?
We phrase our material as 'semi-permanent' as it is stronger and longer lasting than corrugated cardboard. In the right application they can last months to years; however, marketing campaigns rarely last this long. Therefore, end of life is extremely important. Our boards can be recycled via traditional cardboard recycling schemes, which are very prominent in all industries, making it very simple for the end user to know how to recycle the product. As we use recycled paper in our honeycomb core, the recycling of paper and cardboard is crucial to help create a circular economy, where all waste becomes input material for another product.
What are the carbon costs of this product?
We don't have any data on this – it becomes quite difficult as the honeycomb in the board is recycled.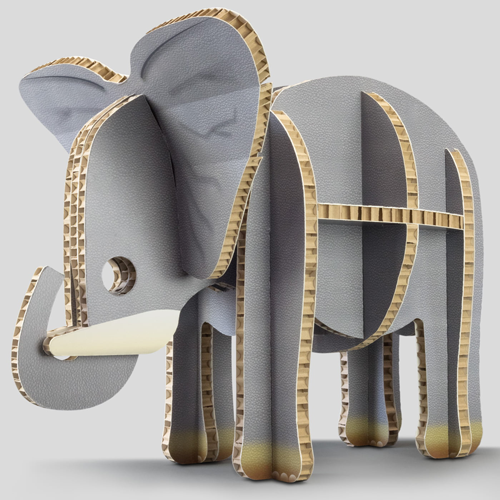 As strong as it looks: high strength Dufaylite in elephant application
What other innovations are there on the horizon?
Our recent products have tackled 3D creative applications, high strength with lots of converting ability to make all sorts of applications from chairs and tables to rhinos and elephants! Not all customers like the brown honeycomb edge, especially on thick boards, therefore, to save the hassle of edging the boards, we have released a board with the same honeycomb but in a white paper to make the edge less noticeable – White Core 3D Board . On the horizon we also have a thin board using white honeycomb and white facing papers, which is focused as a rigid and foam PVC replacement. Again, this uses white honeycomb to ensure the edge looks similar to PVC alternatives.
Become a FESPA member to continue reading
To read more and access exclusive content on the Club FESPA portal, please contact your Local Association. If you are not a current member, please enquire here. If there is no FESPA Association in your country, you can join FESPA Direct. Once you become a FESPA member, you can gain access to the Club FESPA Portal.