Tomorrow's World
Sustainable alternatives to plastic substrates 1: Re-Board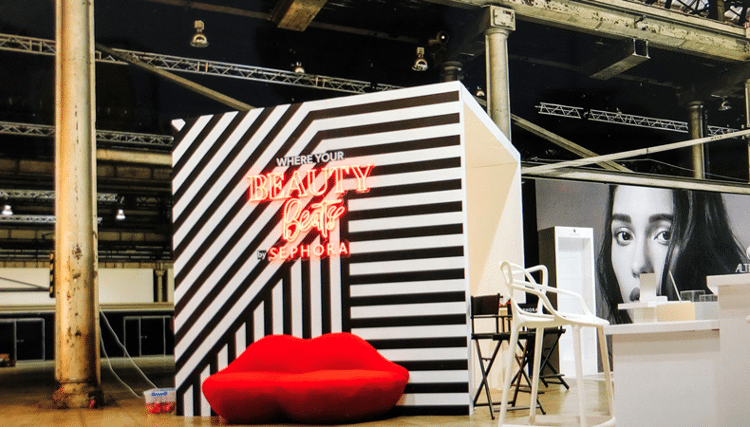 Plastic board may be an obvious choice when it comes to signs and displays but it's far from being the best choice in terms of ecological impact and sustainability. Here is the first of three alternatives that provide excellent printing performance without any of the environmental concerns associated with plastics.
Engineered by award-winning Swedish inventor Karl-Gustav Ericsson in the 1990s, Re-Board was one of the first rigid paper-based sandwich boards suitable for print and display. Ericsson's patented Re-board is now exclusively sold and produced using sustainable local resources by Re-board Technology in Sweden. Re-Board Technology CEO Gustaf Redin explains the product's qualities.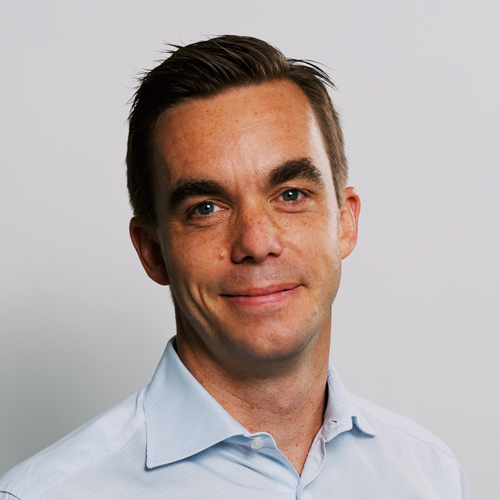 Gustaf Redin, Re-Board
What sort of products is Re-Board designed to replace?
Typically, Re-Board replaces heavy duty material such as MDF or chipboard or wood but – increasingly in the last couple of years – we're finally seeing decisions to avoid plastics and oil-based materials, and we're really well placed as an alternative to PVC or plastic or foam sheets.
What are the benefits of Re-Board products in comparison with plastics?
First and foremost, Re-Board is a sustainable choice. It's based on wood and wood fibre that we take from our own sustainably managed forests. In Scandinavia, our forests grow by 3% to 4% every year naturally, so it is really sustainable forestry which we actually need to harvest. We always use new fibre because it's readily available and it produces the best possible board. We also know that this fibre can then be recycled up to seven times in other shapes and forms before it disintegrates. We are also feeding the global system of recycled fibre with really high-quality material than, compared with plastic, but especially wood or MDF. We also win both on weight and printable time to market.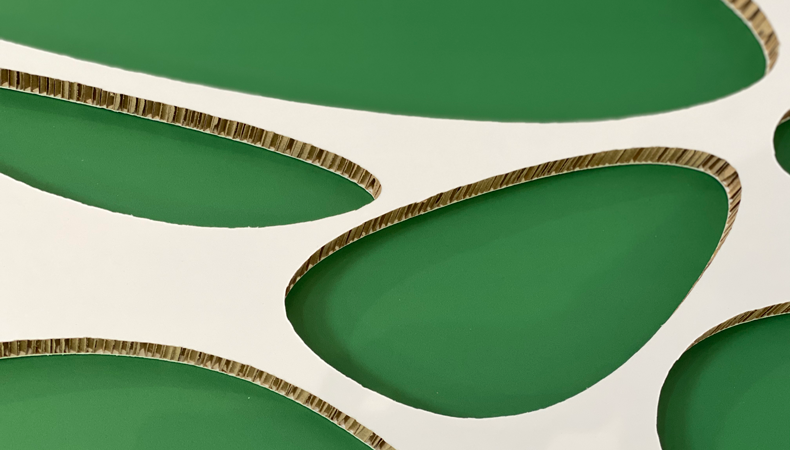 Re-Board can sustain up to 90 metric tonnes per square metre of pressure
Conversely, what can Re-Board not do that plastics can?
You can have plastic outdoors and it will last forever, but that's also one of plastic's great drawbacks. Look at what we have piling up in oceans and on beaches today. Plastic is recyclable but far too much ends up in nature and never disappears.
How does Re-Board hold up to conditions outdoors?
The drawback is that paper by its nature absorbs water, so for long-term open-air usage other materials fair better. In Europe and North America, Re-Board has to be used in covered outdoor areas. In the southern hemisphere, such as in Australia where the weather is sunnier, it can be used outdoors far more.
Does Re-Board degrade over time?
Since it is paper, paper is more delicate that plastic, but it's still a very sturdy board – Re-Board can handle up to 90 metric tonnes per square metre in terms of pressure, so it compares really well to chipboard or MDF at only 15% of the weight of those materials. If handled well, you can fold a display up and re-use it many times – that's what we tend to do with our own stands at exhibitions. We look at Re-Board as something suitable for medium term use. That said, my favourite spot to visit in London is Whole Foods Market on Kensington High Street in London, which was one of the first stores that used Re-Board in the UK. They are still using the lettering and signage made from Re-Board to this day, more than 10 years on.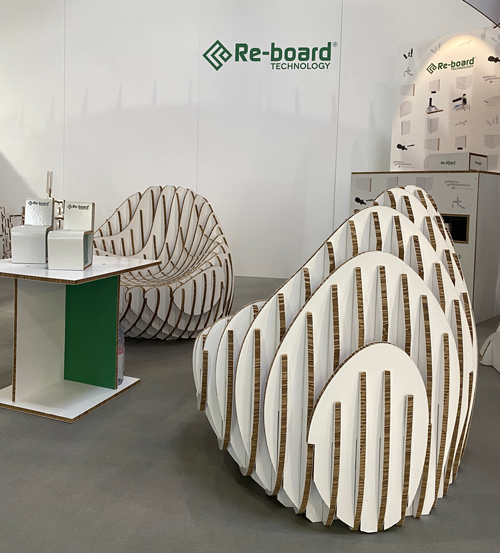 Re-Board is sturdy, stylish – and recyclable
How is Re-Board made?
We run a mill just outside of Norrköping, which is 200km south of Stockholm. It's right in the heart of the Swedish pulp and paper industry, so we source a lot of our paper very, very locally. The mill is FSC certified and we work with sustainable raw materials. We buy bulk paper reels and we have a production process that converts them from reels into our corrugated core and then laminate that with a suitable liner top and bottom. This production process is patented, and the brand name Re-Board is protected.
Which printing processes can be employed in production on this board?
You can print directly to Re-Board e.g. UV printing and flatbed printing – in fact, that's what we would recommend. Although some printers laminate self-adhesive materials to the Re-Board using the strong material as a core structure. But in terms of print quality, the board is designed for print and it tends to be chosen by leading brands specifically for its brilliant finish quality. The finish is vibrant, and the material is suitable for printing for a wide range of technologies.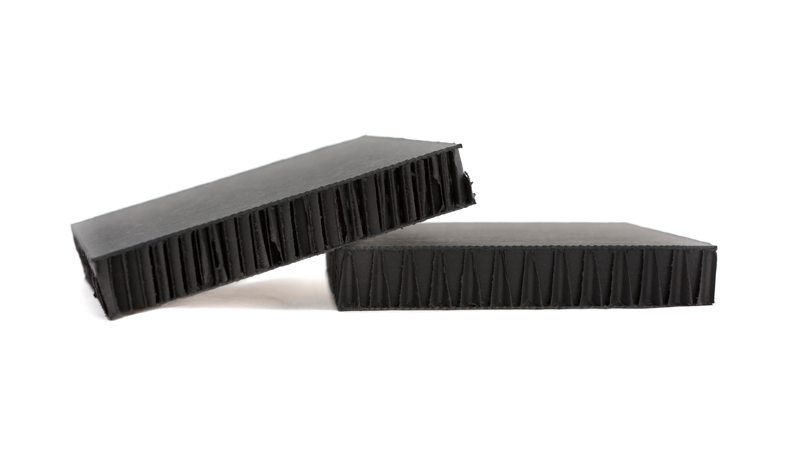 Black Re-Board
How easy is it to recycle Re-Board at end of life?
It's as simple as putting it in the recycling bin at your local recycling depot. In fact, if you do that, you've done society a favour because you've put new high-quality fibre into the recycling chain, and that can be recycled up to seven times before only being useful in newsprint. But the board is so sturdy that if you work well with it and you make clever constructions, we would encourage people to re-use it rather than recycle to begin with. In France, for example, we have a really good Re-Board user who turns old fair and exhibition walls into Re-Board furniture.
What other innovations are there on the horizon?
Last year we put completely black Re-Board, with a black core and a black topliner onto the market - that has really taken off well. And in terms of innovation, we have a Euroclass C rated fire-retardant board, which we have seen a lot of demand for. * need more information on what this board, where can it be used?
Become a FESPA member to continue reading
To read more and access exclusive content on the Club FESPA portal, please contact your Local Association. If you are not a current member, please enquire here. If there is no FESPA Association in your country, you can join FESPA Direct. Once you become a FESPA member, you can gain access to the Club FESPA Portal.