Tomorrow's World
Sustainability spotlight on FESPA's 60th anniversary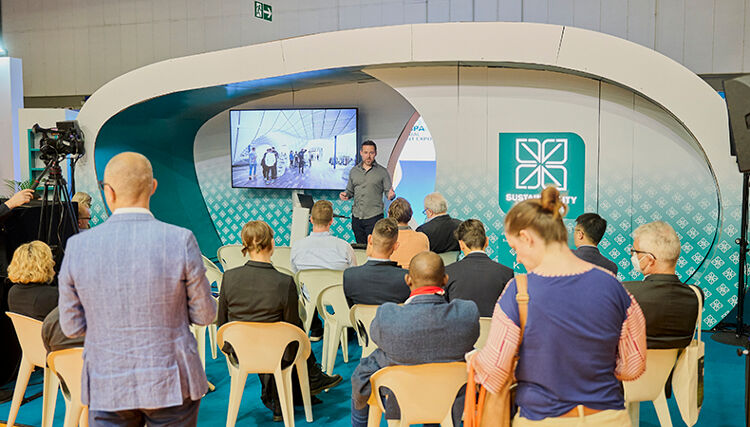 How industry innovation has continued to blossom during lockdown and after. 
For 60 years, FESPA has been bringing the world's speciality printing community together to share insights into the latest innovations and trends facing the sector, and this year was particularly eye-opening.

Visitors to the FESPA Global Print Expo 2022 in Berlin were treated to four days of product launches across graphics, décor, packaging, industrial and textile applications, proving that the sector is moving forward with confidence after two years of unprecedented challenges.

Networking, business building and face-to-face conversations were all back, with this year's event also demonstrating a renewed appetite from exhibitors of all sizes to highlight their sustainability initiatives.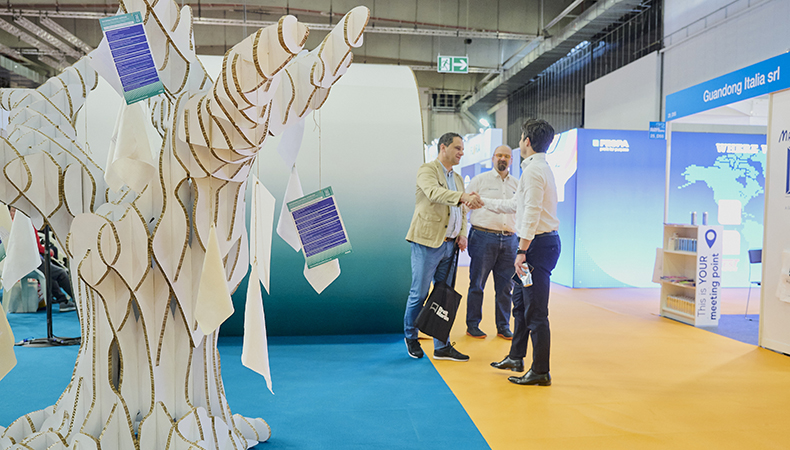 "There have been lots and lots of innovations during lockdown, and the research and development industry didn't stop – it carried on zooming ahead," explained Debbie McKeegan, FESPA's Textile Ambassador.

"Post-COVID, and the issues people have had within the supply chains, there has been this huge appetite for more sustainable production, green technologies and certification. The industry has been working on all of those things in the background, and now they've come to the fore here."
Spotlight on sustainability
FESPA has been supporting the development of sustainable growth for the industry through its Profit for Purpose programme since 2005, and this year's expo showed just how big an impact it has had boosting awareness of the environment and climate change over almost two decades.

A dedicated Sustainability Spotlight was one of the main features of the event, delivering important insights on a host of topics geared towards helping print and visual communications businesses operate in an environmentally responsible way.

FESPA's Head of Associations and Technical Lead, Graeme Richardson-Locke, said that the growing interest is largely being driven by customers. "We are all customers, and many of us who are aware of the climate emergency are uncomfortable about the legacy we are leaving for our children."

He continued: "Sustainability is such a massive, all-encompassing term, but for us, it is about the environmental accountability and your social practice. People's presumption – that things will always be as they always were – is just wrong."

And the new President, Christophe Aussenac, said in his welcome speech: "I'm still learning about something every day, and we must stay humble. Today, we no longer have a choice. If we want to sustain our business, thinking of our children, we must continue our efforts. It's never too late."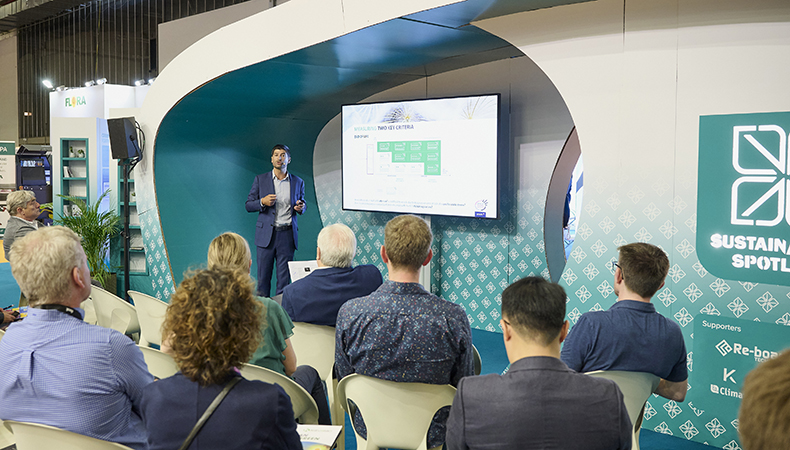 The basics of carbon management, eco-design in marketing, sustainable products for short-term graphics, ISO standards, and replacing conventional materials with paper, were just some of the issues discussed at the Sustainability Spotlight, which was sponsored by HP, Re-board Technology, Antalis, Drytac and the Hohenstein Institute.
A continuous journey
Useful sustainability advice and information on regulations and incoming international treaties were also on display, while a sustainable material showcase highlighted the greener print substrates now available to printers.

Beyond the Sustainability Spotlight stand, it was impossible not to notice a recurring theme on show throughout the eight huge exhibition halls.

Green product solutions, solventless technology, circular economy, recycled products, carbon neutrality, non-hazardous materials, zero deforestation, water-based risks, returnable products, employee health and end-of-life design were just some of the buzzwords being spoken at the exhibition – words that would have been unheard of when FESPA first convened the event 60 years ago.
Become a FESPA member to continue reading
To read more and access exclusive content on the Club FESPA portal, please contact your Local Association. If you are not a current member, please enquire here. If there is no FESPA Association in your country, you can join FESPA Direct. Once you become a FESPA member, you can gain access to the Club FESPA Portal.