Tomorrow's World
Showcase sustainability – and future-proof your business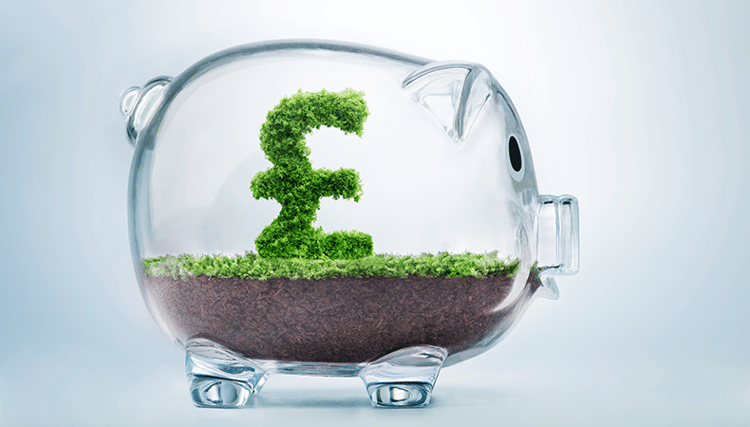 Can greening practices improve your metrics?
Try if you can – but there's no escaping the subject of sustainability. Wherever you look, there are messages encouraging us to be proactive in our approach to the environment and consider new ways to reduce our carbon footprint.

Consumers act differently today, paying close attention to the characteristics of the products that they purchase – right down to the bag they put their shopping in to take it home. This in turn changes the way brands, retailers and manufacturers operate, as they seek to meet these new demands.

Here in print, the pressure is most definitely on. In recent years, we have seen huge changes in terms of how machinery, consumables and other solutions are marketed to print service providers (PSPs), with a focus on how these developments can allow them to offer more sustainable services to customers.

So how can PSPs protect the future of their business by enhancing their own sustainability metrics?
Focus on the environment
Print and sustainability expert Laurel Brunner is part of the Verdigris Project, which champions the use of environmental initiatives across the print sector. Brunner has noted an increase in the number of leading brands that are focusing more on the environment and, as a result, the PSPs that they work with are also having to change.
She picks out Kraft Heinz, the world's fifth-largest food and beverage firm, as one leading company that is paying more attention to recycling: "The company published its corporate social responsibility [CSR] programme in 2015, outlining commitments to cut by 15%, greenhouse gas emissions, water consumption, waste to landfill and energy consumption emissions by 2020, from a 2015 baseline.
With an eye on the circular economy, Kraft Heinz has now gone a step further, and aims for all of its packaging to be 100% recyclable, reusable or compostable by 2025.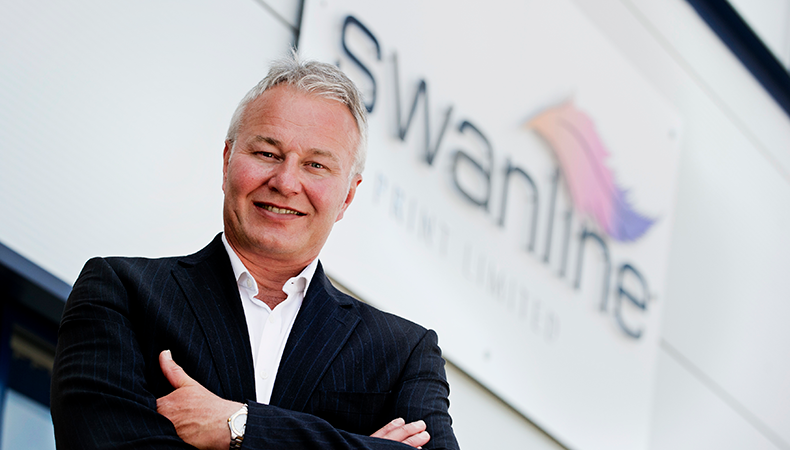 Nick Kirby, chief executive of the Swanline Group, advises PSPs to plan ahead and determine what sustainable solutions are available
Point-of-sale (POS) and packaging leader Swanline Group has also acted on this trend and refocused on more sustainable products in order to satisfy demand. Nick Kirby, chief executive, says the company believes in orchestrating change for the benefit of the environment, with its priority being to develop and distribute sustainable materials that are cost-neutral compared with less workable alternatives.
He adds: "While the focus has been mainly in the packaging sector; the POS sector will undoubtedly be under the microscope in the not-too-distant future for the same reasons. Our advice is to plan ahead and determine what practical, sustainable solutions are available. We consider sustainability a corporate responsibility."
No matter what substrate is needed for a specific job, knowledge that goes deeper than recyclability is needed
Industry trade association Grakom offers similar advice to its members and the wider market. Carsten Boeg, head of CSR at Grakom, says knowledge is key when it comes to sustainability issues and calls on PSPs to investigate the avenues available to them.
Boeg says: "No matter what substrate is needed for a specific job, knowledge that goes deeper than recyclability is needed. Of course, knowledge of recyclability is important, due to the carbon stocked to the substrates, but some substrates are more suitable than others in specific jobs."
A plan of action
While all this may be sound advice, how can PSPs change their business and methods to become greener? Grakom has developed a new tool to help PSPs identify the substrates that offer a route to a greener future.
ClimateCalc – available via climatecalc.eu – includes a database of categorised substrates related to customers' choice and intended use of the final product. The tool also features information on the recyclability, carbon footprint and other relevant eco-parameters of substrates, helping PSPs find the suitable and sustainable materials for the job.
Boeg says: "Since the substrates are key to deciding the product sustainability profile, knowledge about substrates should be primary in the dialogue with the customer. Put another way, the PSP needs to operate with a kind of scheme that makes them ready for guiding the customer – sometimes as early as during the first conversation with the client."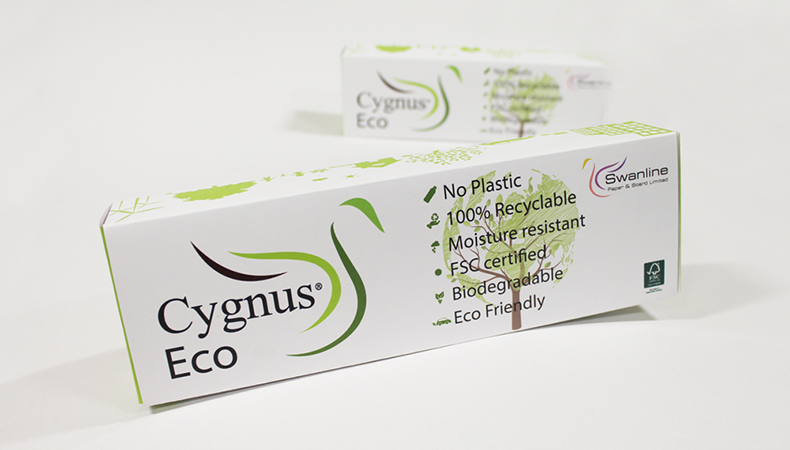 Swanline Group worked with Swedish paper mill Oppboga Bruk to develop Cygnus Eco Board, a new fibre-based sustainable material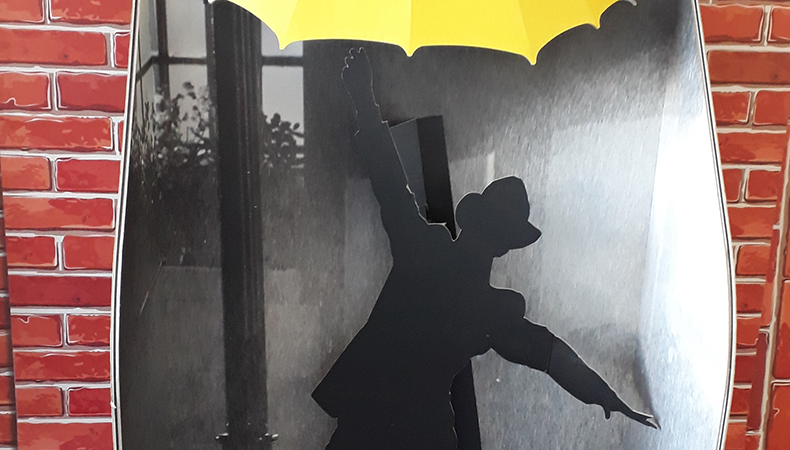 Weatherproof Cygnus Eco Board can be recycled up to eight times
Swanline Group has also been forward-thinking in its own operations, working with Swedish paper mill Oppboga Bruk to develop a new paper-based material in the form of Cygnus Eco Board. Available in seven callipers from 310 to 2200 microns, it has no polyethylene or plastic coating and has even endured significant trials through many weather conditions, from Swedish blizzards to 40°C summer heat.
The material is also certified by the Forest Stewardship Council and provides a suitable print surface for screen, litho or digital processes and, according to Kirby, is generally competitive against plastic-based alternatives.
Swanline Paper and Board, the exclusive distributor of the product in the UK, has built on this and developed a range of enhanced design features for products made from Cygnus Eco Board.
Production can be organised to be as close as possible to its point of use, in order to minimise emissions associated with transport
Brunner also makes a case for changing the way packaging is produced in order to optimise its sustainability. This includes minimising excess components and complex production, as well as using recyclable materials so that it can be used again.
She also advises that production can be organised to be as close as possible to its point of use, in order to minimise emissions associated with transport. Waste handling can also be supported pre- and post-consumer by PSPs working in partnership with the brands.
The problem with plastics
Despite such innovative initiatives, some PSPs cannot avoid using plastics in the production process and are more limited in their options. So how can such companies ensure they are limiting their environmental impact without having to give up plastic-focused work?
Kirby of Swanline Group offers an interesting viewpoint, suggesting that paper is the sustainable, natural choice, but is not the only answer to ensuring a sustainable future – branding such an approach as "misguided".
He expands: "While the generic term 'plastic' covers a whole array of materials, we should not view them as the scourge of the earth in all cases. It is how we approach recycling and the education of consumers that will drive a greener future for us all."
Boeg at Grakom offers similar reassurance to PSPs involved in production with plastics. While paper-based products can offer an easier route to sustainability, plastics – when used responsibly – can sometimes offer a more effective solution.
He says: "Some [plastics] for outdoor use will last for longer, and therefore the relation between the energy used in the raw materials and less recyclability capacity might be more essential than a substrate like polypropylene, which might have a better recyclability capacity, but in fact will last for a shorter period than maybe wanted."
And even if you are using plastics, Brunner says there are ways you can cut down on this without compromising on the quality of the final product, citing a number of global brands that are seeking to make changes under a new joint initiative: Unilever, Coca-Cola, PepsiCo, Walmart, L'Oréal and Nestlé.
Brunner says Unilever intends to be using 25% recycled plastic for packaging by 2025 and that is working on a plastics protocol for the industry to develop a technical solution for multi-layered sachet recycling. Coca-Cola is developing an initiative to help collect and recycle all packaging associated with its products by 2030, with the aim of making all consumer packaging 100% recyclable by 2030.
Setting the standard
The ISO 14001 standard related to environmental management can help shine a somewhat greener light on PSPs. Kirby of Swanline Group says the company is committed to future accreditation across all business units, through the development of key performance indicators and systems to track and persistently improve environmental management: "We continue to make significant investments to drive our objective and to underpin our declarations on the products we develop and sell."
However, Boeg says that although the standard allows companies to communicate and showcase their sustainable methods, the primary focus here should be on both transforming ideas and substrates or finishing into products.
The most essential sustainability impact, as we see it, is to make the right choices for your customers, rather than running a management system," he says. "For this reason, we're working and focusing on improving our database tools of relevant raw materials and substrates and our metrics of costumer dialogue tools."
Kirby weighs in, saying that although the ISO 14001 standard is important, new technologies are allowing PSPs to make improvements throughout the print production process. He cites the progression of digital print, Industry 4.0 process systems and conversion technologies in particular as having helped dramatically reduced waste while giving the flexibility to react more quickly.
Kirby added: "Analogue mindset does not fit into today's PSP model, albeit analogue technology still plays an important role to fulfil every need across a wide spectrum of print demands. It is the way we adjust our thought process to integrate those assets into a digital mindset that makes them invaluable and efficient in a sustainable manner."
Sustainability is without doubt a rather tricky subject, especially as some of the processes associated with "going green" can be costly, and with PSPs under pressure to save on finances, it can be a difficult decision. However, as Brunner emphasises, it is the duty of the industry to showcase how print and paper can be sustainable.
Arguments and tools for supporting print's environmental sustainability are increasingly abundant
Brunner says: "The best we can hope for is that machine manufacturers, print buyers, printing companies and industry associations take a leadership position on this industry's environmental impact. The worse case is that print continues to lose out to electronic media, despite its lack of sustainability credentials and inability to support the circular economy.
Arguments and tools for supporting print's environmental sustainability are increasingly abundant. But unless they are used to make a constructive case for the graphics industry's sustainability, the slope might be more slippery than we thought."
---
Top tips on sustainability
Research products to understand their individual sustainable features
Use sustainable consumables to develop new products
Work with suppliers and manufacturers to identify suitable products for your production
Consider the ISO 14001: 2015 standard to showcase your green credentials
Not all plastics are bad if used responsibly; find out how you can limit your carbon footprint by using certain products in jobs
Ensure production is as close to its point of use as possible to help cut down on vehicle emissions
Learn from the examples set by major brands to make your business more sustainable
---
Become a FESPA member to continue reading
To read more and access exclusive content on the Club FESPA portal, please contact your Local Association. If you are not a current member, please enquire here. If there is no FESPA Association in your country, you can join FESPA Direct. Once you become a FESPA member, you can gain access to the Club FESPA Portal.