Tomorrow's World
Shaking up the world of interior décor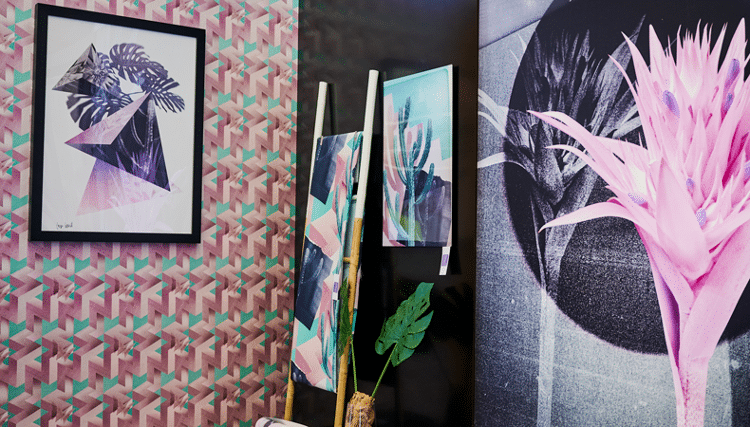 Curator of Printeriors Debbie McKeegan discusses the new breed of designers and the scientific advancement changing interior décor for ever.
How is design moving to the forefront of interior printing?
In the interior space, design has always been the driver for the actual purchase – William Morris famously started this when in 1861 he founded his own interior décor company, and his iconic designs remain popular worldwide. Interior décor is a tactile space where the designer profile, creativity and quality are held in high regard.
Digital technologies have enabled a new era of creativity and customisation. As awareness of technology and product applications grows, we see many new entrepreneurial businesses – some are design-led, and others service the design industry by providing speciality print services.
The textile industry and the interior industry are affected by the same trends as the rest of the globe – clients need to reduce stock and they want to switch to sustainable production. They also want to be unique and seek to build a loyal customer base – eclectic design holds a premium price point. The rise of Instagram Interior brands is just one example of the many online success stories for e-commerce designer brands.
We're seeing a whole new generation of young entrepreneurial designers, young businesses that are growing at pace across the interiors landscape. At the same time, digital technology is becoming simpler to use, and much more affordable, which allows entry-level designers and printers to utilise technology in-house to get smarter, deliver faster and generate new business opportunities.
How are young designers changing the paradigm?
The use of digital technology among young designers is epitomised by people such as Richard Quinn, who was among the first of his generation in the fashion industry to go out and produce his own collections using in-house digital printing technologies. Another example is Freya Roze Richmond, who won a Printeriors award in 2018, and went on to work with Richard. Freya then went on to found her own interior brand FROZE. Most universities now teach digital textile technology as part of the curriculum. But the industry is changing so fast, it's really hard for the academic sector to keep up. The print industry needs to connect, collaborate and share knowledge.
We have to remember that the adoption of digital printing technology is still only 6% to 8% of the TAM [total addressable market] across the entire textile sector globally. There's no doubt that the adoption of digital technologies is accelerating. Printeriors hopes to inspire new entrants to the market and to encourage growth by showcasing new technologies and new applications.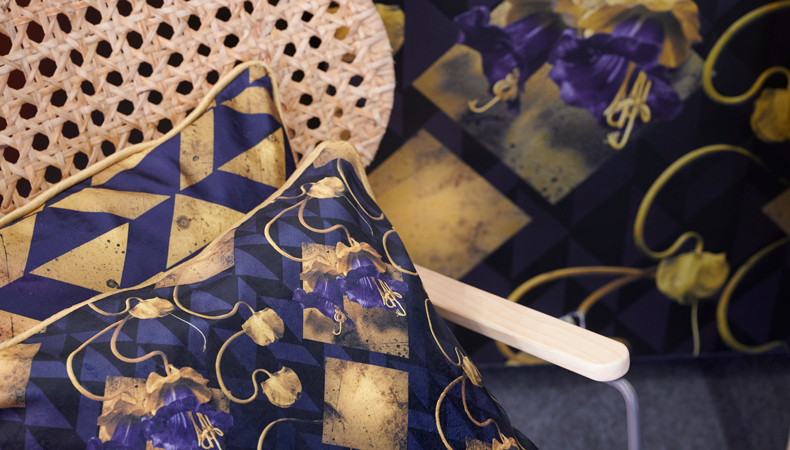 It's a really interesting time – visitors want to now know everything – what, why and how? Out in the marketplace we are witnessing key shifts in the supply chain. You've got large companies buying digital technologies to manufacture in-house or to top up analogue print with digital production. Others are exploring digital to expand their business models.
How are production processes changing all the time?
In traditional textiles you would pre-coat, print and post-finish. Finishing requires high volumes of water for steaming and washing, which have now been reduced through the development of direct pigment printing in some areas. Fabric preparation and post-finishing requires a lot of carbon-heavy ancillary machinery. But the industry now offers scaled-down production machinery to support digital production.

Digital printing should complement conventional screen printing, which is far more cost-efficient for longer runs. Digital provides the perfect solution for special limited editions or test volumes for new designers.

But the endgame really should be that digital isn't just a replacement for an analogue machine. We can be much cleverer than that – we need to restructure the supply chain and the manufacturing workflow so that it becomes fully automated. We are all collectively reinventing the textile industry.
What does the future hold for the interior décor industry in general?
I think we'll be seeing more and more material innovations. It's interesting when you talk about sustainable materials – people go against synthetics and assume cellulose is a greener product. The issues go much deeper than a simple choice between cotton or polyester. We have to become transparent and start to create products that are designed for a circular economy. We should build our awareness, share knowledge, collaborate and not be too quick to take a position when the full facts are not yet present.
There are numerous innovations coming onstream in the field of material science. For example, biocatalysts [engineered enzymes] can now be added to polyester to accelerate the degradation of the product under specific conditions and make it greener. We're going to see a massive amount of innovation and new scientific advances for interior décor over the next few years.
This is a unique time right now. Scientists, chemists, designers, machine manufacturers and product managers – the whole industry – are working together with so much goodwill. In the printing industry, décor and the fashion industry, no one is working in silos any more because you simply can't be sustainable on your own. It's a collaborative journey: Print, People and Planet.
Become a FESPA member to continue reading
To read more and access exclusive content on the Club FESPA portal, please contact your Local Association. If you are not a current member, please enquire here. If there is no FESPA Association in your country, you can join FESPA Direct. Once you become a FESPA member, you can gain access to the Club FESPA Portal.