Tomorrow's World
Revolutionising retail: customer experience, personalisation and print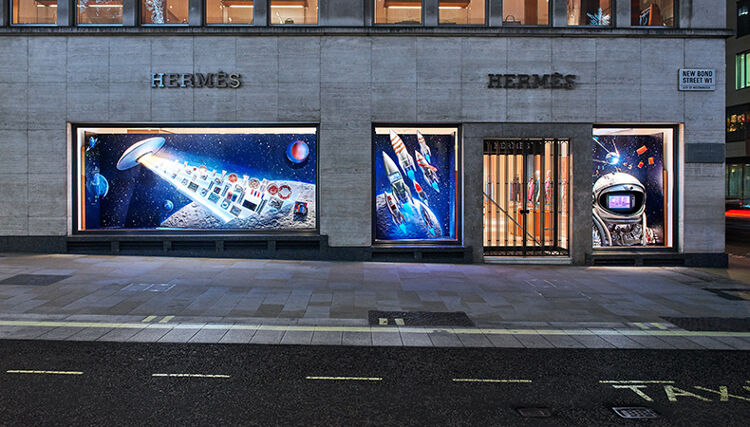 COVID-19 has had a huge impact on retail but it may have only sped up existing change.
Tim Williams is the CEO and founder of product customisation experts YR. He says the pandemic has changed retail, and print's role in it, forever. "The pandemic has refocused how customers buy things and how they consider their retail experiences, so the point of the retail store is probably going to change more," he says. "I think retailers are going to stop measuring their success purely by how many items they've sold in a particular store per day, and I believe they are going to focus on how many consumers engage with and experience their brand."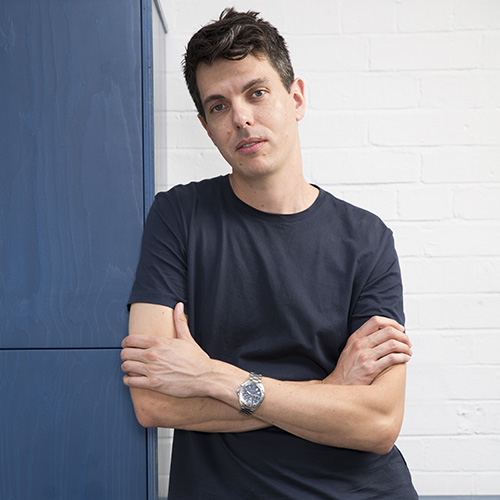 Tim Williams
The economic importance of retail cannot be overstated. Among OECD member countries, one in 12 workers are employed in retail, and the sector accounts for almost 5% of GDP. However, year-on-year sales of non-food products in the EU dropped by 23.8% in April 2020, and the effect on clothing and fashion was even more dramatic: the drop in year-on-year sales of clothing in the US in April 2020 was an astronomical 89.3%.

For high-street retailers, restrictions were particularly tough – e-commerce grew but the rest of the sector suffered. In the UK, the proportion of retail money spent online increased from 19.1% in April 2019 to 30.7% in April 2020, while in France, during the country's first lockdown, the e-commerce market share increased to almost 10% of total consumer goods sales, compared to less than 6% in 2019.

These figures have ebbed and flowed with the prevailing restrictions, but with many respected high-street retailers all either closing or facing emergency rescue, the effects will be long-lasting. In the UK, the list of businesses that have failed include companies such as Cath Kidston, Debenhams, Edinburgh Woollen Mill, Topshop, Dorothy Perkins, Burton and Miss Selfridge.
New expectations
But in many ways, the pandemic has turbo-charged changes and challenges that were already apparent. Part of the reason for this, says PR and Marketing Manager at creative innovation studio and augmented reality (AR) experts Holition, Isabel Regino, is more demanding customer expectations.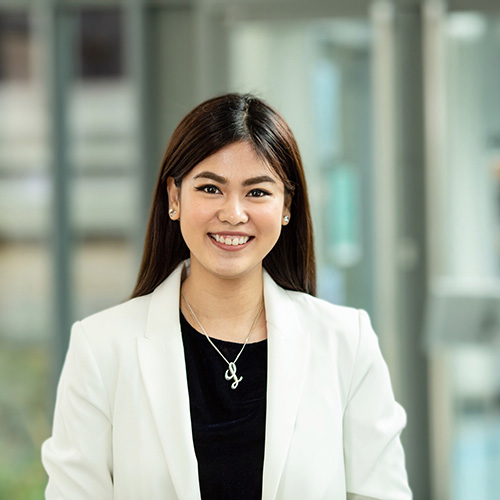 Isabel Regino, Holition
"Products, services, and brand experiences can all be accessed within a mere touch of a button – or perhaps even triggered by motion and gesture – and this is certainly going to continue breaking down traditional barriers and reinvent the consumer retail journey. But bricks-and-mortar will still have a place in the retail journey – it always will.

"Some of the opportunities there are around data, AI, hyper-personalisation and choice, behaviour recognition, being able to see millions of products from the comfort of your own home and having a frictionless shopping experience, but the physical then plays to us as human beings and individuals, using our senses, interacting with other people – they're very different. I can see that successful brands will be doing both."
Putting the personal into print
The print industry is not immune to the effects of these changes. But in many ways, the drive for more personalised retail experiences – and especially more personalised products – could be seen as a new opportunity for print. This is particularly the case with smaller, quicker and higher-quality on-demand printing technology coming on stream.

Back in 2013, Tim Williams of YR spotted the potential for consumer-led retail experiences and opened a pop-up shop just off London's Carnaby Street that offered in-store printing of t-shirts and hoodies. Now YR has offices in three continents and works with some of the world's biggest brands, such as Levi's, Google, H&M and Ralph Lauren.

"When we started, the whole premise of our business was that there was nothing pre-made in the store. It was all about customers coming in, creating a design, having that printed in front of them and then taking it away. It was centred around our software that ran on touchscreens in-store, and it combined customisation or personalisation with the live experience of having something made in front of you," Tim says.

"Back then we were using large format Epson printers to print onto sublimation paper and then pressed onto t-shirts, sweatshirts and smaller things like the water bottles. We thought there was a gap in the market, but we also felt it was a cool idea to take the custom t-shirt shop concept and turn it on its head to become fashion focused, but nobody was really doing it."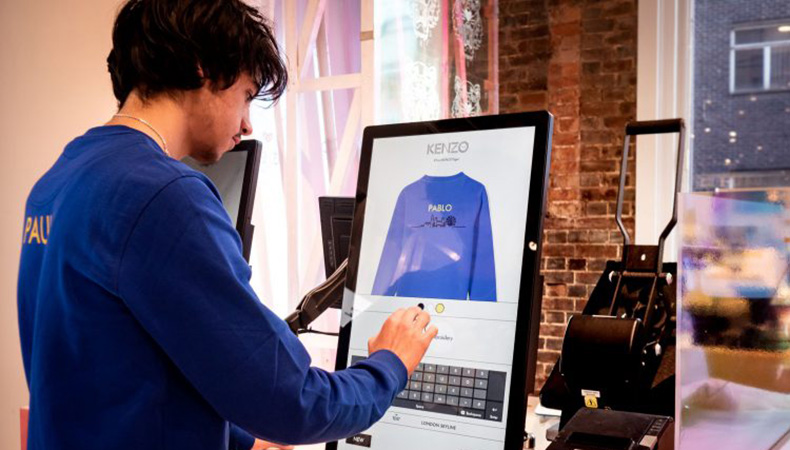 Visitors to Kenzo in London browse and personalise a selection of t-shirts and sweatshirts then watch them being vinyl printed or embroidered live in-store

Although it developed its own retail outlets – which included a presence in Selfridges in London and Macy's in New York – YR found itself working more and more with other brands to help bring customisation to life both online and, crucially, in-store (see images).

"We closed our direct to consumer outlets at the end of 2015 and focused purely on helping brands and retailers create these crazy, exciting experiences all centred around customisation in-store. We've also grown into other techniques, such as DTG [direct to garment] and then into embroidery and even things like laser etching. We're in more than 75 Levi's stores globally now, and we work all over the world with Ralph Lauren, so we're carrying some very big brands' customisation experiences for their consumers," Tim says.
Better tech, better retail
Part of the reason YR has been able to pioneer the in-store print experience is because DTG technology has become higher-quality and easier to use.

"I think the print industry has seen and recognised the prevailing changes for some time. If you look at Ricoh small format DTG, we use them in-store with Levi's. Low-volume production printing with smaller format and less industrial machines that can be used in-store by a general user has interesting implications. It suddenly means that you can get production quality in a retail store," Tim says.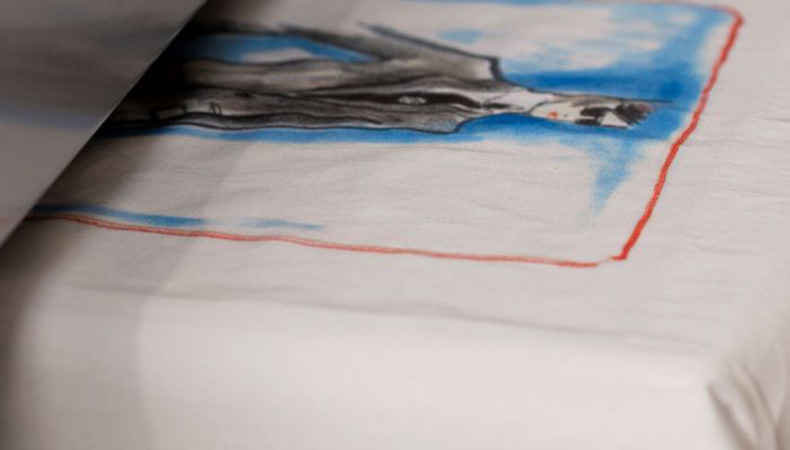 Customers in Paris, London and Munich stores were able to add Karl Lagerfeld sketches, quotes and logos onto crisp white shirts and have them printed live in store

As the boss of a successful business built on innovation, it's probably no surprise to hear that Tim is optimistic for the future. But even as we take only our first tentative steps towards post-pandemic life, he believes there is good reason to be positive about the potential for both retail and print industries.

"Although our YR software can work across both in-store and online, certainly we still champion bricks and mortar and the future of retail in a physical setting. It is morphing and changing rapidly but it is still a really exciting place to be. For example, Levi's has committed to opening more stores, particularly in the US, and two new M&Ms World stores have opened this year already.

"How we drive that experience is something that we can have a part in as well. Here at YR, we're working with existing and new manufacturers and create products that are suitable for the changing face of retail. But for the print industry, that engagement and experience-led retail experience is already having an effect, and I think digital print is probably currently in its boom years. Whether it's short runs, longer runs, or responding to consumer demand in-store – it's all about the machines becoming smaller, faster, better and more exciting."
Become a FESPA member to continue reading
To read more and access exclusive content on the Club FESPA portal, please contact your Local Association. If you are not a current member, please enquire here. If there is no FESPA Association in your country, you can join FESPA Direct. Once you become a FESPA member, you can gain access to the Club FESPA Portal.