Tomorrow's World
Plastics recycling: corporate social responsibility policies at HEXIS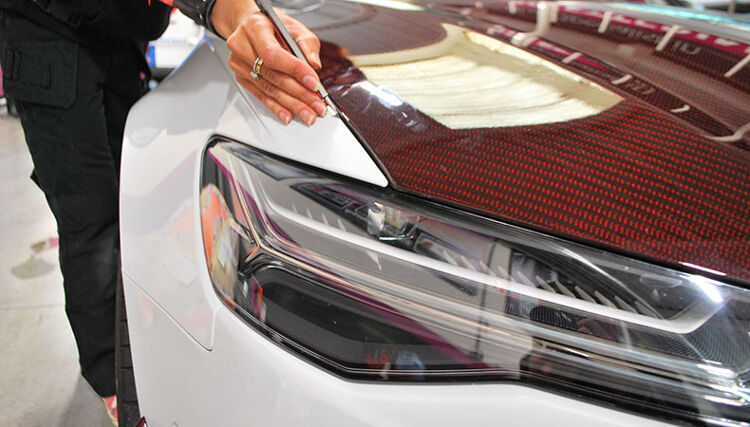 How high sustainability standards and reducing VOCs are keeping customers happy.
How are vinyl/car wraps moving away from PVC towards other self-adhesive polymers?
At HEXIS, we use several materials to manufacture our adhesive films for application on cars: polyurethanes (PU) and polyolefins – polyethylene (PE) and polypropylene (PP).

Depending on their manufacturing methods, these polymers give adhesive films the very specific advantages of conformability, durability and recyclability.

Adhesive films made from PU do not contain plasticisers and are manufactured without the use of solvent (limiting the release of CO2 during these steps).

Two flagship HEXIS ranges are made from this durable polymer: the Bodyfence and the SMARTAC PU ranges.

Polyolefins (PE and PP) stand out for their easier recyclability, which has been proven for a long time, as well as for good conformability (flexible or rigid) without the addition of plasticiser, but with a lower exterior durability than PU and PVC.
What are the disadvantages of PVC and the advantages of the new materials?
PVC has the disadvantage of releasing hydrochloric acid during combustion and has limited recyclability (two or three times). It therefore requires special installations to capture these emissions.

Another disadvantage of this material is the migration of plasticisers. The two materials mentioned above do not have these drawbacks, but they still have the disadvantage of releasing mainly CO2.
Is moving away from PVC a customer- or company-driven innovation, or both?
HEXIS constantly adapts to the demands of the market and of its customers: some want PVC, others not.

PVC represents the major part of the production of our adhesive films.

The fact remains that the desire of the HEXIS Group is to manufacture adhesive products responsibly. Moreover, this is a strategic axis that the HEXIS Group initiated several years ago thanks to a committed corporate social responsibility (CSR) policy, based on processes limiting the release of VOCs [volatile organic compounds] and high standards.
What innovations are taking place to make vinyls/car wraps even more sustainable?
As soon as the collection, sorting and recycling processes for each component is operational and optimised (the liner, the flanges, the packaging to name only a few), we will undoubtedly be able to position our activity as durable by applying it to our customers' adhesive face film.
What do you do on a day-to-day basis to improve sustainability?
The HEXIS Group is deploying an ambitious CSR policy aimed at recovering all of its production waste.

Many actions are carried out daily:
Recovery programme from our customers.
At HEXIS, cardboard recycling, collecting, and reprocessing of industrial liquid waste.
Reduction of VOCs during the production of films and their adhesion.
Others are emerging for the years to come: a PVC recycling programme without production adhesive, and the recovery of all waste in the production environment.
Are you planning to reach net zero by 2030?
The desire of HEXIS SAS is to gradually reduce all atmospheric emissions in connection with the manufacturing process. With this in mind, HEXIS SAS has undertaken to carry out a SCOPE 3 carbon balance in order to map said atmospheric emissions and act effectively.

Net zero emissions by 2030 is a challenge and we have it as a target.
Become a FESPA member to continue reading
To read more and access exclusive content on the Club FESPA portal, please contact your Local Association. If you are not a current member, please enquire here. If there is no FESPA Association in your country, you can join FESPA Direct. Once you become a FESPA member, you can gain access to the Club FESPA Portal.