Tomorrow's World
People, planet, profit: an alternative approach to creating a leading print company in the 2020s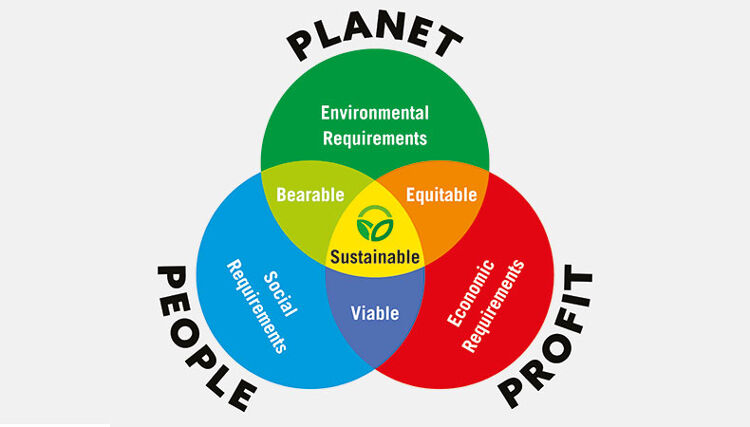 In the first of three articles, Matthew Parker, Founding Director of Profitable Printing Relationships, discusses how the 'three Ps' can make your company more innovative, sustainable and profitable.
For many print companies, the only current sales strategy is to win work on price. This leads to a constant race to the bottom as competitors try to underbid each other.
Being a purely profit-based printing company is hard
The only way to sustainably reduce prices is to reduce costs. Therefore, there is often pressure to grow in capacity to provide economies of scale. The problem with this strategy is that a growth in turnover does not necessarily equal a growth in profits. Printing companies become factories dedicated to commodity products.

However, there is an alternative approach that can change a company into a more profitable, innovative, and sustainable organisation. This approach is called the triple bottom line.
What is the triple bottom line?
The triple bottom line is often simplified into the 'three Ps' or 3Ps: people, planet and profit. It is intended to create a different company culture, moving away from the price-led mentality of the past and changing the way a company does business to help both itself and its customers. The idea is that it is possible to do well (or even better) by doing good.

The theory of the triple bottom line was first developed by author, advisor and entrepreneur John Elkington in 1994. He describes himself as a "world authority on corporate responsibility and sustainable capitalism". Elkington says that "the triple bottom line is a sustainability framework that examines a company's social, environment, and economic impact." For him, the importance lies in the measurement of this theory in economic rather than just financial terms.

By moving away from a pure profit focus and instead concentrating on the three Ps, a printing company can change its dynamic. Let's have a look at the three Ps in more detail.
People
Most employees are not driven by monetary gains. A 2021 survey showed that 36% of employees would give up US$5,000 in salary to be happier at work. Happiness was also connected to employees taking 10% fewer sick days and salespeople making 37% more sales. Recruitment and retention costs also fall if a workforce sticks with its employers.

Focusing on the community is an important part of the three Ps. Giving employees volunteer days to help the community or with charities can make a big difference for everyone. For instance, in the UK St Austell Printing Company is a member of Cornwall Community Foundation Business Club, which offers grants and sponsorship to a wide range of local organisations and charities.

A focus on people can also help grow sales. Awesome Merchandise highlights and promotes its customers, especially those based near its factories. The firm also spends a lot of time reaching out and helping within the sectors that they serve: independent record labels, for example.

Concentrating on benefits for employees and the community doesn't just help you as an organisation: helping communities, promoting diversity and improving childcare provision all lead to a healthier economy. And that's good for business.
Planet
The environmental impact of print on the planet has been a hot topic for some time. Right now, it is becoming especially topical in the garment and wide format sectors. Buyers are demanding sustainable inks and substrates. Carbon footprinting of products will soon become widespread.

In turn, this creates pressure on companies to reduce their footprint. Renewable energy, energy reduction and waste reduction are just a few of the items that should be at the top of a company's agenda right now. This isn't just restricted to the factory or the firm itself: companies also need to start examining their supply chain footprint.

Reducing energy and waste can significantly reduce costs. Leaving a lower carbon footprint does not have to be a cost. And it means that we have a better chance of keeping our planet within sustainable global temperatures.
Profit
All companies must make profits to survive. We have seen how printing companies can improve profit margins by reducing environmental costs and focusing on people.

However, the 3Ps approach is about more than cost-cutting. It is also about more than the financial profits to your company. It is about creating a sustainable economy where profitability can be seen to continue for everyone for the long term.

Customers also recognise companies that adopt this approach. For instance, one in five customers are more likely to use a company that gives a portion of its profits to charity over its competitors.

In contrast, some companies feel that the struggle to survive is too great to spend too much time on people and planet.
Aren't the 3Ps misplaced idealism?
A company without a triple bottom line approach will soon be ignored by many buyers. Consumers are driving demand for ethical, sustainable goods and services. Brands are now applying these standards throughout their supply chains.

In addition, the best employees are increasingly refusing to work for companies that lack the right culture and approach. As we will see in future articles, creating the right workforce culture can make a big difference to the success of a company.

Most importantly, thinking in these new ways stops the relentless focus on price. Instead, it leads to innovation and new ways of looking at running business. The 3Ps can help create a thriving and profitable printing company.

Three action points if you like the idea of the 3Ps:
Raise the idea of the 3Ps with key company stakeholders such as the managing director, operations manager and head of sales. Start promoting the concept and raising awareness with the senior management team.

Talk to your customers about the 3Ps. You may find that many of them will support this approach and give you a preferred supplier status. In addition, ask them if there are any specific 3P action points that they would like you to take. Adopting their requests will create a stronger relationship with them and make sure you comply with any new procurement guidelines.

Look out for my next article where I show more specific examples of how implementing the 3Ps can improve a print company's performance.

There should be more to the bottom line than just money
However, applying the 3Ps approach can actually help increase the bottom line. In addition, it is likely to create a more sustainable, nimble and market-leading company.

In my next article I will explain more about how you can apply the 3Ps approach to improve your company performance.
Become a FESPA member to continue reading
To read more and access exclusive content on the Club FESPA portal, please contact your Local Association. If you are not a current member, please enquire here. If there is no FESPA Association in your country, you can join FESPA Direct. Once you become a FESPA member, you can gain access to the Club FESPA Portal.