Tomorrow's World
Packaging pollution: sustainable alternatives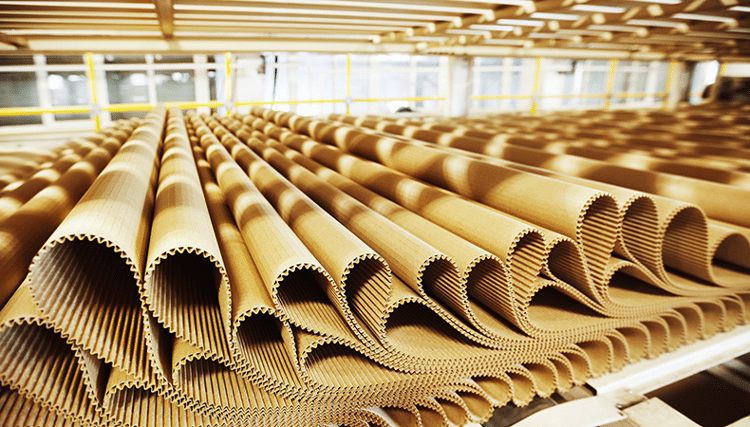 We are at a tipping point in consumer awareness of climate change, social and environmental responsibility and plastic pollution – and packaging is in focus.
Consumers are no longer content to buy carelessly and to go along with the old ways – increasingly they scrutinise brands and hold them to more stringent environmental standards.

And as they recycle an increasing proportion of household waste, consumers cannot fail to register the plastic and paper mountain building up in their bin, caused by the day-to-day packaging they are forced to buy in the shop or receive through the post.

According to Nielsen and Unilever, 21% to 36% of consumers in North America and Europe say that packaging is the biggest factor in sustainable purchasing decisions. And plastic packaging waste represents an $80–$120 billion loss to the global economy every year, according to the World Economic Forum.
Educate your clients: paper or renewable packaging where possible, single component plastics only when absolutely needed
Manufacturers can all do better to improve their carbon footprint and cut plastic pollution by reducing the amount of packaging used. Big brands have already noted this: Sainsbury's, for example, which currently uses almost 120,000 tonnes of plastic packaging each year, reduced its tsunami of plastic by just 1% in 2018, but has promised to lower the amount of its plastic packaging by 2025 by 50%.
And packaging giant DS Smith – which is already Europe's largest cardboard and paper recycler, managing over 5 million tonnes every year – has pledged to manufacture 100% reusable or recyclable packaging by 2025.
Ditch excess packaging
But isn't packaging just part of the world we live in and something we have to deal with? Vloggers on YouTube make much mileage and garner millions of views from 'unboxing' videos, so stylish and functional secondary and tertiary packaging remain attractive to the consumer.

Sonja Angerer, Head of Content at mypromo.com, says: "As long as we run a system based on growth, long-term sustainability is very hard to achieve, as resources are always limited. But of course, we can do a lot to make packaging more sustainable as well as economic viable: for example, using more cardboard and less plastics. Or ditch secondary and tertiary packaging, when possible.

"The widely accepted definition of sustainability contains all three pillars: economical, ecological and social. It seems the economical and social pillars are not considered as thoroughly as they should be in some countries, with ecological questions the only focus."
Go digital
The SDGs remain low on some firms' radar. Sonja says: "I'm not sure even if every printer has heard about the SDGs, so they will definitely need to educate their clients: paper or renewable packaging where possible, single component plastics only when absolutely needed."
The success of HP's Page Wide range of wide format digital printers put paid to earlier limitations of digital's speed and cost
By its nature, digital print prevents waste, speeding up the print approval process, and allowing to print only what is required. Customised and personalised packaging in short runs, which digital excels in, allows e-commerce brands to send targeted messages directly to customers' homes with more impact than throwaway inserts. The success of HP's Page Wide range of wide format digital printers put paid to earlier limitations of digital's speed and cost. DS Smith and LIC Packaging in Italy now rely on them.
Daniel Nordigården of industry analyst McKinsey, who has been looking at the possibilities of packaging and print says: "What is already being tested now is digital print. How can I have my name on a beverage bottle? Or, when I buy a jar of jam or something, how can I have my name on it—or some kind of customised promotion? I think, especially for in-store sales, that kind of personalisation will be important to drive the sale of goods."
Systemic change
Printers need to engage with the packaging problem. Sonja says: "Secondary and tertiary packaging has often become useless really. If goods are sold online only, they don´t need a traditional sales packaging, because they don´t compete on the shelf. They still might need on-demand protection and marking, though, for which digital printing and cutting is a very viable solution. Printers need to help their clients look into whole packaging processes, really, from printing to logistics to recycling. This might mean building up design and consultancy expertise on top of print expertise."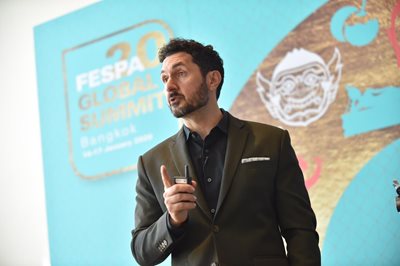 Rob Candelino, Unilever
Look at your materials
Rob Candelino of Unilever says that the multinational giant has been working towards sustainability goals with its printed packaging: "We have been down-gauging the thickness of our printed materials as an ongoing activity and are looking at alternative lighter feedstocks. With the concept of reducing colours and harmonising these, we will reduce our complexity for inks significantly."

When Danish Crown, a meat company, approached DS Smith to reduce its environmental impact, the packaging producer switched from B-flute to R-flute, which was 27% thinner without compromising on capacity or durability. This simple switch not only reduced warehouse, handling and shipping costs by a quarter, but sliced 290 tonnes of carbon from Crown's footprint in reduced paper consumption and transportation.
Anything but plastic
Use anything but plastic, says Sian Sutherland, co-founder of A Plastic Planet: "91% of plastic ever made has never been recycled. All the noise and concern over recycling has made no difference to the acceleration of plastic production. When our children have children, they will be dealing with triple the amount of plastic on the planet. Something needs to change."

POS and packaging specialist Swanline Group substitute Cygnus Eco Board an excellent board for plastic and foam. And simple swaps on ink can have a palpable effect – where possible Swanline uses water and vegetable-based inks, which can be recycled and have zero impact upon the environment. And their three on-site offcut trim compactors recycle 1200 tonnes per year.

In the hierarchy of paper-based products, corrugated board remains the one to beat. For example, Swanline's corrugated board is made from paper and starch extracted from wheat or maize. It is 100% recyclable and can be reused up to 25 times, suggesting that the corrugated industry is sustainable by design.
Energy savers
Don't just think about the packaging itself. What energy is expended in creating or transporting it – and what is the cost of this to your bottom line as well as the environment? Swanline Group uses organic waste matter to power its business activities. The company, in partnership with paper-based packaging producer McLaren Packaging has just created the world's first sustainable energy generation facility, CB Bio, to manufacture corrugated sheet board, with 6,400 megawatts produced by anaerobic digestion from local food and animal waste. The plant diverts 25,000 tonnes of waste from landfill and produces enough energy to pass on carbon credits to Swanline and McLaren's manufacturing plants.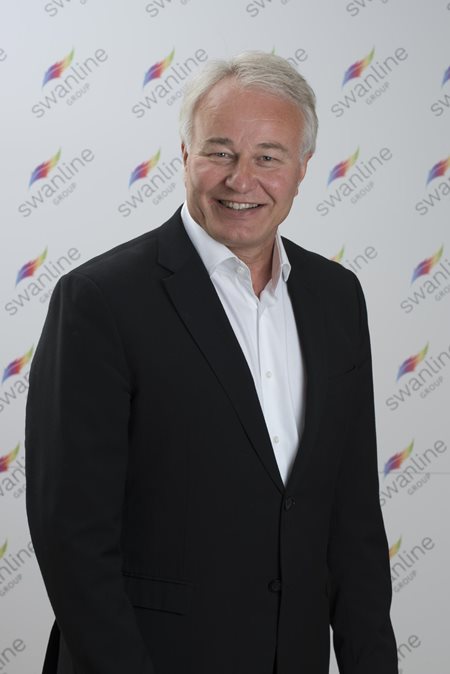 Nick Kirby, Swanline

CEO of Swanline Group Nick Kirby said: "CB Bio is a bold statement to our customers who genuinely want to procure corrugated packaging with strong ecological credentials. This is a timely venture providing greener solutions and industry leading benefits for consumers of paper-based packaging. Swanline is committed to providing our customers with a difference and this investment epitomises that pledge."
Circular economy
Israeli firm TIPA creates flexible packaging for food, garments and media that has the same end-of-life as organic matter. Its fruit and vegetable packaging is made from co-extruded, 30% bio-based film and certified as compostable under both industrial and home conditions – which means it can be popped in a food recycling bin. This is a case of using 'nature's packaging' as an inspiration: the plastic film should behave just like a banana peel and absorb itself back into nature after it has been discarded. Eli Lancry, VP of Technology at TIPA, adds: "Our flexible packaging solutions are printable both flexographic and digital. The inks are certified as compostable. Our materials address SDG11 and SDG12."

"The printing industry has done a lot in recent years when it comes to recycling paper-based materials, as well as applying limitations to VOCs," says Sonja. "It needs to do more about energy consumption of machines and other equipment. There are a lot of issues that need to be tackled still: deinking, use of vinyl in wide format, coated papers for digital print, waste, compound materials. The supply chain is just another issue: Non-sustainable forestry, use of rare earth and other raw materials for inks, coating and hardware, unhealthy/ unethical working conditions abroad (and sometimes also in Europe). This applies to the printing industry as a whole, not only packaging, though. Digital printing can help to minimize waste, use of water and VOCs, as well as logistics in the packaging industry."
The future of packaging
Sonja says: "Many consumers in developed countries are just tired of the huge amount of packaging waste that piles up in their everyday lives. It is a hassle, and it increasingly is also expensive to get rid of. Packaging needs to become less, lighter, more reusable, less redundant, more channel-sensitive."

But packaging is everywhere, and isn't e-commerce's omnipresence only going to increase the problem? Changing consumer preferences will drive demands for more personalisation, convenience, sustainability and affordability.
One challenge for the future is 'shipping air' – the costly and environmentally wasteful practice of transporting products in poorly fitting packages
Many people will have ordered a small product online and received it in an outsized box. One challenge for the future is 'shipping air' – the costly and environmentally wasteful practice of transporting products in poorly fitting packages. Void fills – often plastic – usually plug the gap. But even though environmentally friendly void fills are available – potato starch-based water-soluble packing peanuts, for example – they are also frustrating and annoying for customers, adding to their waste mountain.
A better way is to tailor the packaging to the product. DS Smith promises to eliminate void fill with its automated Made2fit packaging service, which provides high-volume retailers with 10 million box size combinations from just three blanks. A manual solution for lower volumes creates 39 possible box sizes.

Nick Santhanam of McKinsey sees the future of packaging in rude health in innovation terms: "A great example people talk about is vegetable-based packaging. Think about it this way: you go buy a burger, then you throw away the box. What happens if you can eat the box? What happens if you can heat up the box and put it into your soup? What if it's algae based or if it's protein based? Then you can reuse it but not reuse it as a package—but in a different application. You can end up eating it. Or your dog can end up eating it. Those are the kinds of innovation I believe you're going to see in the next five, 10, 15 years."

Become a FESPA member to continue reading
To read more and access exclusive content on the Club FESPA portal, please contact your Local Association. If you are not a current member, please enquire here. If there is no FESPA Association in your country, you can join FESPA Direct. Once you become a FESPA member, you can gain access to the Club FESPA Portal.