Tomorrow's World
Kornit waterless technology: innovation in DTG and DTF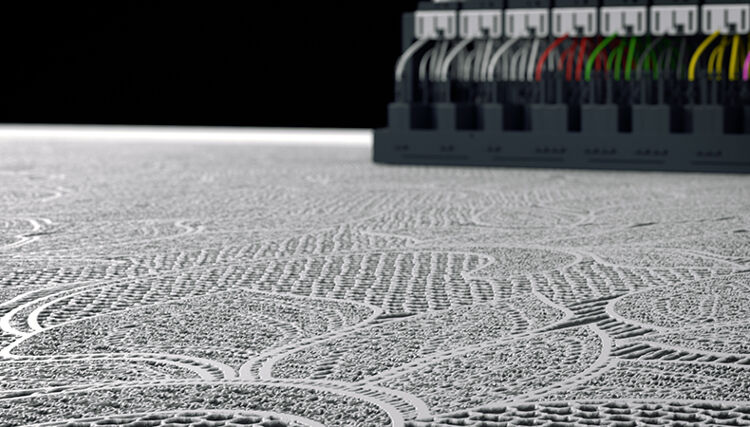 We speak to Kornit Digital's Scott Walton about the company's unique waterless printing technology and how it's answering today's manufacturing and sustainability challenges.
"Each year, the fashion industry produces nearly 20% of the global wastewater – that equates to the entire US population's drinking needs for more than 72 years. On top of that, approximately 30% of all textile items produced today are never purchased, that's 21 million tons of textiles going straight to the trash heap. Our technology is helping to address those issues," Kornit Digital's head of retail transformation Scott Walton explains.

Since 2002, Kornit has been at the forefront of the on-demand fashion and textile manufacturing revolution. It's an approach that helps in a number of critical areas, not least reduced waste, more efficient use of resources, and ultimately, better profitability. Of course, Kornit isn't alone in following the sustainable path, but the company does have one key and unique ingredient: its proprietary waterless, non-toxic, environmentally friendly printing technology.

"We have two core technology categories, direct to garment [DTG] and direct to fabric [DTF]," says Scott. "In both these areas, full sustainability sits at the heart of Kornit's DNA. That's the start of our innovation road map – looking at the effects our technologies will have, not just from a water-saving point of view but also in terms of the chemistries that we use: will they be biodegradable, or can we recycle water that is used, or eliminate the use of critical natural resources like water from the process entirely? Then we look at other considerations such as CO2 and the bigger global impact our technology will have."

He adds: "When it comes to the specific damage caused by technologies in the fashion or textile industry, we look at the effect of inks and pigment. Pigment is the foundation of our technology because it can be used to print on a huge range of substrates – cotton, polyester, blends, silk, linen, denim, very thin fabrics like chiffon, and even leather or fabrics used for home décor, automotive, performance sports, and swimwear, delivering superior hand-feel to meet the quality expectations for each applications. Kornit's pigment impressions are highly flexible, supporting applications on lycra and other stretch materials common among swimwear, athleisure, and other apparel segments.
Kornit's pigment technology gives you a universal application and the possibility to print on all those different substrates with a single-step process
"Unlike other processes that require physical change reactions such as in sublimation or reactive dyes, which use a significant amount of energy and water and come with limitations, the significance and value of Kornit's unique pigment technology is that it gives you a universal application and the possibility to print on all those different substrates with a single-step process. That is significant from an energy consumption perspective, and especially important as the cost of energy and electricity are skyrocketing. In the case of our technology, that includes using no water in that process."
Three-stage benefits
Kornit Digital's waterless technology isn't just important for printing but plays an effective role in reducing wastewater and pollution at all stages of the manufacturing process.

"Research suggests the printing industry is responsible for around 20% of the world's freshwater pollution, whether due to chemical pre-treatments used to make the fabric receptive to certain technologies; the printing process itself, which, if it is analogue, uses high volumes of water or post-treatment processes," Scott says.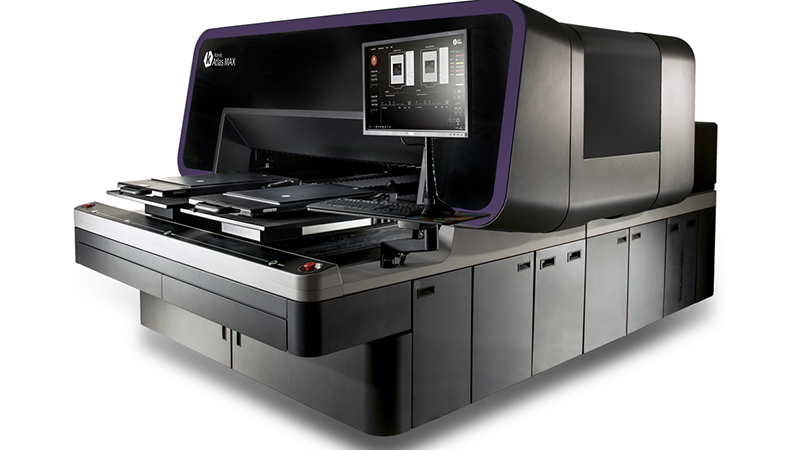 Kornit Atlas MAX DTG on-demand printer
"Kornit's technology obviously sits at the printing position; however, it also extends into the front and back end of that process. Our technology doesn't require any pre-treatment processes; we can take fabric that is clean and has been heat-set but we don't need it to be treated, which eliminates a considerable cost and sourcing burden from the end-to-end process. Our pre-treatment or binder process is called 'Dry Digital' and it's applied simultaneously when we print, through the printheads. That technology is unique intellectual property that Kornit owns.

"Then at the front end, we also eliminate the post-treatment process. In addition to the binder, we also have a softener technology that also goes through the printhead. That gives our products a softer touch, a better drape-age of the garment or fabric, and eliminates the need for post-treatment chemicals, water, and heat. So, we save on time, process, liquids, chemistry, and water. Not only that, but the Kornit DTF Presto MAX technology is also able to print onto pre-dyed and coloured fabrics, using innovative technology and advanced white ink technology inside an industrial single-step direct to fabric printer."
We're not talking about manufacturing 20,000 of the same design and style but being able to print 20,000 different and totally unique designs, at scale
By 2026, Scott says, Kornit technology is on schedule to have produced 2.5 billion apparel-based items, in which time the firm would have helped to save 4.3 trillion litres of water and 17.2 billion kg of greenhouse gas emissions. But it's not only more efficient production that's needed; with Kornit's DTG solutions especially, the aim to reduce overproduction is equally important. By 2026, the aim is that Kornit will have reduced overproduction by more than 1.1 billion apparel items by enabling producers to produce to order, rather than producing inventory to meet sales forecasts.

"In recent years, we have really seen the trend from mass production to low minimum order quantities [MOQs] and manufacturing moving closer to consumers themselves. Consequently, our DTG systems have moved into a more industrial scale that would satisfy much lower MOQs but in mass quantity. So, we're not talking about manufacturing 20,000 of the same design and style but being able to print 20,000 different and totally unique designs, at scale," Scott says.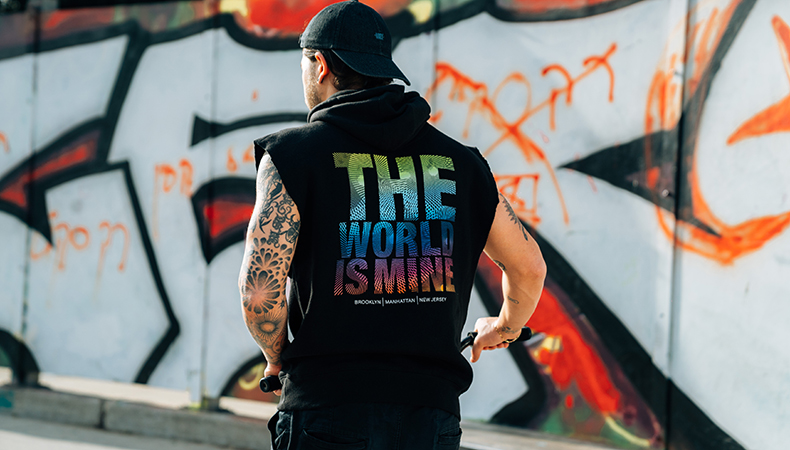 3D printing on fabric achieves significant depth
"That's the biggest challenge in the traditional supply chain with traditional technology, and it's a huge pain point that we are addressing as the market accelerates with e-commerce becoming an ever more significant player, and with huge paradigm shifts in culture, buying behaviour and trend predication. Because of the movement towards the digitalisation of everything – whether it's retail fashion, luxury fashion, home décor – customers can go online and customise everything from dresses, to t-shirts, to curtains and even gaming merchandise."
Simple samples
This move to make production better suited to lower and more customisable quantities isn't just good for the planet, it's equally effective for better business and heightened creativity.
"We're working much more with designers, influencers and creators and it's now far easier for them to do a sample – what they call a strike-off – to see how something feels, looks, or even drapes. Previously, that was almost impossible; it would have to go off to different countries for fabric manufacturing, printing, fit, grading and then production – which is laborious, time-consuming, and costly," Scott says.

"But with Kornit technologies and the acceleration toward on-shore and near-shore manufacturing, we can print, cut, and sew a dress in 20 minutes. That eradicates a lot of waste, a lot of harmful chemicals used in the processes. In addition, if a manufacturer or retailer is very sustainability-conscious and uses traceable fabric that has been block-chained all the way back to the field where it was grown, it allows them to give their customers complete transparency because Kornit technology is also equally transparent, eco-friendly, and ethical."
We can manage exactly how much fluid we lay down, where we lay it down, and in what combinations
As effectively a turnkey manufacturer that produces its own inks, hardware and software, the onus is on Kornit to be true to its sustainable goals. Consequently, Kornit's machines can be powered by natural gas or electricity with, Scott says, the DTF Kornit Presto MAX consuming "up to 94% less energy than any comparable analogue-based technology." Meanwhile, Kornit's pigments comply with a vast range of accreditations and standards, including OEKO-TEX Eco Passport and GOTS.

"Pigment in general is much more of a natural compound and with water-based pigment we can be completely safe. For example, the babywear industry has some of the strictest requirements, but we can achieve water-based printing with natural cottons that is completely safe. Our inks are biodegradable, they're recyclable, they're completely eco-friendly and safe for babies," Scott says.
Printing in 3D
It's not only the beneficial sustainable qualities of Kornit's technology that is attracting interest. In terms of straightforward production quality, the company is also doing things quite unlike other firms.

"We have certain customers in fashion, 3D design, music and gaming merchandising that have inspired us to move and innovate our technology, and change certain characteristics of our products," Scott says.

"The introduction of our MAX printing technology is allowing us to lay down fluids such as Eco-Fix and Q.fix fixations, Intensifier for graphic colour enhancement, and DuoSoft for optimising hand-feel through the printheads, which gives us pixel-to-pixel control. We can manage exactly how much fluid we lay down, where we lay it down, and in what combinations.

"A feature of MAX technology is XDI – Extra Dimension Ink technology [see header image] – which allows us to print in 3D, so we can really achieve prints with depth. We do puff-style printing, we can do embossing, we can do vinyl type printing, we can even simulate embroidery in print. We don't have any set-ups, so printers are saving time before they even start. We don't have any limitations on colours or gradients, and we can print photorealistic imagery, as well as lenticular images. As this involves imprinting additional layers, it does require more time to print; simpler, 'flatter' impressions are fastest. All this capability comes at a price, albeit one that Scott says needs to be viewed in a broader context.

"While Kornit DTF and DTG technology requires considerable upfront capital investment, what we find is that the long-term cost of ownership tends to be considerably lower than conventional analogue- and other digital-based technologies. In terms of our DTF systems, we build a single-step solution, and we incorporate the dryer with the printer, so it is all one unit. This ensures the most streamlined possible end-to-end production mechanism requiring the least time, labour, and production footprint. This helps customers consolidate operations to smaller spaces, as we've seen with Kornit users localising production profitably in such high-cost areas as London and New York, as well as start-up print businesses installing these systems in their own garages.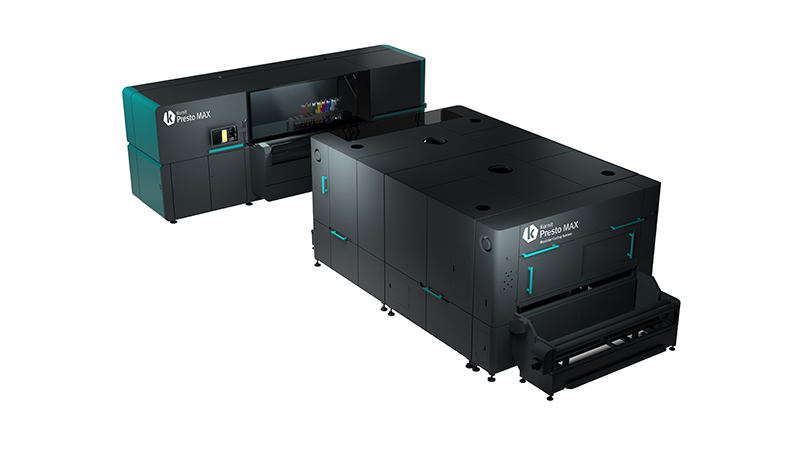 Kornit Presto MAX DTF printer with dryer
"On-demand digital printing with pigment technology in a single-step solution is going to cost more per unit, but when you look closely and analyse the end-to-end cost lifecycle of a product within the traditional mass manufacturing model – and the fact that this solution removes problems like overstocked inventory and the knock-on effect that can have on supply chains – it's actually significantly more efficient for the business itself. Our customers are routinely achieving a quick return on investment, variable based on their unique workloads.

"One Kornit Presto MAX will print more than 800,000 square metres of fabric per year and it can print up to 500 square metres per hour. But measuring how much throughput the system has isn't addressing the most important question – the most important question is the efficiency of being able to do lower MOQs sustainably, with no waste and in a single-step process. We could have a bank of printers built for mass volume, but what we're seeing right now is the shift to lower MOQs and the need for speed and customisation. Therefore, our model fits into a different area than those focusing on mass production and overproduction. Quite simply, we feel those models are no longer suitable to today's demands."
Become a FESPA member to continue reading
To read more and access exclusive content on the Club FESPA portal, please contact your Local Association. If you are not a current member, please enquire here. If there is no FESPA Association in your country, you can join FESPA Direct. Once you become a FESPA member, you can gain access to the Club FESPA Portal.