Tomorrow's World
How ChatGPT adds value for your business and shows us the future of AI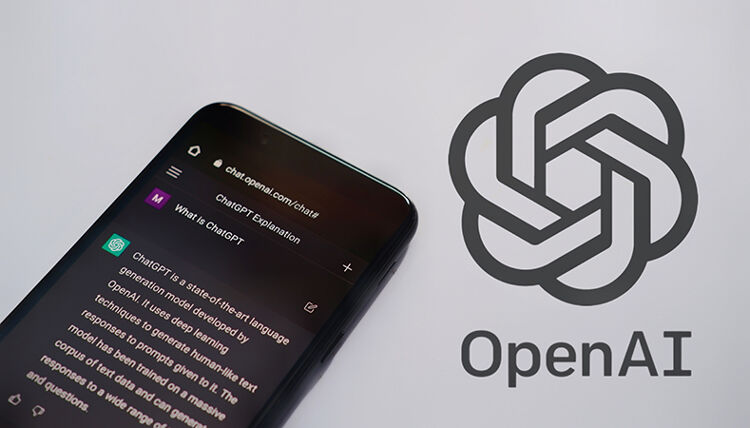 Print industry innovator Mark Coudray looks at how open-access online AI system ChatGPT can help printers improve their business.
Mark Coudray has been analysing commercial innovations that can help printers with their businesses, and it seems somewhat satisfying to come to a conclusion by going back to the start.

In our first article with Mark, he spoke about the emerging influence of AI. For example, Mark revealed that he records all his telephone or video meetings to feed into an AI system, which then builds a model that identifies patterns beyond normal intuitive awareness. At the time, at the very beginning of our technical and philosophical journey with Mark, we didn't fully appreciate what he meant by the importance of finding unique patterns. However, that initial conversation has since taken on a much more practical dimension.

In our most recent article with Mark, we looked at how businesses can find uniquenesses to set them apart from their competitors. One great source is asking customers questions and using the highest value responses from those to guide your business. This is where that AI model comes in.

We ended last time with Mark saying: "Of course, knowing what is a 4% and a 1% high-value response takes knowledge and experience, but there are ways round it, such as using AI like ChatGPT."
Order of magnitude
So what exactly is ChatGPT? If you have any interest in developing technology, you might already have come across it. ChatGPT – where the GPT stands for 'Generative Pre-trained Transformer' – is an on online, publicly-accessible chatbot launched by company OpenAI on 30 November 2022. ChatGPT uses supervised learning and reinforcement learning to fine-tune its performance, and the effect has been incredible. For example, the system is able to write and debug computer programs, compose music, write fairy tales, poetry and student essays, and play basic games.
The key thing about using ChatGPT is, you don't ask it, you tell it
"ChatGPT is completely free and it's unbelievable. It takes the GPT model that I was using to an order of magnitude higher," Mark said.
"GPT 3, which was the basis for what I was doing, was the precursor to this and that was also open-access AI. However, to appreciate the impact of ChatGPT, it is important to understand that when it was released in November, there were zero Google search returns on it. But a month and a half later, there were 188 million references to it. ChatGPT had its first million users in five days.

"The results are amazing. I used it to write a 600-word blog post on the comparative advantages of DTG, DTF and screen printing. It took me 15 seconds to write the query – the instruction or the prompt – and two minutes to write the post. The blog post it created was very good, I only had to adjust the order of two paragraphs.
"So, this is going to change the way that people write, the way that people think, everything. It's really the first time in the public sphere that AI has has such a big impact. It surprised me that it came this fast and this significantly," Mark said.
Practical results
Again, it's easy to get caught up in the theoretical and potential impact of breakthrough technology, but what can ChatGPT actually do to help print businesses now? Mark suggested we turn back to that issue of discovering what is a 4% or 1% high-value customer response.

"Let's do this in real time," Mark said before going online and typing 'Give me the top 20 questions that concern a print buyer' directly into ChatGPT.

"Let's look at the answers it has provided: Number one, what is the cost per unit of my print job? Number two, can you meet my desired turnaround time? Number three, what printing process do you recommend for my job? Number four, can you accommodate my desire for paper stock and finish? Number five, do you have any quantity discounts available? These responses are just rolling out. I've instantly got 20 customer responses, already you can use ChatGPT to start recognising high-value responses.

"The key thing about using ChatGPT is, you don't ask it, you tell it. For example, with my blog post, I said 'Write an article about this, this, and this.' I created an outline of what the article was to be and told the system to write an article based on the following outline, one paragraph per line. It then took each line item that I specified, and it wrote the copy.

"These systems are developing pretty quickly. The latest information I have is that the growth in the AI community is doubling every three months; when we look to AI for its ability to generate artwork, or for generating music, or for generating prose and stories, its ability is doubling every three months. This is going to have a fundamental impact on what we are doing."
Changing times
As a journalist, when I profess some discomfort about the idea a computer can do the job of writing an article passably well, Mark explains that it's necessary to understand the reality of the situation we are in.

"We will lose jobs because of this. It's an enormous area of sociological and technical study because there are predictions that 70% of all workforces will be made obsolete by AI," Mark said.
It's important to have a strategy on how we can use AI to compress the time it takes to do what we're doing
"Personally, I'm absolutely not worried by these things. I see AI just as a tool. This is why I have spent so much time focusing on reading and trying to understand the structure of what's happening. The people who are going to be in trouble with this are the people who are not native learners and who are not pushing their understanding of knowledge. Knowledge is expanding exponentially and we can't keep up with it. Therefore, any tools that we can use to facilitate our understanding and comprehension of knowledge is to our advantage.
"For businesses, I believe it's important to have a strategy on how we can use AI to compress the time it takes to do what we're doing. Last night, I was up in the middle of the night thinking about how we define value moving forward, and how do we define ultimate value. If we reduce it to its simplest form, I believe it becomes about the value that we place on our time. That includes press time, labour, the revenue per hour of our time – that becomes the metric against which we make all of our decisions moving forward. And that is an area where AI can really help us."

To contact Mark, visit CatalystPlan.com
Become a FESPA member to continue reading
To read more and access exclusive content on the Club FESPA portal, please contact your Local Association. If you are not a current member, please enquire here. If there is no FESPA Association in your country, you can join FESPA Direct. Once you become a FESPA member, you can gain access to the Club FESPA Portal.