Tomorrow's World
Generation Next: how FESPA UK is attracting new talent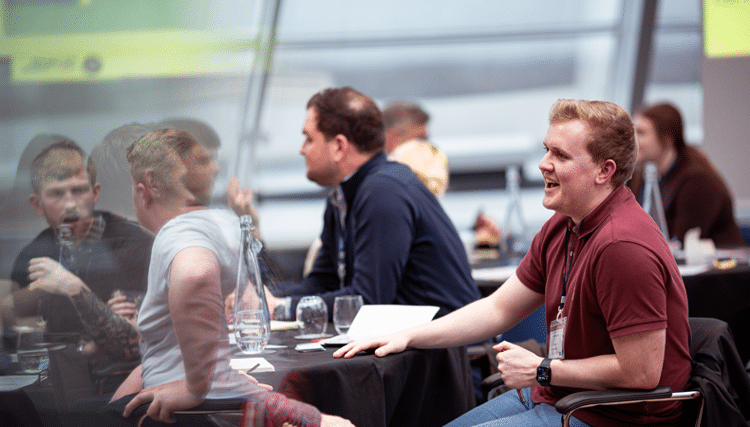 Club FESPA Online spoke to Jay Burfield, Creative Co-ordinator at FESPA UK and Head of the Next Generation Committee, about the struggle to recruit and retain young printers, and why this is essential for the industry to prosper.
What are the problems for the industry of failing to recruit and retain young printers?
I wholeheartedly believe that the young people in the industry – particularly those aged between 18 and 30 – bring new and innovative ideas to the industry. If they're not attracted to the industry, or don't function well when working in it, we will lose the skills, ideas and new techniques that they bring.
We've heard lots of reasons why young people don't choose a career in print – what's your opinion on this?
For me, print as a career and an industry is not well advertised to the younger generation and doesn't seem accessible to many of them. Certainly, when I was growing up – I'm 24 now – and going through education, print was never an option. It wasn't even mentioned. The more printers market themselves, and inform people about this wonderful industry, the more people are likely to find a great career here.
Is there an old-fashioned view of printing that young people have?
To some degree, yes. When I told them I was getting a job in print, my friends immediately assumed I would be working with leaflets and newspapers. I had to say, "Well, did you know that the sets in all those Marvel and DC movies, those blockbuster movies that you love, are actually printed? Or that your favourite brands, your trainers and clothes are all printed?"

I think we need to communicate to the younger generation better the kind of innovations we create within the industry, using examples like these that are going to attract them. Print is so creative, and its possibilities are limitless.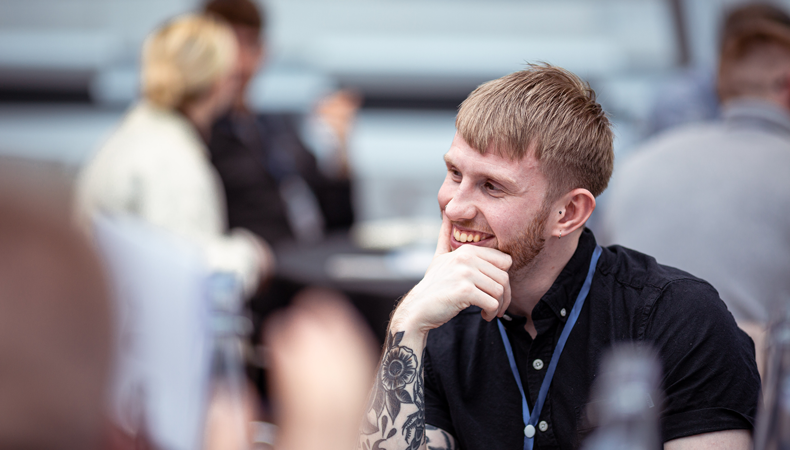 Jay Burfield, FESPA UK
So, printers need to make greater efforts to market themselves?
Yes, it's up to printers to branch out, find and attract new talent, and to highlight the industry's creativity. I think there's also an responsibility on longer-standing employees to help narrow the skills gap with new printers. There are employees at printers who have been there for 25 to 30 years, had a good structured work life, and a good work-life balance. Those looking at retirement could be tasked with helping those younger staff workers sharpen and improve their skills by mentoring them.
What is the FESPA UK Next Generation Committee and what does it hope to achieve?
It's a board of seven people, headed by me, sitting as an adjunct to the main FESPA UK board and representing 18- to 30-year-olds all from various backgrounds within print. We've got account managers, people in graphics, even marketing and accounts. It's varied because we want it to be a true representation of what it's like to work in print as a young person. We all play an important role in a company and in the print industry. And our objectives are to highlight what we do in the print industry, both for existing printers and those outside looking for a career.
It's important that we continue to empower our 18- to 30-year-olds. We need to give them more chances to shout about the amazing creativity they are showcasing
Back in January 2023, we wanted to determine how many people aged 18 to 30 were working in the printing industry, and who would be willing to come together. We organised short training days in Nottingham, and offered an opportunity to gain some hands-on opportunities to work with vinyl wrapping. We thought, what better way for this kind of generation to bond than over a new skill? We had eight to 10 participants on each day, but as word of mouth spread we ended up having to create waiting lists. And the idea of the Next Generation Committee grew directly out of the success here.
What was the feedback from participants from training and networking days?
Very positive. Everyone was in the same industry, but the products and their experiences were vastly different. But what linked them all was that people were passionate about their work and fascinated by what each other's roles entailed. It was enlightening: someone who worked on movie sets talking with someone else printing flags for the Commonwealth Games, or talking about finishing and cutting machines. And everyone was swapping tips and tricks and asking "What kind of machinery do you use to achieve that?" and "What kind of artwork programmes are you using?"
What does the future hold?
We need to hold more events for this 18 to 30 year old group. We held a Next Generation Networking Day in March at the British Motor Museum in Warwick, with around 40 attendees, because we believe a lot of young people miss out on networking opportunities. When a young printer attends an event like the FESPA Global Expo, it can be quite daunting, and they maybe don't have the confidence to start a conversation. But if they're going to carry the industry forward with new ideas, and eventually become managers or head of departments, they need that experience to carry the industry forward.
Technology is not slowing down. And with automation playing a key role, it's important that we have a good skill-set
We want to continue to highlight what kind of interesting and creative jobs everybody has, with the use of webinars and online content, such as A Day in the Life videos, and to use that to attract more people into the industry. We can show that print is a good career choice and that you can make a very good living from printing, as well as being creative and letting your imagination run wild.
Will having a broad range of skills in networking, marketing, IT and tech, and being agile and adaptable suit the younger generation of printers?
Definitely. Technology is not slowing down. And with automation playing a key role, it's important that we have a good skill-set. Therefore, it's important that someone who is interested in print finishing, for example, should understand how an art worker would look at a specific job that's coming in. And vice versa: art workers should know how materials react, and why artwork needs to be a certain way to be clean, crisp and effective and work in the way that it does.

My age group is part of the social media generation. And it's important to utilise tools like social media, and if you don't, you don't want to ask somebody in the company that's maybe 20 to 30 years older than yourself about how to approach a particular job that you're having an issue with. And that's why the Next Generation network that we've created provides the chance to be open and honest with other people and share ideas.
Are you optimistic about the future of printing?
Certainly, but it's important that we continue to empower our 18- to 30-year-olds. We need to give them more chances to shout about the amazing creativity they are showcasing. If we drive our younger generation forward, I think that in turn will drive the industry forward as well.

For more information, visit fespauk.com
Become a FESPA member to continue reading
To read more and access exclusive content on the Club FESPA portal, please contact your Local Association. If you are not a current member, please enquire here. If there is no FESPA Association in your country, you can join FESPA Direct. Once you become a FESPA member, you can gain access to the Club FESPA Portal.