Tomorrow's World
Embracing the circular economy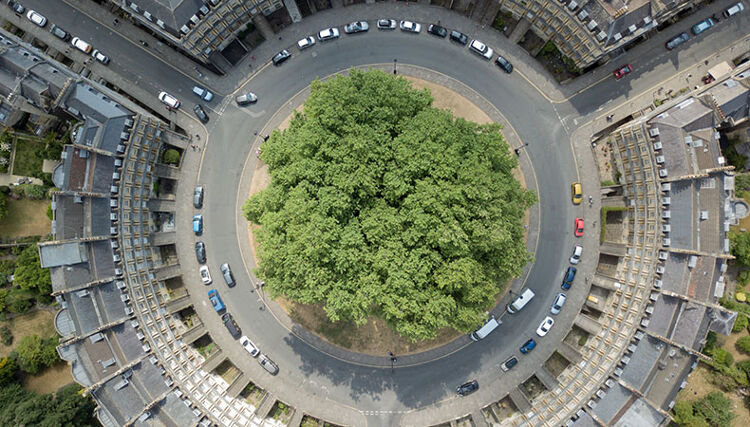 A 'business as usual' approach to resource use is unsustainable for everyone – it's time for the printing community to join the circular economy.
Take, make, waste. This linear approach to production – across all sectors – has reigned supreme since the dawn of the industrial age, but as the environmental conversation grows louder, it's increasingly apparent that this way of working is no longer sustainable. As a global population, we already use 1.6 planets' worth of resources every year. The obvious solution? Use fewer resources. But damaging behavioural patterns don't become positive or useful just because they're done less. What's needed is a complete step change in the way industry – printing included – operates.
Round in circles
A circular economy is, experts say, the most viable option. The idea – which has existed in some form since the 1960s, but was refined in 2013 by the Ellen MacArthur Foundation – focuses on gradually decoupling economic activity from the consumption of finite resources, keeping products and materials in use, and designing waste out of industrial systems.

Consider a cherry tree: its flowers attract insects to support pollination and help grow fruit, and at the end of their useful life cycle the petals fall to the ground, where they are absorbed by the earth and reused as nutrients. All of the tree's resources remain in its productive cycle.
The goal is to produce things so that after their lifecycle they can flow back entirely into the biological material cycle and be useful on a permanent basis
Circularity stipulates the same for industry, and moving to this kind of economy doesn't simply mitigate the negative impacts of the 'take, make, waste' process, but rather represents a systemic shift that builds long-term resilience, generates business and economic opportunities, and provides environmental and societal benefits. The EU first adopted an ambitious Circular Economy Plan back in 2015, the framework of which it has recently revised to ensure continued economic growth. It forms the basis for multiple environmental targets that printers will be familiar with: recycling 70% of packaging waste by 2030, for example.
The Ellen MacArthur Foundation, set up by the record-breaking yachtswoman, works to accelerate circular economy practices into all sectors of global business

So, what does this mean for printers? Shifting into a circular economy will prove for many something of a challenge, given the print industry's inherent reliance on resources such as paper, textiles, inks and equipment which often fall into the 'take, make, waste' hierarchy. But according to Louella Fernandes, Director at print industry intelligence company Quocirca, it's a change printers will have to make if they're to stay profitable and competitive.
"Ultimately, companies that embrace the circular economy use innovative production techniques and business models that reduce supply chain inefficiency and increase their competitive advantage," she says. "Since they prioritise their environmental and social impact, they are better prepared for regulatory future changes as well as reputational risk from the negative perceptions of consumers." She adds that resource volatility will also prove a long-term challenge for the print industry.
From cradle to cradle
Many companies are already stepping up to the plate. Austrian printing company Gugler, for example, has optimised its print products so that the usually toxic sludge that remains following the recycling process can safely flow back into the environment. The company has since launched an initiative called 'Print the Change'. Gugler says: "Today the goal is to produce things so that after their lifecycle they can flow back entirely into the biological material cycle and be useful on a permanent basis. Those who think from the cradle to the grave are going to destroy valuable resources." Gugler now helps other print companies adopt this new type of 'cradle-to-cradle' approach.
One such company is Denmark's KLS, which is working with McDonald's in the country to overhaul printing in the food sector, while publishing house Random is also on the Gugler customer list.
Meanwhile, other companies are integrating circularity into their operations before the finished product comes to pass. Kyocera has focused on employing long-life materials, with its ceramic print drums designed to last the lifetime of the product. Some 80% of HP's new ink cartridges use closed-loop technology and are manufactured from recycled HP cartridge plastic and upcycled post-consumer waste plastic, while the company's managed print services also allow customers to reduce printer fleet sizes by running them more efficiently, cutting energy use by 40%.
Examine your supply chains: Could you make more sustainable choices when it comes to paper or textiles?
The ultimate goal, Louella says, is to lead more products into cycles, and for printers looking to make these changes, there are three main areas of focus.
1. Design
"Consider the product and the component parts required to make it from the outset," says Louella. "Plastics have historically been a problem – but there are alternatives that are much easier to recycle and kinder to the environment. What about the product's packaging? Has that been designed in a way that makes it easy to responsibly dispose of by the customer, or could you operate a take-back scheme?" Fernandes also says that printers should examine their supply chains: "Could you make more sustainable choices when it comes to paper or textiles?"
2. Technology
Tech innovation will have a significant impact on printers' ability to 'enter the circle', Louella says. "In the upstream environment, the use of intelligence in the design approach to minimise raw materials usage should be a focus as this will help cut manufacturing costs," she says. "For the screen, digital and textile markets, technology can help in assuring desired outcomes, with more design steps being carried out digitally before any print job is actually carried out. The use of digital printing for large batch jobs and bespoke print jobs also helps to minimise failures with better colour registration, less smearing, less consumable usage and so on, all helping to optimise overall sustainability and minimise waste in the circular economy." The emergence of the Industrial Internet of Things (IIoT) will also be a driver towards circularity, providing decision-makers with new data sets which deliver up to the minute reporting on the status of assets, and real-time optimisation.
3. Recovery and recycling
Recycling is already a well-established practice across all industries, but there's always room for improvement, Fernandes says, noting that not all recycling facilities are created equal, and that newer recovery technologies can contribute more efficiently to circularity than older methods often regarded as acceptable by many. Again, she says, examine your supply chain. "Take your equipment choices, for example – how easy is disassembly to get to parts that can be recovered and used? Consider what's happening to your waste – how can that be utilised in a more efficient way?"

The printing community already faces a myriad of challenges – changing consumer demands, a progressive technological shift and, more recently, the fallout of COVID-19 – and sustainability in no exception. It is, however, one area where printers can seize control and get ahead of what many regard as a looming crisis, and embracing a circular economy will help lay the groundwork to weather the storm.

Become a FESPA member to continue reading
To read more and access exclusive content on the Club FESPA portal, please contact your Local Association. If you are not a current member, please enquire here. If there is no FESPA Association in your country, you can join FESPA Direct. Once you become a FESPA member, you can gain access to the Club FESPA Portal.