Tomorrow's World
Digital twinning: 3D power for interior décor printing

Ivor Morgan of innovative 3D scanning company Matterport describes the opportunities that spatial data technology might present for printers designing interiors or marketing their work.
As one of the oldest manufacturing industries known to man, the print sector lives and dies by its ability to adopt innovative technology. Of course, much of that progress is directly related to the machinery and chemistry used every day in printing but, equally, outside tech that might have applications that benefit printers can be just as exciting.

Matterport is very much in that second camp. As one of the world's leading spatial data companies, Matterport technology is able to digitise the built world and create highly accurate, 3D digital twins, which can then be used to design, build, and market the twinned space.

So far, this ability has been primarily used to demonstrate interior design in sectors such as travel and hospitality, construction, and real estate, but we spoke to Matterport's EMEA brand and product marketing director Ivor Morgan to ask if the technology could provide specific benefits for printers who manufacture products such as wall decals, wraps or point of sale elements.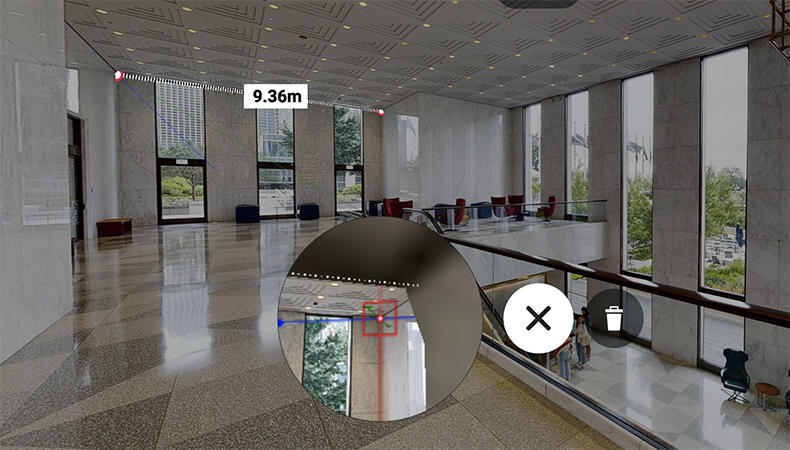 Printers could accurately measure distances and confirm dimensions for print work
"Sharing Matterport-generated digital twins over the internet with clients and designers gives you an easy way to discuss design approaches, confirm dimensions and agree on next steps," Ivor says.

"While you can't yet convert a wall in a 3D digital twin directly into a vector drawing, Matterport models allow you to take accurate measurements of a space, wall or object and you can also export the data into design applications such as AutoCAD, which can then be used with a wide variety of design add-ons."

Measurements in Matterport are generally accurate to within 1% of reality under normal operating conditions. Decalibration, abnormal temperatures, and other factors may result in reduced accuracy. For example, in a room 10ft (3m) long, measurements can vary within 1.2in (3 cm) from actual.

In addition, objects smaller than 1 in (2.5 cm) in any dimension may not appear. This also applies to very shiny or very dark objects since not enough light is reflected back to form a 3D mesh.
Sharing digital twins with clients and designers gives you an easy way to discuss design approaches, confirm dimensions and agree on next steps
"Where accuracy is vital, Matterport offers a way to measure spaces accurately and create floor plans, which can in turn help professionals map out the size and specifications of what they need to print. Additionally, our software has a Tags feature where professionals can add additional contextual information, such as the nature of a wall and or they can chat about the project. This can then feed into the planning process before designing and printing."
3D power in your hands
One of the particularly exciting aspects of using Matterport is the ease with which it can be set up.

"The first step is to decide if you want to scan the space yourself or have a professional do it for you. If you decide that you'd like to DIY, we have a number of solutions that vary in cost and technical abilities, ranging from smartphone-based captures via the Matterport app, right up to the Matterport Pro3 camera, which can easily capture outside spaces. If you'd rather we did it for you, you can order Capture Services online from our website. The right choice depends on the needs and requirements of the project, and how accurate the scan needs to be," Ivor says. The Pro3, for example, has accuracy to plus/minus 20mm over 10m.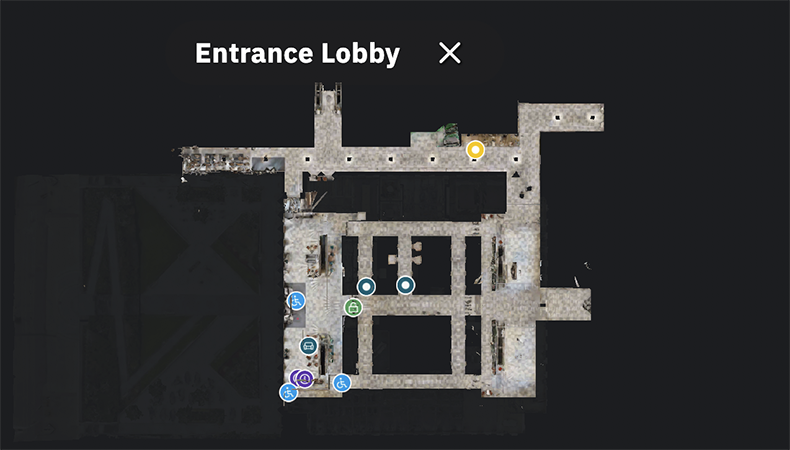 Floorplan mode of the digital twin
"The Matterport Capture app is free to download from the Apple App Store or Google Play Store and is incredibly easy to use. Once scanned, the digital twins can then be accessed via mobile phones, exported as BIM [building information modelling], E57 or Autodesk compatible files, or shared online with designers and clients. At its core, the digital twin is yours to use and manipulate. The process is straightforward, and anyone can jump straight in.

"If using your smartphone, as well as the free Matterport App you'll also need a Starter SaaS [software as a service] subscription for £7.99 per month. While it is possible to make handheld captures, you'll get better results more easily with our Axis motor mount and tripod for your smartphone. That costs £79. If a project requires higher fidelity or the ability to export data or share larger numbers of digital twins, costs go up, while our dedicated Matterport Pro3 camera is £4,995."
Showing off your products
As Ivor mentioned, Matterport also offers capture services, where a capture expert can be deployed to scan the location for you. This option is available in more than 700 cities worldwide, and can be arranged in one to two days. The cost varies on the size of the location, starting from £150.

'Stroll' around digital twins: here, the National Museum of Ireland
When it comes to size of the potential digital twin, it's very much a case of 'as big as you like': the team at Matterport have even captured an 18,000-seat basketball arena for the Golden State Warriors in San Francisco, and it was all done in less than 50 minutes.

"In terms of size and type of space, location and time of day, there aren't really any limits. Bear in mind that not all smartphone cameras are made equal, so if colour and dimensional accuracy are essential then we recommend either a Pro2 or Pro3 camera or our Capture Services team," Ivor says.

And while we've focused on the practical potential of providing accurate data such as floor and wall space dimensions, there's another potential use of Matterport, too. When your prints have been manufactured and fitted, Matterport offers a fantastic way to market them and show the visual effect of their installation space.

"We don't have examples of Matterport technology being used for POS printing, but we do have examples of digital twins being used to show off prints. For example, Fenwick Bartel 2022 used Matterport to scan the showroom, showcasing its walled prints," Ivor said.

To see the Fenwick Bartel digital twin – and to start thinking about how you might be able to use Matterport – click here.
Become a FESPA member to continue reading
To read more and access exclusive content on the Club FESPA portal, please contact your Local Association. If you are not a current member, please enquire here. If there is no FESPA Association in your country, you can join FESPA Direct. Once you become a FESPA member, you can gain access to the Club FESPA Portal.