Tomorrow's World
Closing the loop: recycling in plastics and signage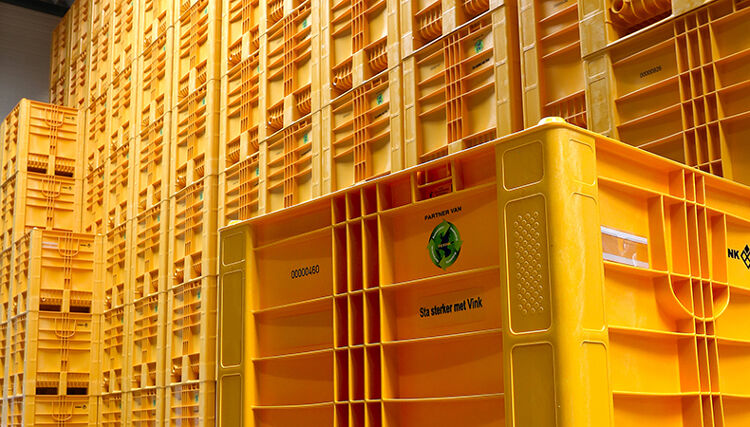 Plastics distributor Vink brings circular economy principles to its takeback scheme for plastic signage to significantly reduce its carbon emissions.
Club FESPA spoke to Gerry van Alst, Business Unit Manager, Signs and Graphics, and Bas Gepkens, Project Manager for Innovation and Development, at plastics distributor Vink in the Netherlands.
What are the seeds of your recycling takeback scheme, ReVink?
Today, sustainability is almost as important as price quality, availability of materials and delivery times. In five years, it will be a crucial differentiator. As a global market leader, we always knew we had to lead the way in sustainability. If you look at different organisations, each has different impacts. So a company that builds social housing, for example, will have a social impact. Vink's greatest impact will always be ecological.

When we looked at our CO2 emissions, we saw that usage of materials was our greatest emissions contributor. We analysed different types of material and what the CO2 emission would be if we recycled the material. And we saw that we could achieve a reduction of up to 90% when achieving a closed-loop process throughout the supply chain.

We started our recycling programme because we were dissatisfied with the methods of most of the generic European recycling organisations. The majority of these business models is straightforward: they take back goods from processors, regrind to make them easy to transport, and then export them to Asia, where people pay a lot of money for these materials. But once it gets to Asia, you never see those raw materials again: most of the time they end up in inferior products, such as traffic signs. Moreover, polymers are often mixed in different products, making it almost impossible to achieve circularity.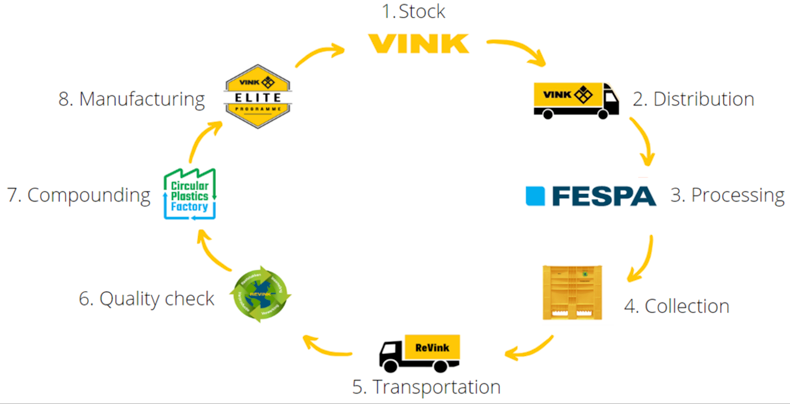 Vink's unique position is our direct connection with our customers, the producers of semi-finished plastics. So theoretically, we can close the loop. We started taking back materials from our customers and found a way to reprocess it into a raw material. We can then maintain the material's value and properties by separating out the different plastics to make fully recycled sheets of plastic, which will have the same material properties as virgin products. This way, our customers can (partly) become their own raw material supplier.
Does this process work for all plastics? How often can plastics be recycled?
Yes, this process works for the majority of plastics. The amount of times a plastic can be recycled varies. Several polymers can be mechanically recycled up to 15 or 20 times without losing their material properties. And there are some polymers that can be used recycled three or four times before they begin to significantly degrade. It depends on the type of polymer and on the method of recycling.

On one hand you have mechanical recycling, where you take back material, regrind it to make it small again, melt it again into granules, and then re-melt it into a plastic sheet.

On the other hand, we can recycle chemically. The biggest upside of chemical recycling is that you can recycle polymers indefinitely. For example, you can see the chemical structure of PMMA [poly(methyl methacrylate)] as a chain. In the polymerisation process we pull this chain apart to get down to the building blocks of a polymer. Then we sell these building blocks back to our suppliers, who make a chain of it again.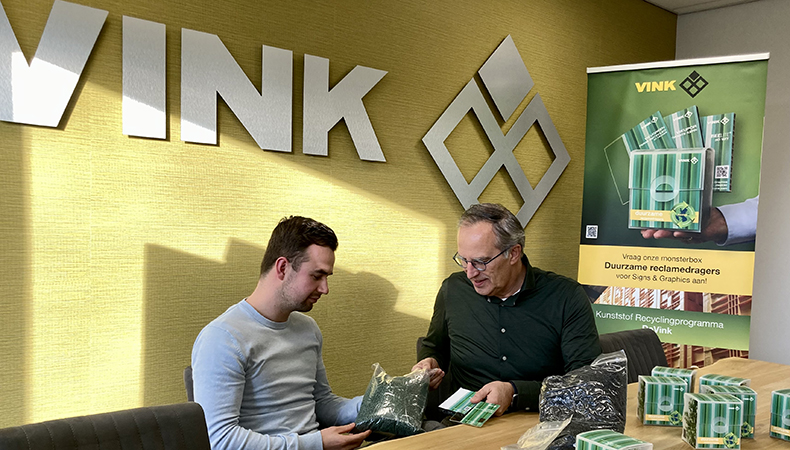 Bas Gepkens (left) and Gerry Van Alst
Chemical recycling is a process that is still being refined. Several companies are very advanced in developing a new way of depolymerising, with a vast reduction in energy and chemical usage.

The most important factor is collaboration with our customers and suppliers. Working with them is the most essential step in developing circular processes.
What are the logistics of dealing with huge amounts of polymers coming back to you?
In Holland, we have around 20 lorries driving to our customers every day. We supply customers with pallet boxes – more than 1000 boxes across the Netherlands alone. We try to combine delivering and picking up waste material with standard ordering to make it as efficient as possible. Three truckloads of material go back to our suppliers every week.

We're also discussing applying these concepts in nearby countries, such as Belgium, Germany, Denmark and Scandinavia.
What if the substrate has been sprayed with an ink that's not particularly environmentally friendly? Does that have an impact on the recycling process?
It depends on the type of polymer and the way of recycling. Take PMMA, which a lot of customers are printing on. PMMA is a transparent material most of the time, and UV ink isn't a problem at all, because in the chemical recycling process the ink will dissolve. And if you do it mechanically, it doesn't really matter that our customers are printing all their PMMA as it is shredded and then melted and melted down again. There's a really simple rule in mechanical recycling. If it's not clear when it goes in, it will not be clear when it comes out.

We also sell a lot of white PVC. If our customers print on it, we're not able to make a white sheet out of it again. So, it will be black, for example. But you can still reduce the total capacity of virgin material. So 10% or 5% on the left layer and then 5% on the right layer. You can also buy it with only one layer. This way, the product is still recycled, but a small part is still virgin material.
Have any particular problems arisen in the takeback scheme?
One huge issue is customers not separating the materials properly. Some might combine PVC with PETG [polyethylene terephthalate glycol] in one box. We cannot work with this. If the polymers are mixed, this can cause damage to our machines and costs of 100,000 euros or more.

So we have to fully trust our customers. And that means we don't operate this scheme with everyone. Those we work with sign contracts with us, committing to separating different polymers. We also have workers checking all the plastics that come in, using what we call a 'pistol' that tells us what material it is. It tells us: This is PETG. This is PMMA. This is polycarbonate. These are three clear materials that it's hard to differentiate.

We choose those customers who have sustainability embedded in their philosophy, in their principles of entrepreneurship. It should also be part of your strategy. At the moment, the cost price of these recycled products is much higher than virgin sheets. In the future, if more companies decide to join these initiatives the volume will grow, creating economies of scale. Consequently, the costs price will decrease.

But if you're working on this right now and sustainability is getting increasingly important, you will develop a competitive advantage because you can show customers that you have experience in this field, that you already have these recycling concepts in place. In an objective manner, you can show that you are actually your own raw material supplier.
How will Vink continue to work towards a circular economy in signage and plastics?
Currently there is European legislation for the packaging industry, which asks the supplier in the packaging industry to use, wherever possible, a minimum of 15% to 30% of recycled material, excluding food-grade packaging and medical packaging for obvious reasons. So the packaging industry is always affected first. And then the finished plastics industry comes second. This is already something that we're trying to sell to our customers: dashboards that quantify how many tonnes of different polymers they've delivered back, and how many tonnes of recycled material they already bought. For example, if a customer buys 10 tonnes of recycled PVC, and they've delivered back eight tonnes, they can say in an objective manner that they are 80% their own raw material supplier.

We also encourage certification to our suppliers and our customers. When we are all certificated, that is a completely closed loop. And then you really know our practices are very sustainable.

But the most important achievement, in my opinion, is that we have stopped sending material to Asia. If it's a valuable raw material, we need to keep it within Europe. And if you apply the right processes, it can be fully saved. I think that's something that people should be aware of. For example, look at POM [polyoxymethylene], a polymer that was very scarce over the past six or seven months. If everybody had given us their offcuts, we could have made new sheets out of it again.

If one of our customers delivers 10 tonnes of plastic, they're also allowed to buy back a similar amount of recycled sheets (there's always some loss of material when starting up a machine). So you can also safeguard your own availability of material and become your own supplier. But I think we still have a long way to go in highlighting these upsides of working in a circular way.


Become a FESPA member to continue reading
To read more and access exclusive content on the Club FESPA portal, please contact your Local Association. If you are not a current member, please enquire here. If there is no FESPA Association in your country, you can join FESPA Direct. Once you become a FESPA member, you can gain access to the Club FESPA Portal.