Tomorrow's World
Be different: mass customisation in fashion and textiles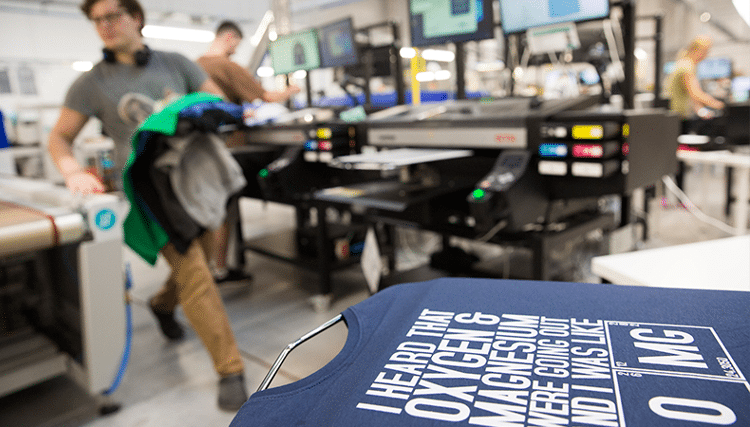 'One size fits all' is no longer good enough for today's exacting consumers, so how can personalised fashion and textile products reach their potential?
'Mass customisation' has been prevalent for just a few years, it's by no means a recent – nor temporary – phenomenon. As a concept it's been steadily evolving over two decades (look at the growth of vehicle customisation, for example). Quality no longer constitutes a USP, and as competition for consumer attention intensifies and shoppers are increasingly bombarded by personalised messaging, mass customisation will become the primary mode of operation for all industries. Identity is everything, and mass production's once-entrenched ethos of 'one size fits all' no longer applies.

"Once upon a time everyone was walking around with huge GAP logos on their t-shirts, but now people want products that more uniquely represent themselves," says Raitis Purins, Head of Marketing at Printful. "Look at the recently bankrupt [US fast fashion brand] Forever 21, everything they offered was the same. That's not what shopping is about any more."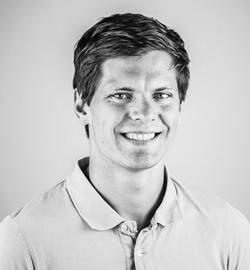 Ratis Purinis, Head of Marketing at Printful
Today's fashion-conscious teens are far more likely to get their clothes from Etsy than the high street (Etsy's end-of-year review in 2018 indicated a 66% increase in demand for personalised products). Thanks to the pervasiveness of social media and meme culture, microtrends arrive as quickly as they disappear. Fashion-conscious consumers want the latest hashtag on their shirts now while it is still relevant, not in three months' time when global brands finally get with the programme. Our increasingly bizarre political landscape is only helping to drive this trend. Purins predicts huge potential for printers offering customised products come the 2020 US elections.

But while physical stores play catch-up – Adidas and Superdry, for example, are now integrating customisation into their physical stores – online printers with digital capabilities and their fingers on the cultural pulse are already well positioned to take advantage of this demand. But of course, there are caveats.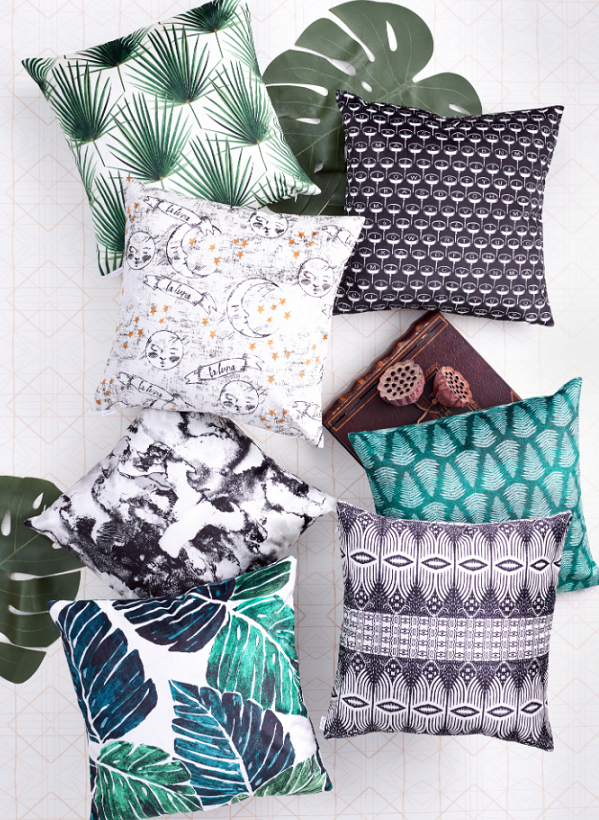 Customised textiles by Spoonflower
"We live in an Amazon world where people expect to get their items quickly – and that includes customised products," says Purins. "Printers may once have had 28 days to fulfil an order – now it's more like 28 hours." Superfast fulfilment is a challenging offering for printers and more so when customisation is involved – but those that can make it work will find favour with consumers: according to Kibo's Consumer Trends Report 2018, 63% of shoppers expect delivery within three days as standard, while 40% said that a delivery time of more than two days would stop them from placing an order in the first place.
Finding a balance between cost and fulfilment speed will certainly be a sticking point for printers
Purins says that Printful is now looking at implementing a rush service to help meet these demands, although it would "have to come at an additional cost". Fortunately, research from Deloitte indicates that customers are willing to pay more for the exact product or service they want – 20% more in fact. "Looking ahead, finding a balance between cost and fulfilment speed will certainly be a sticking point for printers," he says.

Automation will play a key role in this, says Kerry King, Senior Vice-President of Research and Development at fabric customisation company Spoonflower. Streamlining your production processes as much as possible frees up time and resources that can be spent on other orders, marketing activities and, as King says, creating an attractive and intuitive consumer experience.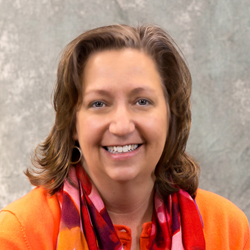 Kerry King, Senior Vice-President of Research and Development at Spoonflower

"Printers are no longer solely about the printed product," she says. "They're e-commerce platforms and need to be managed as such, with the involvement of people who know how to work in that sphere." For Spoonflower, this means investing in efficient technologies and not being afraid to experiment with custom-fit solutions. "When it comes to digital workflow, we've had to develop a lot of things internally as the solutions we need don't really exist in the way we need them to."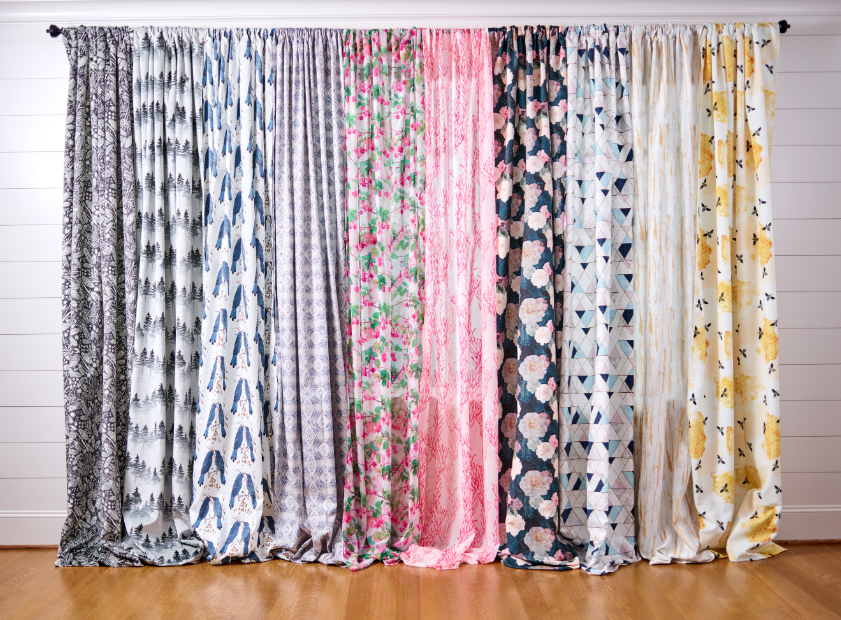 Spoonflower's personalised textiles

She cites short print runs as a typical challenge within mass customisation – and something that Spoonflower's internal IT department has had to develop remedies for. "When digital first came into the textile space, people talked a lot about how it would be an enabler in terms of short-run capabilities, but I think they were just talking about printing hundreds of yards of fabric rather than thousands of yards. We process thousands of orders of around just five yards every day and week, so our digital workflow really has to be built to support that effort."
Another challenge – and one that can be mitigated with the right e-commerce stylings – is managing the consumer perception of mass customisation. "A lot of consumers would associate 'customised apparel' with those garish, ill-fitting t-shirts you used to get at promotional events.
While that's not the case, of course, shoppers aren't interested in customisation, they're interested in choice," says Philip Rooke, CEO of Spreadshirt. "They want different colours, styles and fits, and when they place an order a lot of them will assume, we've got a massive warehouse with every conceivable design on every garment ready to go. They don't realise it's a print-on-demand process, and if we do our job properly, they will never be aware that it's a print-on-demand process."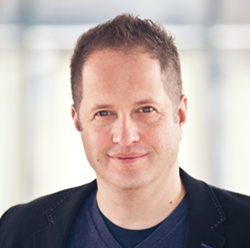 Philip Rooke, CEO of Spreadshirt

Of course, maintaining this illusion of choice rather than customisation demands meticulous stock management and good relationships with wholesalers – and the issue of fulfilment times plays a significant role here, too. "To get orders out within 48 hours we currently hold 5,200 products in stock, and we plan on increasing this to 10,000 in the coming months," says Rooke. "For other items, we'll be relying on wholesalers that can send small numbers of items overnight."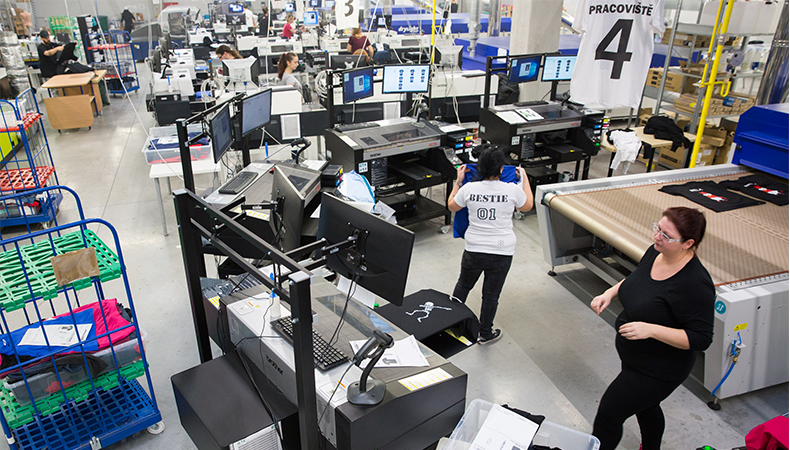 The production line at Spreadshirt

He adds that these necessities add a new layer of pressure to printers, so he's "not surprised" to see so many mergers and acquisitions among smaller companies, especially in the US. "In 10 years' time I'd expect there to be just 10% of the number of screen printers that exist right now – competition is fierce."
Become a FESPA member to continue reading
To read more and access exclusive content on the Club FESPA portal, please contact your Local Association. If you are not a current member, please enquire here. If there is no FESPA Association in your country, you can join FESPA Direct. Once you become a FESPA member, you can gain access to the Club FESPA Portal.