Tomorrow's World
Augmented reality: bringing print to life
US-based design lab Amplifier uses art to 'amplify' the message of its social change partners. Now, with augmented reality, it is marrying the worlds of traditional print and smart technology.
There are all sorts of interesting ways you can make print appear to 'move'. For example, we've looked at the fantastic effects that can be achieved with lenticular printing.

But modern technology, and especially the kind of augmented reality (AR) potential offered in smartphones, can offer a gateway to a whole new world of moving artwork.

For non-profit design lab Amplifier, this technology presents some incredible opportunities. Amplifier specialises in helping to bring "the messages of social movements into mainstream culture to create large scale culture shifts" and through the release of its own AR app, it is now able to transform its traditional analogue posters, stickers, and murals into art that literally comes to life to deliver a call to action.

"As an organisation, we use augmented reality as a tool to bring more depth to the storytelling," Amplifier's Co-Creative Director Cleo Barnett told us.

"A lot of our work is simplifying core message from movements to make them super clear and compelling for our audiences – we want someone to understand the core messages of their artwork in one second, say if they are driving down the street and see the artwork as a billboard.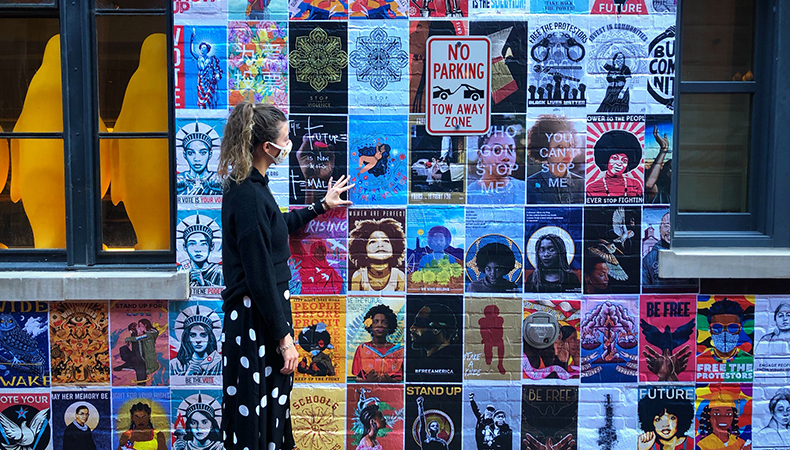 "AR is a way for us to bring depth to the stories we are telling, allowing our communities to hear directly from movement leaders and engage more deeply with the artwork through more nuanced storytelling.

"We want our artwork to live in a public space, so it can become a part of mainstream consciousness but also so that it becomes a conversation starter for more community members. So if someone is walking by on the street and sees someone else activating the artwork, all of a sudden it creates another engagement point between people. This has become a growing goal of our organisation – to build dialogue between people, not only to increase critical thinking skills but also to build compassion and hopefully inspire clear pathways for action."
Tradition and technology
The launch example of this almost magical technology uses a portrait of Indigenous movement leader Xiuhtezcatl Martinez by artist Shepard Fairey. Simply by using the Amplifier app to view the still image of Xiuhtezcatl, he comes to life to talk about the work needed in the fight for climate action (to see this and the Amplifier app in action, visit here).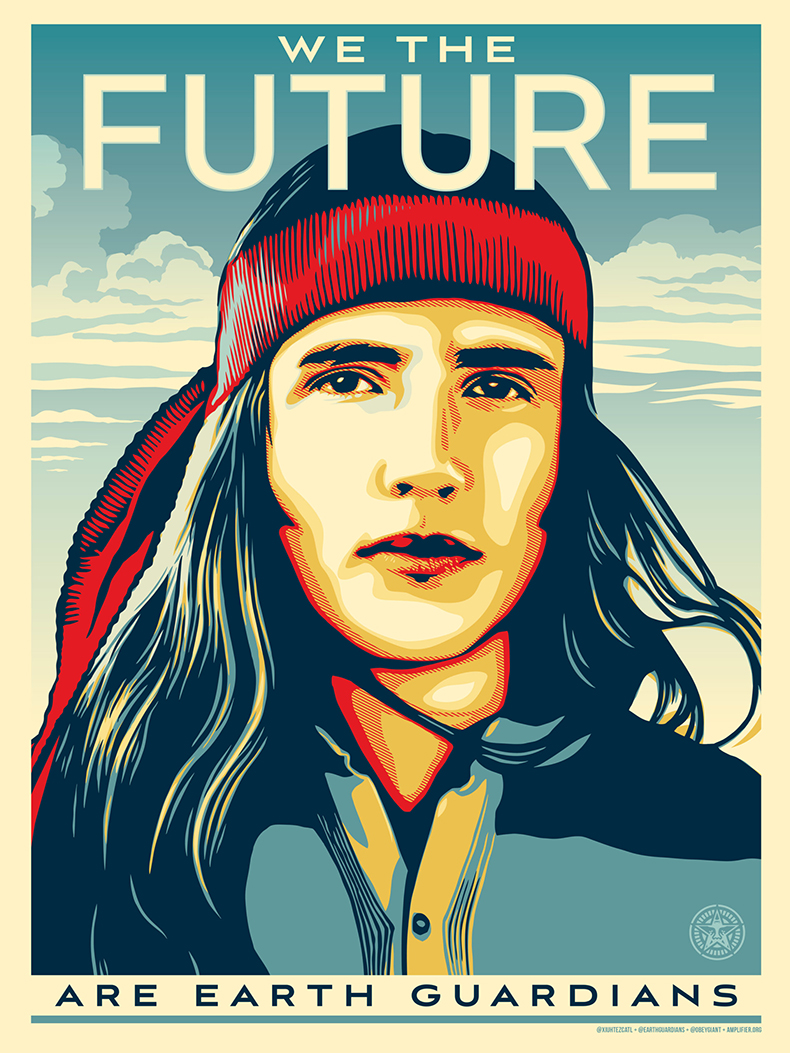 Indigenous movement leader Xiuhtezcatl Martinez by artist Shepard Fairey

"The way the technology works is that the 2D artwork is programmed into the app, which we have built and designed ourselves for our organisation. When the app recognises the artwork, that sparks the AR activation. Sometimes we work through third parties, in which case our audiences can scan a QR code and that will take them to a webpage, and then the webpage can scan and read the artwork. But it needs that initial image to be programmed into the system for it to activate the AR," Cleo said.

"How each animated artwork is created is different depending on the needs of the campaign that we are building, along with the timeline and resource range we are working within. For this artwork with Xiuhtezcatl, we used a fairly rare technology called Rotoscoping. We took our still photograph of Xiuhtezcatl at the exact point we started our video of his speech. Then we gave the still photograph to Shephard Fairey to create the original artwork. And once the artwork was complete we gave that digital file, including the layered files of that artwork plus the video and audio footage of the speech to the Rotoscoping team.

"The Rotoscoping team hand draws what is needed. But the way the technology works is that they only have to hand draw within certain points and the Rotoscoping technology fills in the blanks. It's a back-and-forth process, similar to working with AI: you're hand drawing it; you're having the machine fill in the blanks; but then you're correcting certain areas that don't look right.

"So it's quite time and resource intensive – there are not many people in the world who do it, and it's not what we do for every piece of AR, but it is a really beautiful example of what we can do. Another thing we can do is as simple as getting a layered file from an artist and working with an animator to animate the artwork."
The power of art and technology
Because of the need for the app to recognise the initial image, and with Amplifier having such a huge catalogue of visual imagery, there are certain practical requirements that need addressing.

"The technology is still new, so there are definitely challenges with it. One is storage space and memory. We now have a huge portfolio of AR-activated artworks, so to keep our app working effectively with all of the storage space that is required to read all of these different artworks has been a challenge, and that's an ongoing process between us and our web developers," Cleo said.

And can these AR artworks be directly integrated into an iPhone camera so if someone likes a poster they can take a picture and the artwork will come alive automatically? "Yes," says Cleo. "We can already integrate directly with the iPhone through the Spark AR filter on Instagram. We also use a platform called 8th Wall that allows folks to activate the artwork through a URL, so there is no need to download the app."

"The end result is very engaging. Our partners are really excited to build campaigns using this technology and audiences do love to engage with the work in this way. We have had some hugely successful campaigns in the past that haven't been based around AR, but I would say this is an evolution of our work and we have always focused on storytelling innovation as a key value of our organisation."

So what has been the uptake of the technology in the real world? Amplifier's Earth Guardians AR-activated artwork has garnered tens of thousands of impressions across a range of different platforms.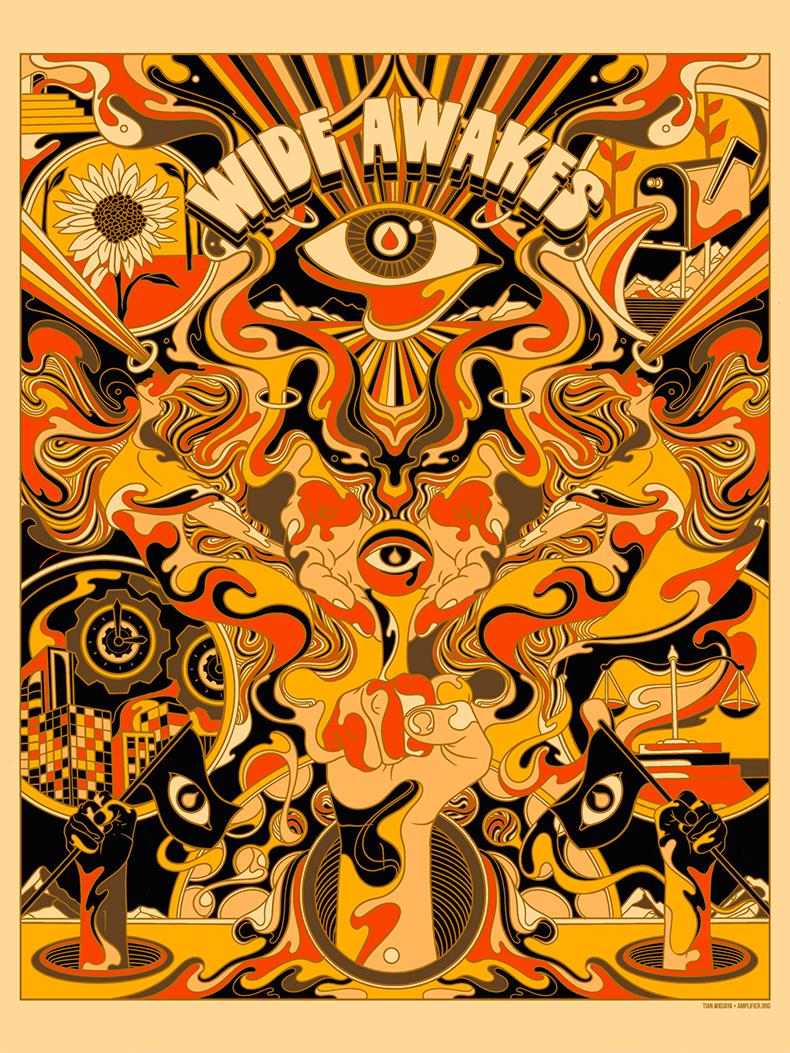 And for print, one of the fantastic aspects of this technology – quite aside from the beautiful original artwork that Amplifier uses to spark the activation – is the fact that it is traditionally printed images that are acting as the gateway to the AR world.

"While there are always digital aspects to our campaigns – including free open-source high resolution downloads of our artwork at amplifier.org, so that people anywhere in the world can print this artwork out – there is also always an analogue aspect to our campaigns. We stand by our belief in the power of print," Cleo said.

"What people see or don't see in their public spaces matters. Once you see something, you can never unsee it, it becomes part of your unconscious. For that we think print can have a far longer lasting impression than a digital scroll. Of course, digital storytelling is also important to us, so where the two combine, that is really our sweet spot."
Become a FESPA member to continue reading
To read more and access exclusive content on the Club FESPA portal, please contact your Local Association. If you are not a current member, please enquire here. If there is no FESPA Association in your country, you can join FESPA Direct. Once you become a FESPA member, you can gain access to the Club FESPA Portal.