Tomorrow's World
Artificial intelligence meets graphics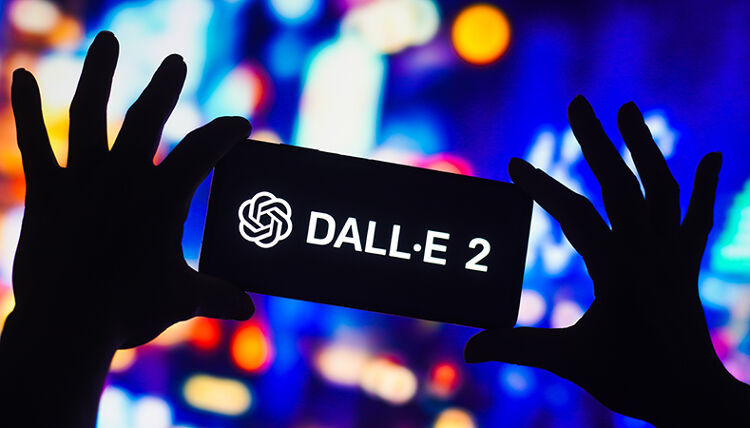 The launch of DALL-E 2 offers printers the opportunity to generate unique images using natural language. But is it too good to be true?
In a recent article we looked at how printers can leverage artificial intelligence (AI) to add value to their business. AI can compress the time taken to do mundane tasks, identify high-value marketing propositions or become a springboard for creative content. Open AI, the creators of ChatGPT, have also launched artwork application DALL-E 2, which generates abstract drawings and photorealistic pictures from users' input phrases. The application makes assumptions about what you want to create based on a huge database of 650 million image and caption combinations fed into it already.

For example, if you type in 't-shirt printing factory staffed by robots in gouache' the application generates the image below. The picture at once shows the promise and the liabilities of current AI image generation. The ambiguities of language are magnified: the attempt to give the system a medium to paint in – "in gouache" – seems to have been applied to the robots. And DALL-E 2 draws mostly on stock images that may well seem familiar, if not overused. This could cause legal issues in the future, as we shall see below.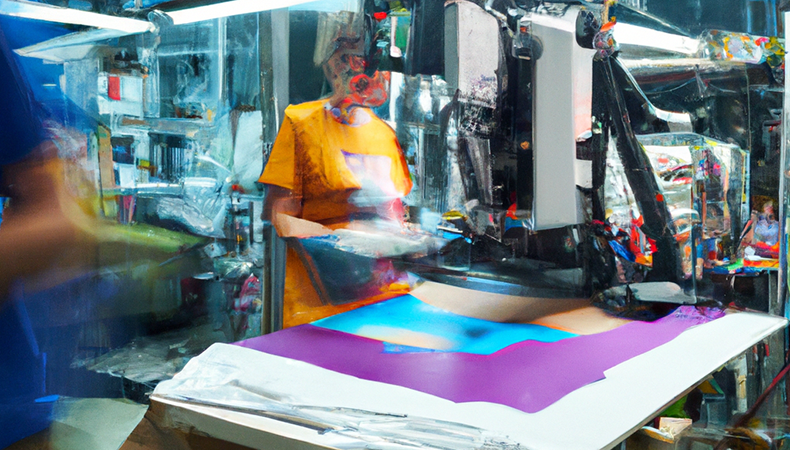 Of course, refinement over thousands and thousands of requests would improve the system, and users can tweak each picture with more and more exact requests to get the final image they desire. You only have 400 characters to fit in your request, so users need to think carefully about mood and medium. For photorealistic images, you can add focal length and style of writing, even model of camera. The picture above was tweaked to make it clearer to foreground the robotic element for example and the painterly medium (see below).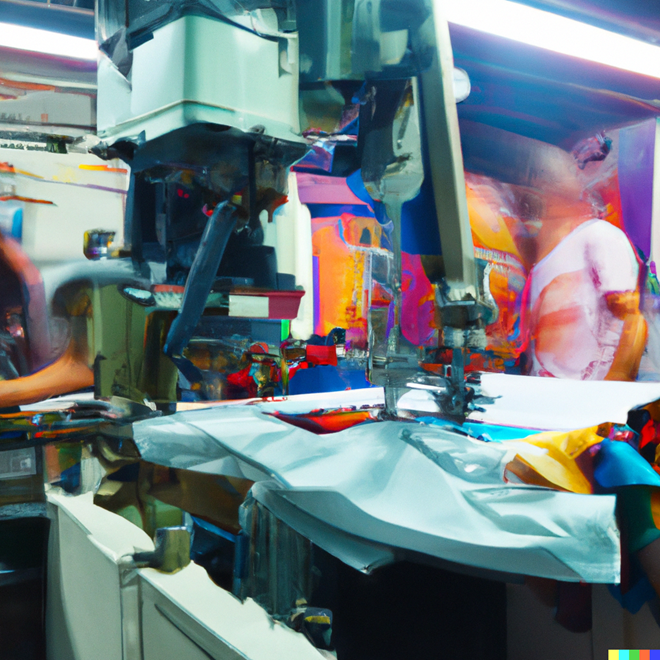 The three images below were generated by Instagream user katsukokoiso.ai, based on the concept "twins from afar" and then refined.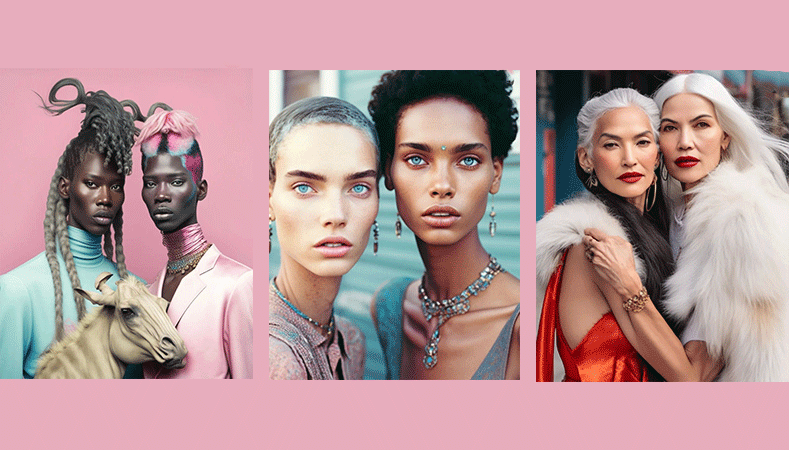 Those who sign up to DALL-E 2 are credited with 50 free searches for original generated images, and 15 free credits each month thereafter. For those who want to use DALL-E 2 in commercial applications, you'll have to pay for your images.
Can I sell images created with DALL-E 2?
OpenAI's own website says: "Subject to the Content Policy and Terms, you own the images you create with DALL·E, including the right to reprint, sell, and merchandise – regardless of whether an image was generated through a free or paid credit."

Business plans for the site charge commercial printers the following amounts:

Resolution Price
1024×1024 $0.020 / image
512×512 $0.018 / image
256×256 $0.016 / image
Be a good user
OpenAI insists that users should not mislead their clients/audience about AI involvement in their images. It allows users to remove the colour-coded "signature" in the bottom right of each generated image, but pictures must be clearly credited to show they were created by an algorithm, and not passed off as human work.

There are also constraints on the kinds of images you can create – those depicting hateful comparisons, violence or harassment, profanity, illegal activity (for example, drug use) will be banned, as will political activity and public health information (or misinformation). But automated filters should reassure printers they can ship AI work with confidence due to these built-in mitigation processes.
What does this mean for printers?
With minimal overheads, low cost of images and ready to access right now, DALL-E 2 could prove a cost-effective way to generate artwork. Spun off from DALL-E 2 is CALA, billed as the world's first fashion and lifestyle operating system. AI allows customers to generate new design ideas themselves from natural language descriptions or uploaded reference images. Developers who want to integrate this AI into their products will need to register with Open AI.

As ChatGPT worried journalists and copywriters that there might be impacts on their employment, DALL-E 2 has caused similar ripples in the graphics and design industries. But the advent of AI should be seen not as a threat to jobs in general, but as a useful tool, requiring human guidance and control, that can save time on labour-intensive tasks and enhance searches.

The legal implications are still being worked through as industry becomes more attuned to working with AI. Getty Images has banned its contributors from uploading AI generated images because of copyright worries. There are also concerns that DALL-E, although it asserts that all its images can be used freely, has scraped images from countless public websites. The images may be combined with others to create new artworks, which makes legal problems harder to prove and to document, but it doesn't mean they will go away. Likewise, is ChatGPT reading and exploiting media organisations' expensively produced but publicly available news output? Again, there could be trouble down the road here, and printers and publishers are recommended to use caution and take out insurance.

DALL-E is free to access. Have a go at writing your own prompts and test the limitations of AI at https://openai.com/product/dall-e-2.
Become a FESPA member to continue reading
To read more and access exclusive content on the Club FESPA portal, please contact your Local Association. If you are not a current member, please enquire here. If there is no FESPA Association in your country, you can join FESPA Direct. Once you become a FESPA member, you can gain access to the Club FESPA Portal.