Tomorrow's World
A post-COVID boom in industrial printing?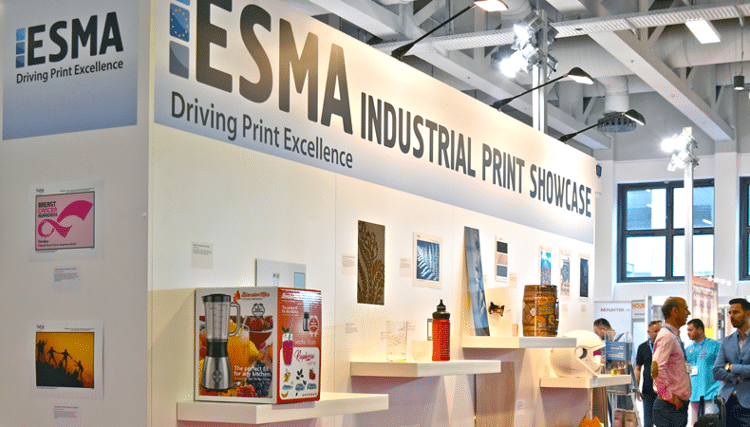 Peter Buttiens of ESMA looks at future opportunities for printers in post-COVID markets and new inroads in biomedical printing and textiles.  
Many industries are starting to adapt to a new future. More home offices, less international travel and more online meetings and events will be a permanent reality. But the 'new normal' brings as many benefits as concerns. It is not only about saving time and costs but also becoming more efficient and more sustainable.

I have seen rising demand for products that support working from home, such as webcams, headsets, screens and laptops, but also more infrastructure for home offices. Some companies provided end-of-year party packages to all their employees to let each celebrate from their own home using personalised packaging concepts. This has also been a tactic from takeaway businesses: make the packaging attractive for the customers, but also more sustainable and recyclable.
Online and packaging
In online shopping too, we are seeing increased demand for personalised packaging adapted to the products and the needs of the customer. At the same time, suppliers aim to make it more sustainable (using less plastic) and more practical for secondary use. Both can be perfectly combined. One recent study investigated it for a typically Belgian product – beer. The growth of locally produced beers has been enormous all over the world, but standard lagers or ales are not in the main picture. Local breweries want to offer special, often heavier, beers for drinking at home. Packaging and branding is very important.
The product is the superhero and the packaging is its sidekick. Together they should be standing out in a unique and simple way
E-commerce can't give the same buying experience and special (local) products must stand out from the regular products. The eye also wants something: if the consumer is in a shop and seea a product that looks great due to packaging and design, the chances of a sale are greater. With e-commerce, the consumer could have the option to select a unique packaging and pay a little extra – sometimes a little gimmick like names, colours and augmented reality can make a difference.
For example, 19 Crimes is an Australian wine collection. Each of their 19 wines has a special label and there is an APP available to turn the label in augmented information about the crime linked to the wine. The extra special item is the cork of the bottle; each cork has a different message and became a collector's item… The story behind the brand and its products have become more and more important to give a message to the consumer. We all have seen very simple but posh packaging for expensive smartphones. The packaging depends a lot on the essence of the product but also on the identity of the brand. Nowadays, packaging and product should be sustainable, and packaging should be user friendly. The product is the superhero and the packaging is its sidekick. Together they should be standing out in a unique and simple way.

During COVID-19, takeaway meals and products became the new lifestyle. Some shops were more successful with their customer retention because of the packaging which either gave a personal message, instruction, or a story on the product. And sustainability became more important – instead of plastic containers and plastic bags, firms invested in returnable containers for food as a solution avoiding extra cost or waste.
Biomedical boom
COVID tests are based on the developments of first-level diagnostic kits made with printed electronics and biomedical printing. Shrinking lab technology on to a chip, these products are precise and accurate.

The healthcare and medical sectors have always been at the forefront of innovation. Currently, there is still a 'one size fits all' method for dosing medication (female or male, young or old, small or large), but in the future medicines are likely to be precisely tailored to each individual. New techniques with time-based medication and also DNA-adapted printed doses seem to give better results with lower doses. But before all these developments become mainstream, there needs to be more change in the power balance in the world of pharmaceuticals.
Towards sustainability
Have we now recognised that holidays and hobbies can be enjoyed more locally? Will people reflect about globalised overconsumption at all levels? Will 'less is more' be the new way of living? Some signs seem to provide a positive answer.

The pandemic has stimulated a boom in outdoor hobbies. We have noticed how bicycle sales are up, electrical bikes as well as traditional, because people now want to make longer trips in comfort. The same goes for hiking, where accessories and clothing have sold well. With Padel, an easy, not expensive sport, the boom has been enormous in Europe – the racquets and balls are constantly sold out. Most importantly, in all these products there are industrially printing parts!
Textile trends
The global trend in industrial and commercial print is to switch to smaller volumes, produce on demand, down to an order batch of one piece. The combination of industrial print and robotic automation is at hand – integration seems to be the future.
The critical objective lies in localising textile printing closer to end-customers and offering them durable and sustainable clothing, home textiles and technical textiles
Our goal is to look broader and deeper into the industrial concept of textile printing with both software and mechanical automation for print on demand applications, and last year saw ESMA launch its textile division. The textile industry is looking into near-shoring, minimisation of stocks and sustainability. The critical objective lies in localising textile printing closer to end-customers and offering them durable and sustainable clothing, home textiles and technical textiles.

The future certainly looks interesting, with COVID-19 as a potential accelerator for achieving the goals of the multi-faceted industrial printing sector.
Become a FESPA member to continue reading
To read more and access exclusive content on the Club FESPA portal, please contact your Local Association. If you are not a current member, please enquire here. If there is no FESPA Association in your country, you can join FESPA Direct. Once you become a FESPA member, you can gain access to the Club FESPA Portal.