Tomorrow's World
7 simple steps for textile printers to hit UN Sustainable Development Goals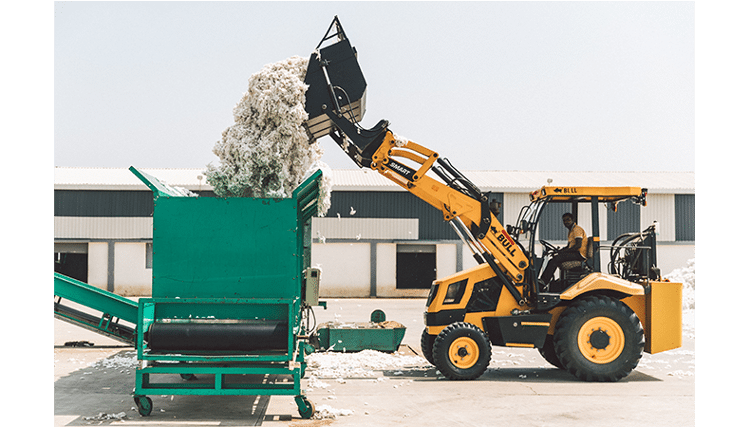 Are you doing enough to reduce your impact on energy, inequality and waste?
After agriculture, the textile dyeing and finishing industry is the world's largest polluter of clean water.
And it's not 'just' pollution: fashion and textile printing also has an effect on global levels of poverty, inequality, public health, energy use, consumption and waste. The House of Commons Environmental Audit Committee recently published Fixing Fashion, a report on clothing consumption and sustainability that showed how producers chasing "the cheap needle around the planet" had led to an unacceptable cost in energy, water, land and chemicals.

Because of that, improving our approach to business in a broad range of areas can help to advance a significant number of the United Nations' Sustainable Development Goals (SDGs). And not all steps have to be difficult. Here's how to help.
What are the UN SDGs?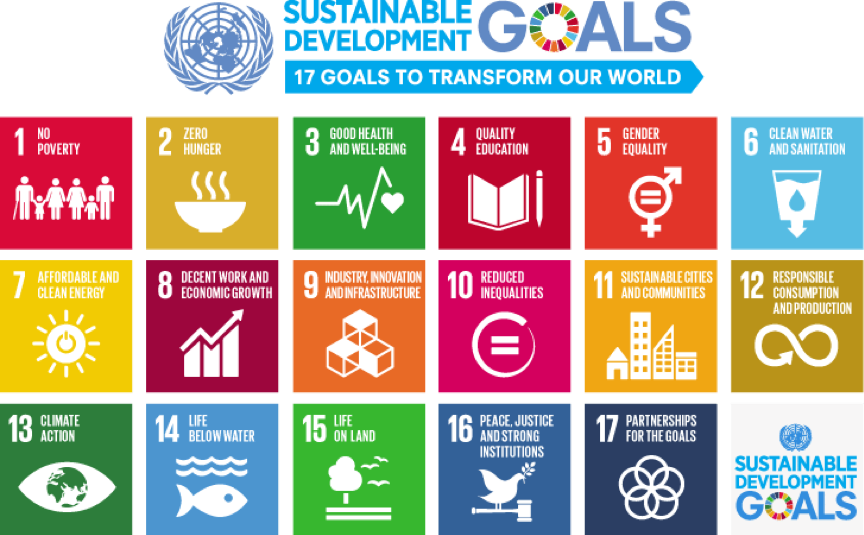 1. Use water-based inks
(Helping to advance UN SDGs 3, 14 and 15)
Perhaps the most obvious decision printers make that can have a direct effect on both human and natural life is choice of ink. While plastisols have been the first choice for many fashion and textile printers, they also contain toxic chemicals that can cause significant health issues, both to those using them and to the wider world.

Modern, organic, water-based inks are safer to use and better for the environment, although, changing from plastisol to water-based systems takes some adaptation. And one of the past considerations that perhaps deterred some printers from moving away from plastisols – price – has been all but removed, with water-based ink now costing little more than plastisol equivalents.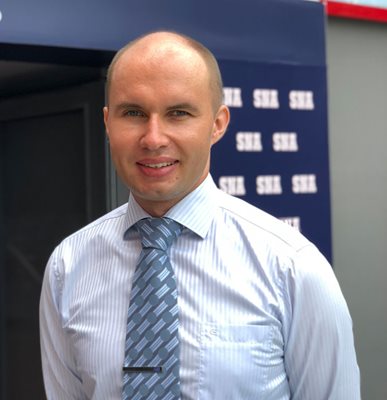 Dmitry Sarbaev, MD of Fluxmall DTG

"It's no secret that a lot of companies neglect environmental safety and use cheap chemicals, the effects of which are mostly unknown, if not harmful," says Dmitry Sarbaev, MD and co-founder of direct-to-garment printer Fluxmall DTG.

"However, we purposefully chose to build our production process around eco-friendly pigment water-based inkjet inks, such as DuPont Artistri inks and pre-treatment liquids, which have received ECO PASSPORT by OEKO-TEX certification from the Hohenstein Institute in Germany. With these inks, the production cycle is shorter – as it eliminates post-treatment stage compared to other types of inks, i.e. reactive - and reduces time to market. Thus, less power consumption and close to zero waste water emissions."
2. Filter your water
(Helping to advance UN SDGs 6 and 14)
That issue of waste water is crucial to protecting the wider environment and there are measures that any business can take to improve emissions. For example, Pete Conway, Managing Director of eco-friendly T-shirt printer I Dress Myself says that fitting a water filter is a simple first step: "We use gravity filters. These do require you to change the lime and the peashingle in them every so often, but that's still an easy way to help the environment."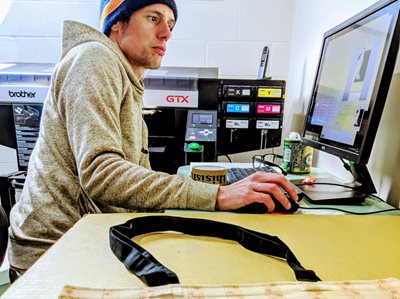 Matt Conway of I Dress Myself
3. Source organic cotton
(Helping to advance UN SDGs 3, 6, 12 and 17)
Choosing to switch to organic cotton may not have a huge effect locally but on a global scale, it could mean a massive improvement in wealth, health and living conditions.

According to the World Health Organization, non-organic cotton kills around 200,000 people a year as a direct result of the pesticides used. Then there is the indirect damage that cotton farming does. Because more chemical products are used on cotton than other crops (non-organic cotton is responsible for the consumption of more than 16% of the world's total production of insecticides and 7% of its herbicides), a lot of cotton farmers spiral into debt, which leads to a high proportion of suicide.

Water consumption in the cotton industry is also enormous. One kilogramme of cotton – equivalent to a T-shirt and pair of jeans – can take as much as 10,000 to 20,000 litres of water to produce. "A lot of the cotton is grown in dry areas, especially in developing countries where water is scarce, so that can have a significant impact on the local population and wildlife," Conway says.

"In some cases, people's drinking water is piped away to irrigate cotton crops. However, organic cotton farmers use no chemicals on their crops and tend to utilise rainwater much more efficiently for irrigation."
4. Use suppliers who are ethically certified
(Helping to advance UN SDGs 1, 2, 4, 5, 10 and 17)
It's not only farming processes that have an effect on UN SDGs; how a supplier's staff are treated is crucial to reducing inequality. The first step is to source from suppliers who pay their workers properly, and a certification from a body such as Fair Wear or Fairtrade is a good indication that a company is operating ethically.

"Each year at I Dress Myself, we look at our suppliers and their ethical policies," says Conway. "We look at the certification they have and we dig into the certification to see what that means. If there is anything that we are concerned about, or if our customers have specific questions, we have contacts within the supply chain that we can call."

Don't forget, every business can commit to becoming a living wage employer for its staff at home, too.
5. Use renewable energy
(Helping to advance UN SDGs: 7 and 13)
Another simple measure any business can take right now is to move its electricity supply to sustainable energy. The textile and fashion industry is a massive contributor to carbon emissions but companies such as Bulb can supply renewable electricity and green gas at competitive rates, and all it takes is a phone call.

Ultra-sustainable fashion brand Rapanui has moved things one step further. Its UK factory in the Isle of Wight is entirely run by its self-generated solar power, while its factory in India is ethically accredited and runs on wind power.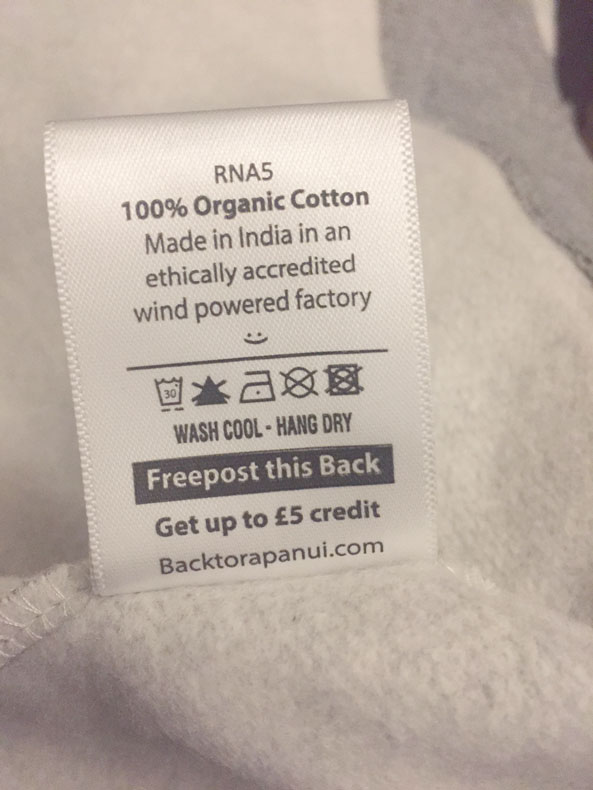 As well as using sustainable factories, Rapanui avoids waste by allowing customers to return worn-out products for credit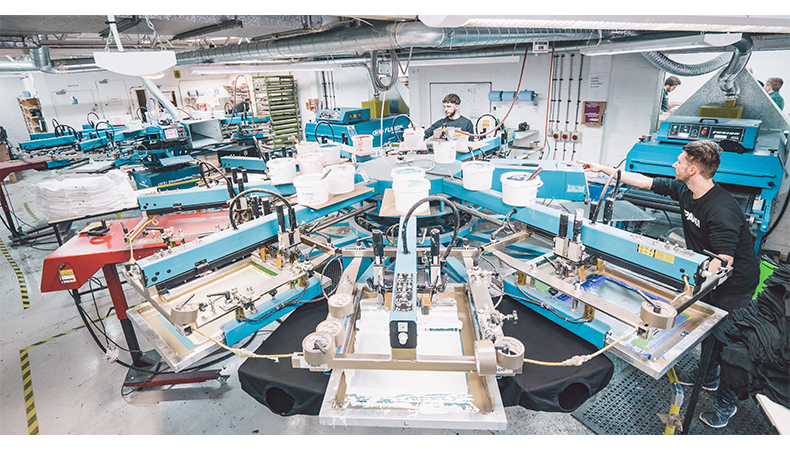 The Rapanui factory on the Isle of Wight

"Installing solar power did require up-front investment," says Rapanui's owner Mart Drake-Knight. "But the payback period is 10 years, and the solar panels will last 25 years, so we will make a profit on renewable energy.

"I think one of the big challenges for brands is to not think about sustainability costs in isolation. When you try to do sustainability is seems as if everything is getting more expensive, but when you look at your business as a connected system across a longer time period, it's actually much cheaper. So, with energy costs on the rise, it makes really good business sense to be generating your own power and solar is a particularly good investment for print companies."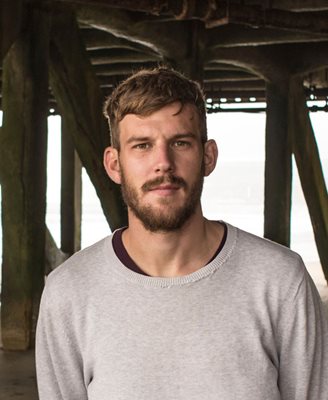 Mart Drake-Knight of Rapanui
6. Assume sustainable business practices
(Helping to advance UN SDG 12)
Businesses can also make other important environmental improvements entirely independently. The first step is to measure waste and see how much of that can be recycled or – ideally – reduced.

To do this, a variety of steps can be taken, ranging from finding more environmentally-friendly alternatives to film positives for screen exposure – such as computer-to-screen systems – or smaller measures, such as I Dress Myself's use of paper packaging tape instead of plastic tape. Committing to becoming a paperless office is another good idea that will also save money.
7. Promote quality products and production on demand
(Helping to advance UN SDG 12)
In 2015, a Nielsen poll of 30,000 people across 60 countries found that 66% of consumers were willing to pay more for sustainable goods (rising to 73% of those born from 1977 to 1995). There is a growing understanding among the public that untrammelled consumption and fast fashion is not sustainable. To that end, making high-quality, well-made items that people will want to keep for a long time is becoming a more viable business model.

Rapanui uses a unique combination of real-time production and circular supply chain. "From the start, our products are designed to come back to us when they're worn out and we'll then make our new products from that material," Drake-Knight explains. "Across the lifecycle, if we get material back from our customers, it works out being cheaper for us.

"We're not saying to people: 'Buy less and spend more.' We're saying, we'll make more, they'll cost less, and we can enjoy have sustainability without compromising. Our production systems are very, very efficient, which means we can afford the increased cost of one-at-a-time production because it's outweighed by technological efficiencies.

"The outcome is then less waste. And while less waste sounds like a sustainability issue, it's actually a business issue – waste is cost. So it's a virtuous circle where you can make lots more progress with sustainability which results in much more progress with your business."
UN SDGs - instant fixes you can do now
Pay a living wage
Change electricity supplier
Offset carbon cost
Fit a water filter
Become a paperless office
Make sustainable micro-choices, such as using paper packaging tape
Measure waste and improve efficiency
And some fixes that might take a little longer...
Check the ethical status of your suppliers
Consider moving to eco-friendly inks (if not entirely, then at least on easy jobs such as single colour)
Think about sourcing organic cotton
Become a FESPA member to continue reading
To read more and access exclusive content on the Club FESPA portal, please contact your Local Association. If you are not a current member, please enquire here. If there is no FESPA Association in your country, you can join FESPA Direct. Once you become a FESPA member, you can gain access to the Club FESPA Portal.