Tomorrow's World
3D printing in colour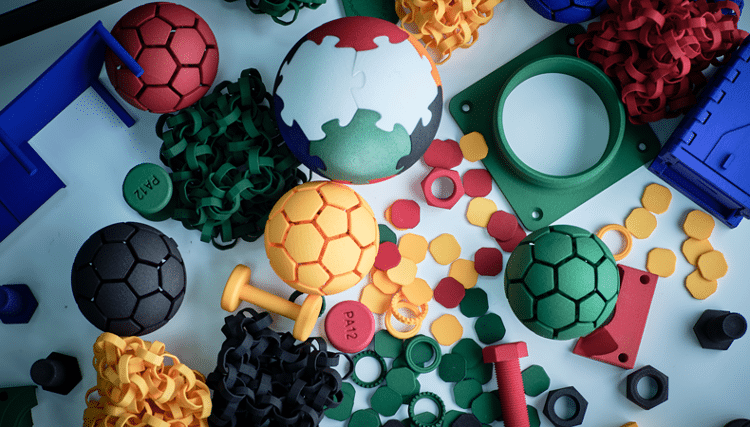 How has Ricoh integrated 3D printing into its offering, and what does the future hold for this transformative tech in colouring parts?  
What made Ricoh pivot to 3D printing?
As a global leader in 2D production printing since 1936, innovation in 3D technology was the natural next step for Ricoh. Initially, we entered this market by supplying our inkjet heads to 3D printer manufacturers and using the technology within the group on our own products and manufacturing operations.

In 2019 we launched a range of additive manufacturing services aimed at making 3D printing accessible, through an online quote and order platform. Our mission statement is "more than a printer – a partner", because we're very different to a traditional service bureau.

From a unique selection of SLS (Selective Laser Sintering) and FDM (Fused Deposition Modelling) materials (see Terminology box below), to certified engineering services tailored to meet the customer's needs, to full production capabilities using the right industrial manufacturing technology – we take an honest approach to the role of 3D printing as a manufacturing tool.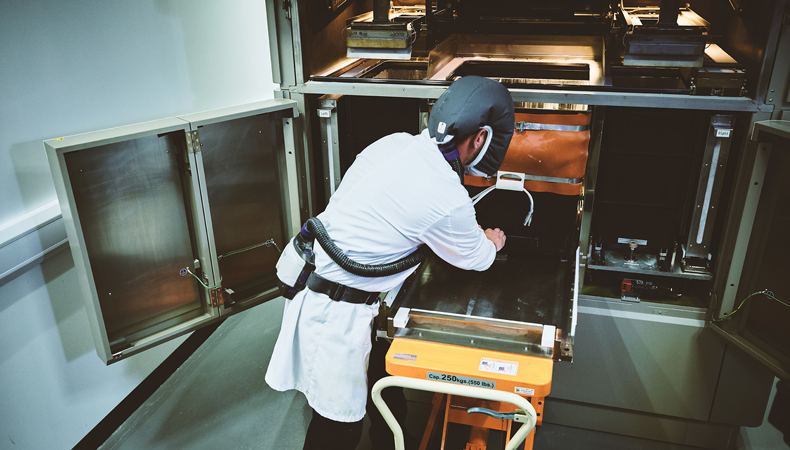 Do you see additive manufacturing (AM) with colour laid down integrally?
There are technologies where colour and even Pantone matches are printed as part of the material composition; however, these tend to be for representational models only. Ricoh specialises in the production of end-use parts and has a range of printing technologies which focuses on high performance engineering materials for end-use applications. These do not currently offer the ability to apply colour during print. If customers require parts to be coloured, this is typically done via a post-process such as spray painting.
How do you see full colour modelling evolving in AM solutions?
As 3D printing is now becoming a serious manufacturing tool offering a range of materials for end-use applications, the ability to apply colour to these parts or for the raw material to be coloured at source needs to evolve to allow widespread use.

In injection moulding, we can apply exact colour references during the moulding process to match customer requirements. Today, when 3D printing in manufacturing grade materials, we have to do this via post-processing solutions, which increases manufacturing costs. This makes the technology difficult to justify for applications where colour is important.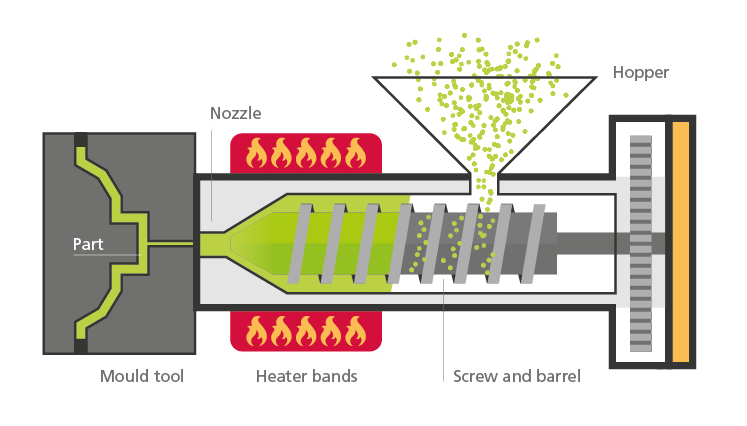 Injection moulding is a reliable and cost-effective way to manufacture at medium to high volumes

Technologies do exist where colour is applied, but the material selection tends to be poor. The market is currently split in terms of 3D printing for end use with high-performance materials, and 3D printing for visual models with little part performance. We believe the two shouldn't be mutually exclusive and that the ability to add specific colours, either at the raw material stage – or better still during the print process where multi-coloured parts can be achieved – is the next stage of 3D printing.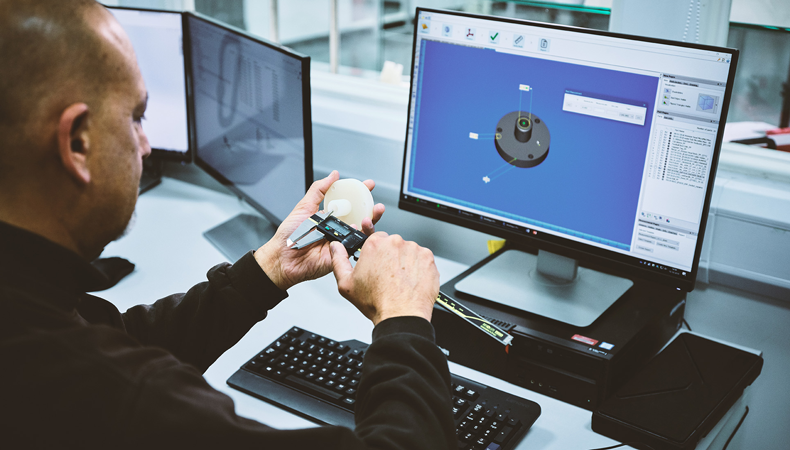 What is the size and scale of your 3D modelling operation?
Ricoh's 3D printing operation has a global presence – with dedicated sites in the UK, US and Japan all specialising in different areas of AM. Our headquarters in Japan is at the heart of 3D and 2D hardware development. With a culture of knowledge-sharing across and between each site, Ricoh is constantly researching and developing the technologies of the future.

Over £1.35 million has been invested in the last couple of years to create a cutting-edge 3D print centre at our 50-acre site in Telford, which has a range of technologies and specialisms that cater to the European market. Dedicated production cells drive process control standards for key sectors, including medical and automotive.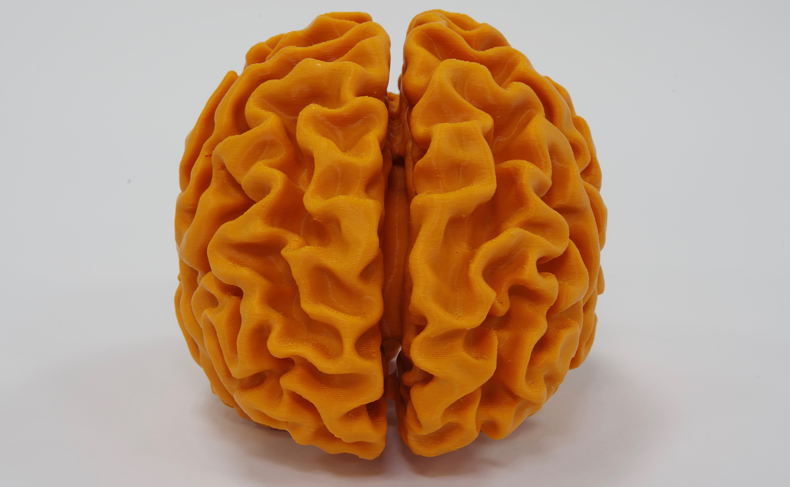 This year, we added medical standard ISO 13485 to our suite of ISO certifications. These assure our environmental, information security and quality management capabilities. Our portfolio of hardware includes SLS, FDM and Multi Jet Fusion, and a range of technical services and back office technology.

This range of systems gives us the flexibility to test and develop new materials and to create non-standard components and parts. The area was designed to include dedicated production and powder processing areas, which limit contamination and allow the team to cater to the requirements and standards of key market sectors.

We pride ourselves on being more than a printer – our technical specialisms cover post processing and metrology solutions, as well as material characterisation, design support and quality assurance services. We believe in a collaborative approach with our customers, working alongside them and developing our capabilities to make sure every AM project is as successful as it can be.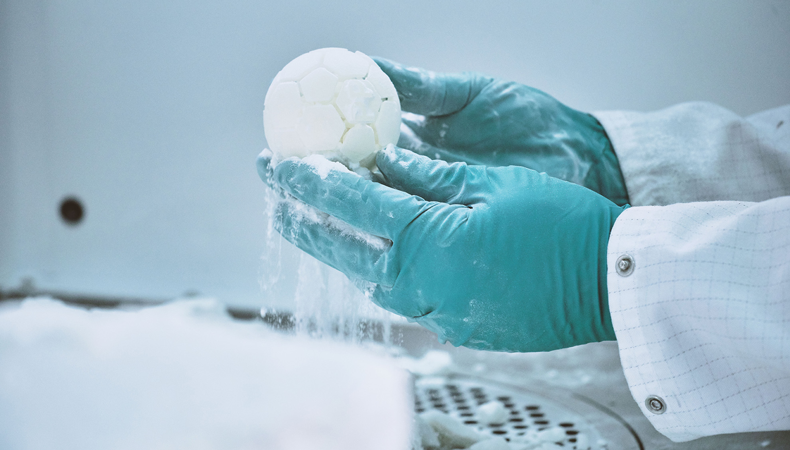 What is 3D printing's application to visual marketing?
3D printing has long been associated with visual prototyping, as it allows for the cost-effective and rapid manufacture of parts that can arrive on the board table in hours. It can be used for a whole host of visual marketing applications – from concept selection through to product sign-off.

There is no other technology today that offers such an efficient product development cycle. This encourages an iterative design process where a series of visual prototypes are created for product selection, which would be completely cost or time prohibitive through traditional manufacturing. It's often said that the life of a visual model is seven seconds by the time it lands in the hands of decision-makers. We believe aesthetics and function can and should be realised in one part, so we've honed our technologies and specialisms to take a part from concept right through to production.
How do you see your role in manufacturing automotive parts progressing?
3D printing is the natural fit for automotive applications due to its capabilities in customisation and lightweighting, as well as material properties including flame retardancy and chemical resistance. Here at Ricoh 3D we're already seeing technology geared specifically towards automotive, with Ricoh Japan leading the development of bumpers and large-scale components as single pieces using FDM.

Our unique polypropylene material is also in high demand in automotive, thanks to its outstanding mechanical properties and impact resistance. However, due to the volume demands of automotive, 3D printing today is still very much a prototyping tool used for fit, form and function testing. There are some scenarios where 3D printing is viable for the manufacture of end-use components that are fitted to the vehicle, but these tend to be small series, hidden parts or high-end niche vehicles.

The automotive industry has always been early adopters – pioneers even – for manufacturing innovation. Many original equipment manufacturers (OEMs) have in-house 3D printing technologies, but in most cases are limited to what is available on the market today so, with expensive in-house operations, it becomes difficult to introduce new technologies as they evolve.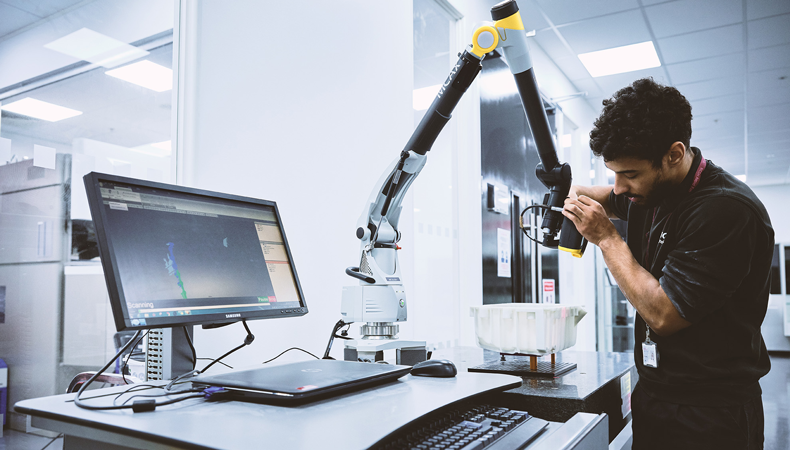 With our technology, material and post-processing development programmes the role of a technical service bureau is only expected to grow in the automotive sector. As materials develop and price decreases through widespread adoption, we are confident we will see more and more end-use 3D printed parts in automotive, with growth in areas such as aftermarket and customisation for key markets such as disability vehicles.

Customers themselves are creating this demand with increasing desire for customised 3D printed parts on vehicles, as the technology becomes more known through mainstream media and younger generations have access through education. This has created a generation of consumers who are looking for bespoke, niche products.
How will AM affect printers in the future?
Every day we have requests from customers wanting to understand the price point of AM for a part that they already manufacture via traditional methods and, in the short term, we see the evolution of AM lying in education and understanding this technology.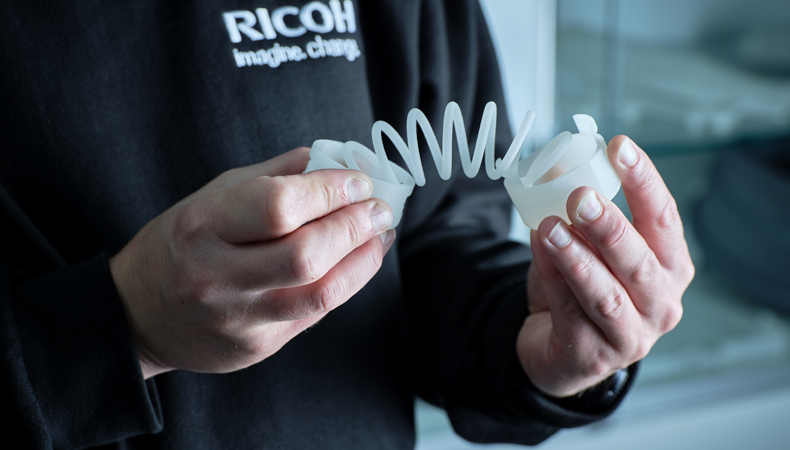 The benefits of AM go far beyond part-for-part price comparisons to the design of truly innovative products that can only be manufactured by this technology; the supply chain benefits of time-to-market and on-location production via digital warehousing, which reduces stock and storage demands; and true sustainable manufacturing with minimal material waste. Until customers start to understand and apply all the end-to-end benefits of 3D printing, then widespread adoption and the growth of end-use parts will be slow. We see a big part of our role lying in educating our customers and giving them the tools to fully harness the power of this transformative technology.

In the long term, integration alongside well-established factory application systems that schedule, monitor and maintain is vital for any technology to fit seamlessly into manufacturing ecosystems, and this is where we see the true evolution of 3D printing technology taking place.
---
3D printing terminology
SLS: Selective Laser Sintering printing, or powder bed fusion, is considered the "workhorse" technology of 3D print providers, due to large build volumes and a range of engineering thermoplastics – making it the perfect choice for series manufacture and complex free-form shapes for end-use applications. A thin layer of pre-heated polymer powder is layered across a build platform, which is then selectively melted by lasers. The build platform then lowers by the defined layer thickness, and another layer of powder is deposited across the bed.
FDM: Fused Deposition Modelling is the most accessible 3D printing process. FDM constructs parts by extruding polymer through a heated nozzle, and depositing the melted material layer by layer. A support material is then washed away with a detergent via an additional wash process.
Injection moulding: The injection moulding process traditionally involves creating a hard tool manufactured from steel. The introduction of high-speed machining means that soft tooling in aluminium also became economically viable for low to medium volumes. Today, with improvements in machine accuracy and material properties, a 3D prototype insert can be created using 3D printing. These tools can produce low volumes of components that are representative of the final parts.
Multi Jet Fusion: An inkjet head applies a heat-absorbent ink across the powder bed surface in the areas that are to be sintered to create parts. This ink then absorbs the heat from an infrared lamp and series of heaters inside the printer to form 3D-printed parts.
Become a FESPA member to continue reading
To read more and access exclusive content on the Club FESPA portal, please contact your Local Association. If you are not a current member, please enquire here. If there is no FESPA Association in your country, you can join FESPA Direct. Once you become a FESPA member, you can gain access to the Club FESPA Portal.