People in Print
Young photographer reaches for the stars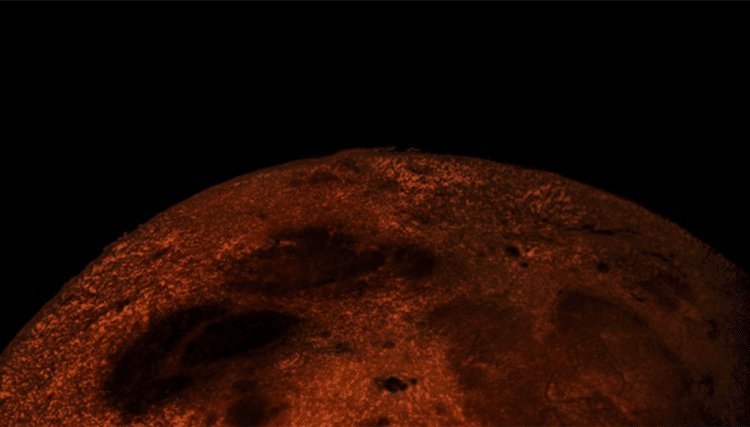 With the help of a macro lens, Steph Bourazanis turned mundane food items into eerie spacescapes.
Steph Bourazanis of SB Photography studied photography at the University for the Creative Arts, Farnham. She won gold in the Young Star category at the FESPA Awards 2018 with her digital photo series The Unknown, which used both abstract and macro photography.
How were you inspired to create your award-winning work?
I always had an interest in astronomy, and in micro and macro objects. I found it so interesting, the way you can see the details through a macro lens. When researching this field, I started to imagine a world of unknown possibilities shown through small everyday objects, and suddenly I had the idea for my project.
What were you attempting to achieve with the work?
I wanted to express my imagination, a new perspective and vision distortion, and create a new meaning to what we see in our everyday lives.
How long did you have to complete the project?
When I was still at university, we had around three months to complete mock-ups, final prints, research, shooting, sketchbook work and our development folder.
What were the key challenges involved?
Trying to turn each object into what I had seen in my imagination. Sometimes it was hard putting together different materials and objects, as they didn't work well in the studio due to the way they looked.
How long did the project take?
Around three to four weeks, including shooting, editing, having the final prints printed, and sketchbook and development work.
How many people saw your work?
I would say more than 2,000 people. I have appeared at two international exhibitions this year at Rotterdam Photo and FESPA's Global Print Expo in Berlin. The Unknown was also shown at my university's final show and at The Photographers' Gallery in London.
How were you nominated for the Young Star award?
A family member introduced me to the FESPA Awards; I applied with some of my best work and was shortlisted a couple of months later, in March 2018.
What pieces of kit do you feel are influencing the industry right now?
I cannot stress enough how amazing macro lenses are. They are changing the possibilities for abstract photography. Macro helps you to see details accurately – things you would not be able to see with your eyes.
How has the award changed things for you?
Showcasing my work in Berlin has given me a lot more confidence and has allowed a wider audience to view my work. I can create new projects knowing that the abstract audience is there, and hopefully open a new perspective towards the abstract world.
What projects are forthcoming?
I have just finished a personal project called My Home From Home. It is very close to my heart as it is about my family and Greece. My next abstract project is very new and exciting, but I am still researching and developing my ideas.
How do you see your business expanding in the next five to 10 years?
I am looking to open stalls and an online shop, eventually opening my own gallery, selling prints and showcasing work at more international exhibitions.
What's the most important tip you could pass on to our readers?
Structure and plan your ideas meticulously, use your time effectively when creating projects, and make sure your heart is in what you're creating.

To enter the 2019 FESPA Awards, click here.
Become a FESPA member to continue reading
To read more and access exclusive content on the Club FESPA portal, please contact your Local Association. If you are not a current member, please enquire here. If there is no FESPA Association in your country, you can join FESPA Direct. Once you become a FESPA member, you can gain access to the Club FESPA Portal.