People in Print
Winning World Cup signage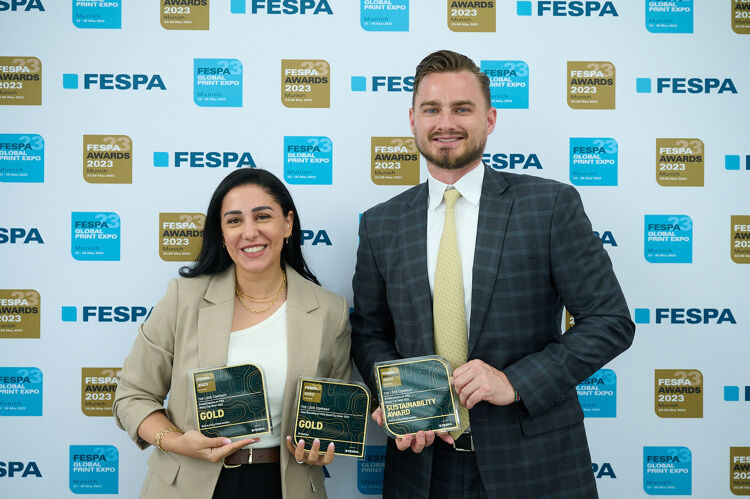 FESPA Gold Award winner The Look Company won gold for its sustainable signage, and wrapping solutions at the FIFA World Cup 2022 in Qatar.
The Look Company Middle East won two FESPA Gold Awards, and the first-ever FESPA Sustainability Award, for wrapping and roll-to-roll printed fabrics after handling the signage and fleet branding at the Qatar FIFA World Cup 2022.
What was the brief for the printed fabrics and graphics you created for the tournament?
The brief was to address the goals and objectives of FIFA, the Supreme Committee, and the Q22 Organizing Committee to deliver the dressing and signage for the World Cup. We put sustainability at the heart of the project – our delivery programme was designed from its inception with sustainability as a key guiding principle. Every decision, from product design and function through to materials, manufacturing processes and vendor selection was made with the goal of minimising environmental impact.

This was all based on extensive site visits with clients, understanding where the highest impact for value items were, sustainable options where possible, prioritising based on client group, location and what would be visible on television including team areas.
What strategic choices did you have to make early on?
We had to prioritise the scope for FIFA and their client groups, based on their requirements and agreements: team structure to ensure we had the right people working on the right things at the right time; new designs for the wayfinding signage to be more effective and agile based on wayfinding strategy and principles; procurement strategy to ensure we had the right amount of the right products available at the right time; and sustainable options for testing substrates.
How did you employ laser scanners to survey the venues?
During the FIFA World Cup 2023 project, we leveraged the advanced capabilities of Leica 3D scanners, specifically the RTC360 and C10 models, to scan stadiums and other venues.

The C10 model, with a range of up to 300 metres, was used to scan large-scale areas such as stadium bowls and fascias, while the RTC 360 scanner, with its impressive scan times, was used to capture indoor areas and smaller venues.

The point clouds generated by the RTC360 and C10 scanners served as the foundation for creating detailed as-built drawings of each facility. The accuracy and richness of the captured data allowed for the precise determination of the best substrate and hardware solutions for all branded areas. By overlaying the design files of the branding elements onto the as-built drawings, we created a comprehensive scope book that vividly portrayed how each design element would appear when installed in its intended location, simplifying the design, decision-making and approval processes for our clients.
What technical problems arose, and how did you solve them?
The Look Company faced significant technical challenges while undertaking the production of branding, wayfinding and functional area signage. One of the major hurdles was the sheer magnitude of the project, involving over 200,000 items and nearly one million square metres of printed products.

Another notable challenge was calibrating colour performance and achieving accurate colour matching across a wide range of substrates and printing technologies, including the myriad combinations of those elements. Overcoming those challenges required a combination of technical expertise and attention to detail. The Look Company's team of experts employed advanced colour management techniques and profile calibration methods to ensure consistent and precise colour reproduction across all substrates and printing technologies. This dedication to colour accuracy helped maintain brand integrity and provided a cohesive visual experience throughout the World Cup venues.
What advantage did being based in Qatar give you?
We already had experience of working in the venues, and we had close proximity to venues, allowing for quicker, more efficient deliveries. We already had existing relationships with local suppliers we could trust, and who understood routes and local expectations for quality.
What has happened to the materials used?
Plastic signs and fabrics were recycled, reused (hardware and fittings) or repurposed (fabrics into reusable tote bags). All poles and hardware were sourced from a local aluminium provider, using the highest recycled content possible. With a supplier closer to Qatar, raw material transportation was greatly reduced. Of the 300 tons of low-carbon aluminium produced for the World Cup, 90% has been added to reuse programmes, while the remaining 10% has been recycled for future extrusions. Other than the banner itself, all of the components in the system are reused, with no single-use components. Furthermore, all parts of the system, including the pole itself, are recyclable at end-of-life.

All of the fence fabric was made from 100% recycled polyester yarns. Of the 20 tonnes of material used, 100% has been recycled and will be used as raw material to produce new goods. In addition, our recycling programme has already processed more than 65,000kg of textiles and rigid sign material from the World Cup event, and is projected to surpass 100,000kg by the time it is complete.

The MOGwear [Memories of the Games] recycling programme repurposes branded materials from sporting events into bags, clothing, and other items. After the FIFA World Cup Qatar 2022, 10,000 MOG bags were made from recycled banners and flags for the FIFA Women's World Cup 2023 in Australia and New Zealand.
The signage and freestanding structures had to be visible at night – how was that powered sustainably?
We powered the LED lighting systems with solar energy. In total, 608 full-size solar panels were installed to provide power for the high-efficiency LED lighting for our large wayfinding structures, while 3,200 all-in-one solar lighting fixtures were installed for the smaller signage.

This programme provided 100% of the energy required by the signage: more than 20,416 Kwh for the World Cup alone. All of these components are part of our reuse programme. We are currently working on regulatory approval to use the full-size panels at our manufacturing facilities in North America and France to offset our energy consumption.
How could future World Cups become even more sustainable?
The next World Cup is being held in North America. What will be needed are specific goals to meet and willingness to commit more expenditure for sustainable options; workshops across functional areas to better understand impacts and needs to avoid over-production (only producing what is actually required); and consideration of the logistics/geography of the event and how to carry this out as sustainably as possible.

North America is a huge continent and will most certainly require more logistics during the event than Qatar, but perhaps less in the lead-up to the event since more resources are found locally, and considering the size of the market and availability of resources compared with Qatar.
Become a FESPA member to continue reading
To read more and access exclusive content on the Club FESPA portal, please contact your Local Association. If you are not a current member, please enquire here. If there is no FESPA Association in your country, you can join FESPA Direct. Once you become a FESPA member, you can gain access to the Club FESPA Portal.