People in Print
Top of the market: Kolorcraft's award-winning retail campaign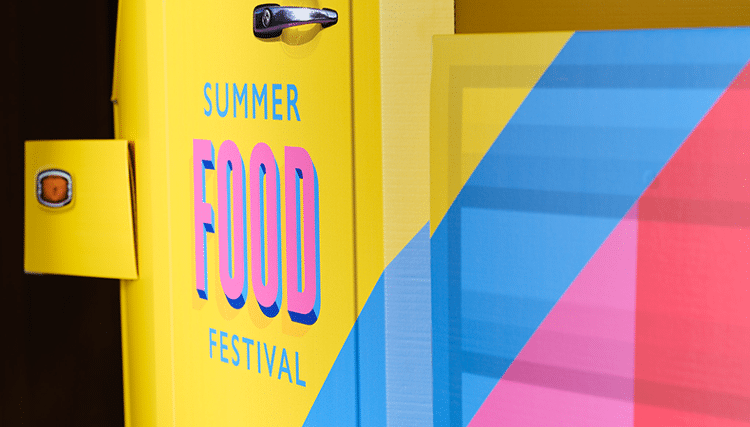 Kolorcraft won a FESPA Gold Award for its Summer Food Festival point-of-sale campaign for UK supermarket chain Waitrose.
This extensive point-of-sale (POS) campaign to create a 'street market' feel for Waitrose included tuk-tuks, crate wraps and cantilevered canopies, alongside other graphic panels. The graphics were created with sketch-up, Photoshop and Illustrator along with ArtiosCAD and printed onto E flute, EB flute, display board, FBB, polyprop and Dufalite materials. These were then finished using ESKO CAD cutting table, along with various taping and gluing machines, before collating and packaging. We spoke to Emma Ramsey, Head of Client Services and Marketing at Kolorcraft.
What was the brief, and what were you attempting to achieve with the work?
The Waitrose Summer Food Festival was inspired by all the best tastes around the world, from the humblest streets to the most vibrant spice markets. Waitrose wanted its Summer Food Festival to bring culture, colour, diversity, joy and celebration to all its channels to create an interactive experience. This was done ­to make it feel as if you are moving around stalls or destinations to see and taste the food, and to be a part of the festival experience.
How were you inspired to do the work?
We used the mood board supplied by the Waitrose design team for inspiration and sent over a first visual presentation with our ideas. These replicated a vibrant colourful street market with display stands in the shape of tuk-tuks and a canopy roof imitating the repurposed shipping containers that feature in the street market scene.
How long did you have to complete the project?
We had around two months to complete the project, from first concepts through to production and installation.
What are the benefits of the material choices you made?
Sustainability was a crucial factor, and using materials that were environmentally friendly was an absolute necessity while supporting a premium look and feel. To achieve this, the materials used were easily recyclable and included corrugated, honeycomb and display boards. All elements were printed on our Inca HS X3 Digital Flat Bed to ensure a high-quality consistent print finish.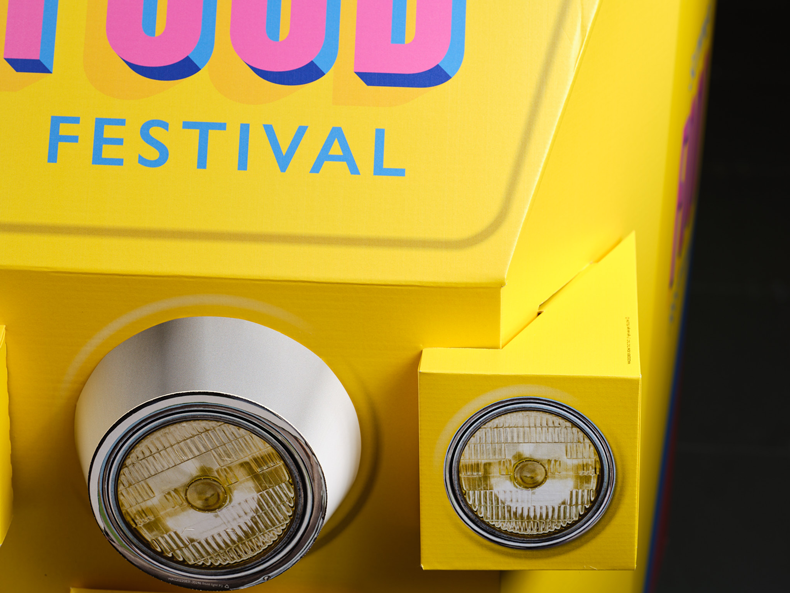 What were the key challenges involved in the project relating to technology, materials, installation, design and sustainability?
The displays needed to be striking and interactive, work in a busy store environment, be robust enough to be on display for four months and be shoppable and updateable. Additionally, they needed to adapt to suit stores with varying footprints, while maintaining the premium look and feel, and be sustainable.

One of our key marketing goals was to increase sales, with the target segment shopping for more food and drink products during the summer period. We also needed to highlight value for money through great seasonal offers and competitive price points across key summer ranges.
How did you overcome those challenges?
We created a virtual walkthrough using our 3D virtual store tool of all the printed elements in-store before we printed full-sized mock-ups to display to Waitrose exactly how customers would see the displays and how they would appear in store prior to the full production run.

We manufactured and professionally installed vibrant tuk-tuks, crate wraps, mid panels and headers on the front-of-store display units, as well as a canopy roof with lights and an interchangeable promotional bird's beak mechanism in all the top Waitrose stores.

We designed the canopy roof to be scalable for varying display sizes in different stores and incorporated counterweights into the structure to stabilise it once it was in place. The fact it would be visible from all sides meant the mechanisms to hold it in place had to be disguised from view. The interchangeable bird's beak graphic was designed to sit under the canopy to highlight summer deals, ensuring that they really stood out and reinforced the value message.
How many people were involved in the project? How many pieces across the country did you produce?
The whole project was designed, printed, finished and assembled in-house using a significant amount of our 200-strong team at Kolorcraft alone, not to mention the team at Waitrose. We produced 40 full-sized tuk-tuks in total and 22 canopies, plus a further 732 supporting elements, and installed the displays nationwide in 21 Waitrose stores.
What was your favourite aspect of the product?
The final execution was joyful and vibrant, and brought the stores to life by creating a unique interactive experience for customers. It recreated the feel of a street market – not only did it look stunning, but it also achieved all the requirements of the brief and was loved by customers, store colleagues and the wider team. The clever designs meant its execution was just as effective in large and smaller store footprints, taking nothing away from the overall look and feel.
What do you think you offer to clients that competitors don't?
Ultimately, what sets you apart from your competitors is the experience, knowledge, skill-set and attitude of your colleagues. In this, we believe our offering is unrivalled.
What happened to the display once it was finished – was it recycled?
The displays have been uninstalled and recycled.
What does winning a FESPA award mean to the company?
We believe this display perfectly highlights our creative, production and installation capabilities. To be given this award by FESPA against fierce competition from across the globe is a fantastic reward for everyone who worked hard to bring the original vision to life.

The FESPA Awards will return in 2025 – for more information please visit here.
Become a FESPA member to continue reading
To read more and access exclusive content on the Club FESPA portal, please contact your Local Association. If you are not a current member, please enquire here. If there is no FESPA Association in your country, you can join FESPA Direct. Once you become a FESPA member, you can gain access to the Club FESPA Portal.