People in Print
The key to gold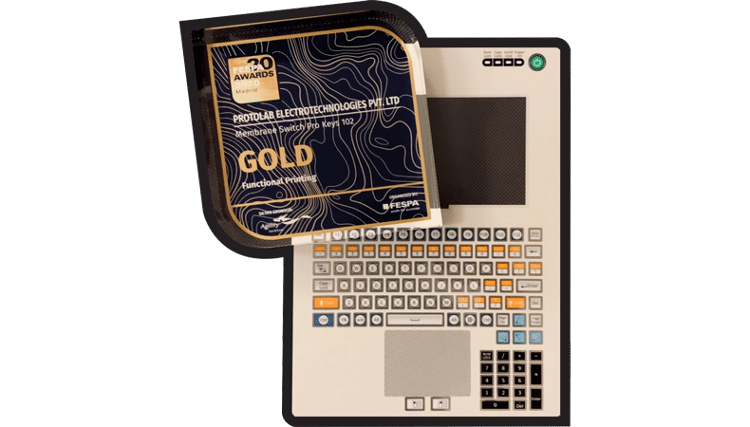 Protolab Electrotechnologies in India won a 2020 FESPA Gold Award in the functional printing category with these Membrane Switch Pro Keys 102. We spoke to CEO Sanjay Mehta about the win.
This Membrane Switch keyboard is a fully programmable integrated device with built-in controller and touch pad, and mounted to a printed circuit board. It has been screen printed on a semi-automatic press in 13 passes using UV inks with 3D effects to create an embossed appearance. The keyboard was printed on a clear polycarbonate with selective UV varnish on the top surface side, with keys accented with liquid silver mirror inks.
What was the brief, and what were you attempting to achieve with the work?
Our brief was to design a functional handheld 102-key programmable keyboard in the smallest possible size, with a display screen and a touchpad. One of the customer's requirements was that the keyboard should be designed using creative and energising colour combinations.
What are the benefits of the material choices that you made?
The keypad was intended to be used in an industrial environment, so we chose polyester as the base material. Due to the small footprint of the 102 keys, we decided to give them an embossed 3D effect with texture instead of physically embossing them. We also added haptics into the circuit to provide touch feedback. The colour palette of warm colours such as orange and cream, combined with contrasting shades of purple, blue and grey, was tied together by the accents of black and mirror ink. All of these material, textural and aesthetic choices produced the desired effect and retained the compactness as was specified by the customer.
What were the key technical challenges involved in the project?
We faced limitations of dimensions and time. The product size was compact, but had to be equipped with all the interfaces such as the display screen, touchpad, 102 keys and haptic functionality. The project timelines for creating this complex product was only 15 days.
How did you overcome these challenges?
By designing the 102-key programmable keyboard with Raspberry Pi, which was housed in a sleek enclosure. Our team worked around the clock to get it done in the limited timeframe. The concepts and designs were created in just three days and the customer approved it without any iterations. From concept to completion, it took us two weeks to deliver.
What do you think you offer to clients that competitors don't?
We pride ourselves on our attention to detail, innovative design skills and empathy for the customer's needs. We work with them as partners and are committed and involved on every step of the way, throughout the product's lifecycle.
What are the key changes in technology that are influencing the industry right now?
Digital printing has taken huge technological strides and is a challenge to the screen print-based industry. Digital printing allows quicker turnarounds and enhances futuristic graphics at a negligible cost. However, printing is all about perfecting the small details and mastering the process. So when it comes to achieving the highest quality, screen printing has no competition. To meet these challenges, Protolab prints graphics subsurface upto 133 dpi resolution high-end graphics.
How will winning this award change things for you?
We are very grateful for the recognition and appreciation. The award is especially important to the team who worked tirelessly on the product, and will motivate them to continue to push the limits of creativity. This will help us deliver the best experience to our customers.
What projects are forthcoming?
Our presence in the automotive graphics industry has been steadily growing, and we are well integrated there now. We are focusing on increasing production capacity through automation by adding a fourth Sakurai press to our production lines. We are also developing technically complex 3D graphics for automotive speedometers with multiple vignette colors depicting different speed ranges as well as IMD and printing on 3D moulded components.
What's the most important business tip or trick you could pass on to our readers?
Passion, empathy and a relentless focus on the smallest detail in the pursuit of excellence. God is in the details!
Become a FESPA member to continue reading
To read more and access exclusive content on the Club FESPA portal, please contact your Local Association. If you are not a current member, please enquire here. If there is no FESPA Association in your country, you can join FESPA Direct. Once you become a FESPA member, you can gain access to the Club FESPA Portal.