People in Print
The hum of innovation: my first time at FESPA Global Print Expo 2019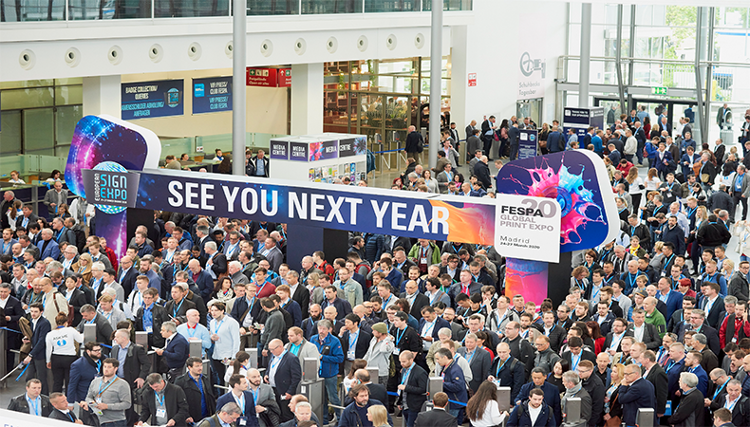 A newcomer to FESPA's annual showcase finds cause for collaboration among the exhibitors, visitors and Association Presidents in Munich.
Flying into Munich, I wasn't sure what to expect from my first print expo, let alone my first FESPA Global Print Expo. The first thing that struck me was the sheer size of the exhibition and the hundreds of exhibitors. The Messe München was a hive of activity with reams and reams of paper being printed, machines whirring and the smell of ink permeating the air. There was colour everywhere; from glowing signage to vibrant exhibitor stands and 3D models. You couldn't help but feel part of something – innovation hummed through the exhibition halls.

The engagement of exhibitors and delegates alike was apparent. Everyone there was making the most of the opportunity to understand new technology, discuss industry issues and share ideas.
Day one: A buzz in the associations

My first day was spent mostly in Club FESPA talking to FESPA's global Association Presidents. It was an opportunity to understand more about what the different Associations are focusing on at the moment, and Club FESPA offered a space to sit away from the buzz of the expo. I asked each Association President what they thought of the expo and FESPA as an organisation. While the responses differed in details, the common theme was overwhelmingly positive: many spoke of FESPA as a way of networking and collaborating, using the expo as a yearly inspiration to take back to their own countries. The expo is an access point for many, especially for smaller printers that perhaps don't have a huge amount of resources. It was also positive to see many of the Association Presidents conferring on industry problems and potential ways of solving them – a sense of motivation rippled through the exhibition.
Day two: meeting the experts

Day two involved a walking tour with FESPA's Technical Support Manager, Graeme Richardson-Locke. We were shown the latest innovations in wide format printing technology, ink technology, substrate printing, personalisation and workflow processes, large-scale industrial operations, textile printing and sustainable supplies to name but a few. The FESPA features (Printeriors, Print Make Wear, Colour L*A*B*, World Wrap Masters, Trend Theatre and the FESPA award winners) make clear the level of investment of time and effort that has gone into creating an interactive and truly inspiring expo. It is both a snapshot of the current print industry and a catalyst for future innovation. The speed at which the industry is developing only increases the need for events such as the FESPA Global Print Expo. It is easy to see that the hard work that goes into events like these is paid back in dividends by the industry in the way it progresses as a result.

If I were to summarise my thoughts after the event, I would say that it was not only a thoroughly enjoyable event, but also that it was heart-warming to see such enthusiasm for the print industry – and tremendously exciting to see first-hand the future of the technology that is constantly being developed. Madrid, 24 to 27 March: the dates of FESPA Global Print Expo 2020 should be in all your diaries.

Get information about the FESPA Global Expo 2020 here
Become a FESPA member to continue reading
To read more and access exclusive content on the Club FESPA portal, please contact your Local Association. If you are not a current member, please enquire here. If there is no FESPA Association in your country, you can join FESPA Direct. Once you become a FESPA member, you can gain access to the Club FESPA Portal.