People in Print
The DNA of design: FESPA award-winning garment printing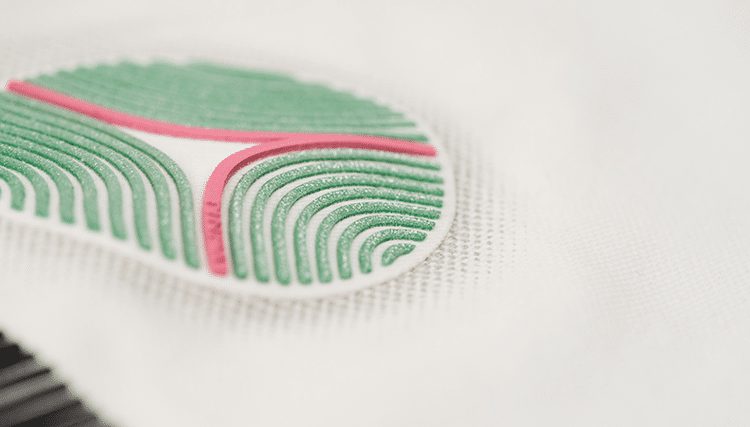 Sincerely Screen Co in Thailand won a Bronze FESPA Award in the Printed Garments category for this complex lenticular design using silicone ink.
Sincerely Screen Co from Thailand won a FESPA award for this 'DNA' polo shirt. The shirt was decorated using silicone inks precisely stacked in layers to create a lenticular message that changes colour depending on the viewing angle. It also features its own security detail that appears when backlit.
What was your inspiration for this print?
The idea was to create apparel with printing technology that expresses the genetics of the owner who wears this t-shirt with the printing technique.
What technical issues did you need to overcome?
We used a high-density sandwich-printing technique, which is intentionally made to be seen through three different designs in one piece. By looking at the print differently, you will see three different designs from three angles. The individual shirt has its own specific genetic on the right logo that appears when using the backlight. Then the picture of the person who owns the t-shirt will also appear.
Ink:
Silicone print
Technic:
High-density printing with 2 separated designs.
Mesh:
43T
Layers:
50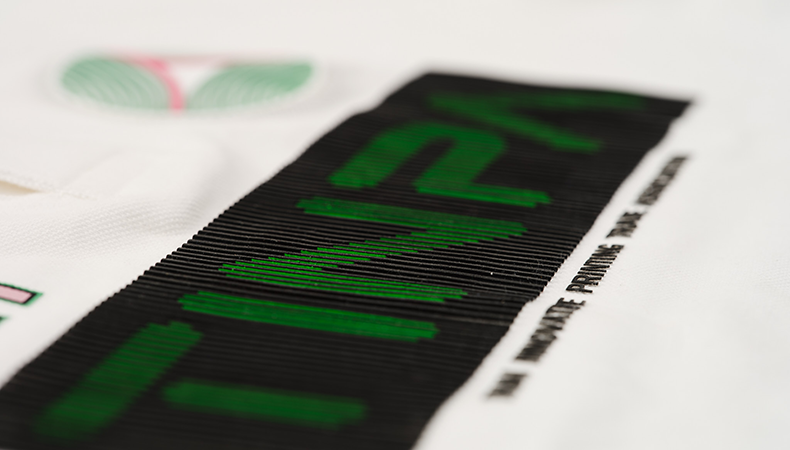 When using sandwich printing, it is important to plan from the beginning during the design process to ensure that the 3D design that you see will occur. The print itself will show the view at different angles. The right side of the t-shirt print uses the technique of invisible colour printing that has the photo portrait of the owner of the t-shirt.

The printing sequence starts with printing on all three positions at the same time, after each position was printed, depending on the shade and chemistry. By considering the thickness of the printing position, where there is a density, the block and that colour must be repeated many times until the thickness meets the requirement. After all colours were printed, we cured the print in an oven.

This piece was created using two special techniques that are rarely seen in printed garments. Firstly, the shirt was screen printed in halftones using invisible ink to emphasise the identity of the owner of that piece of work.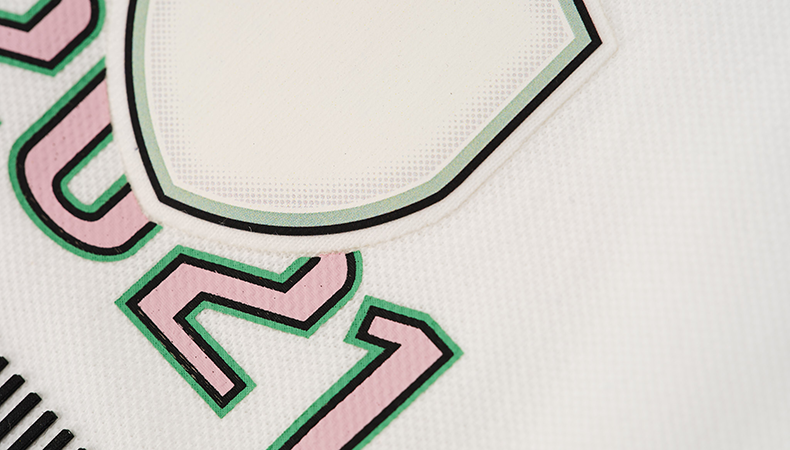 By printing high-density, each layer needed to be printed many times and had to be printed with alternating colours on the left, center and right side, until the desired thickness was required.
The process
1. The ink that we used was Dow Corning silicone, Matsui and Dystar pigment.
2. The ink we used was silicone and rubber, divided into 3 parts: right chest, left chest and middle print.
3. The logo on the right chest:
Rubber print: 3 layers as a base.
Next layer with invisible ink with photographs: 1 layer.
Pink colour 1 layer, green colour 1 layer and black colour 2 layers.
4. Logo on the left side
Silicone print with gradient: 1 layer.
Silicone print green colour with high-density techniques: 45 layers.
Silicone print red colour with high-density techniques: 45 layers.
Silicone print glossy colour: 3 layers.
5. Middle print
Tinpa logo: silicone print 2 layers
Black stripe with silicone ink high-density techniques: 65 layers.
Black, green and red silicone ink with high-density techniques: print 45 layers in each colour. But those three colours had to be printed in an arranged order by black-green-red until 135 layers were created.
Black stripe with silicone ink high-density techniques: 45 layers.
6. All work was printed manually with a total of 7 colours.
7. We used a conveyor belt for curing at 130°C with two minutes in each layer using an Adelco curing machine.
8. We used halftones to separate the design with Photoshop and Illustrator.
Become a FESPA member to continue reading
To read more and access exclusive content on the Club FESPA portal, please contact your Local Association. If you are not a current member, please enquire here. If there is no FESPA Association in your country, you can join FESPA Direct. Once you become a FESPA member, you can gain access to the Club FESPA Portal.