People in Print
The cutting-edge of laser technology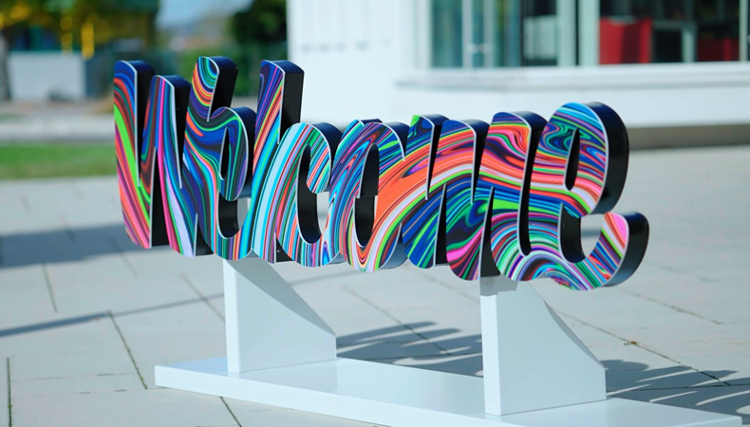 Harald Katzinger, Product Manager Cutting at Trotec Laser GmbH, on why changing to laser is more low-maintenance than you might think.
Tell us a little bit about Trotec and the machines that are most popular for large format printers.
We are a leading international developer and manufacturer of laser machines, with our headquarters located in Marchtrenk, Austria. The inception of laser technology within our group of companies dates back to 1991. Via local representatives and 17 offices worldwide, our 750 employees provide a complete offering of machine, software, service, training as well as materials, to our customers.
Our range of laser systems for cutting, engraving and marking are trusted by companies in a broad range of industries. The systems span from desktop size all the way up to the largest of our systems, the SP3000, with its working area of 3210 x 2210mm. The Large Format SP series systems are used for wide format print finishing and acrylic fabrication for visual communications and displays, but also other specialised industries around the globe.
How do printers counter the effects of CO2 lasers scorching substrates?
This is not really a problem for most applications. Of course, on wood and paper, the materials are 'burned' by the laser but, if this effect is not desired, it can be managed easily because Trotec lasers can be finely tuned to reduce charring on the material, delivering just enough power at just the right speed ensures optimal cutting and engraving results.

For some applications, particularly when using wood, this effect is useful as it offers an aged rustic effect. Of course, the 'scorching' is also what is responsible for leaving a mark when engraving materials, but adjustable parameters allow the operator to achieve a darker or lighter mark to achieve their desired results.

In the case of printed materials, if a light scorch mark is apparent, it can usually be wiped away with a damp cloth. We offer our users lots of tips and tricks to ensure customers can achieve their preferred results. These include selecting the correct lens and table, reducing airflow and considering the use of masking paper or tape where appropriate.
How has the demand for personalisation changed customers' needs?
Customers have commented about the increased variety in jobs they're being asked to work on these days. In addition, reduced lead times since businesses seem to be less prepared to plan things too far in advance. Using laser technology has helped businesses to become more agile, and by choosing when to use laser, they can also reduce production time and improve cutting results. When it comes to personalisation, flexibility, availability and versatility is key.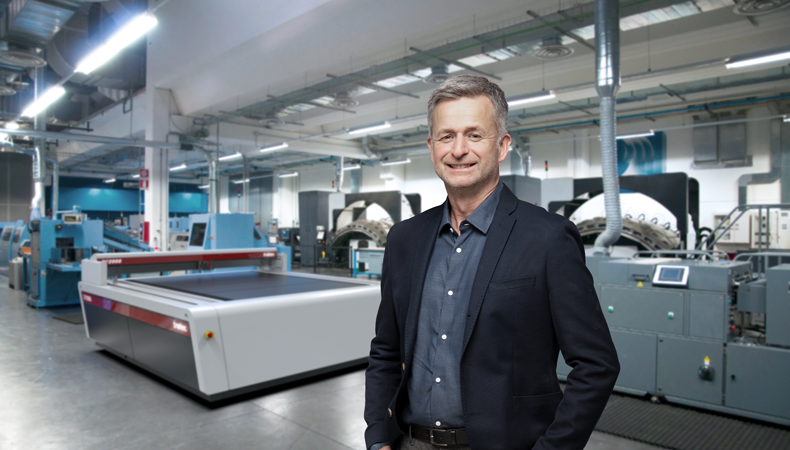 The Large Fomat SP series of laser cutters provide a complete solution for display production, POP/POS applications, technical textiles and more
The call for more personalisation has increased the need for flexible workflows and the ability to apply serialised data to workpieces. Furthermore, the number of pieces produced for each design is fewer, so it's essential to have an easy-to-handle job queue. Continuously high uptime and jobs to be done on demand require highly professional processors.

Along with the rise in personalisation comes an increased variety of materials to work with. A laser cutting and engraving system provides versatility to switch easily between materials and to realise unlimited shapes and highly detailed designs on different materials with different surface properties and in a range of colours. Even for bespoke orders, the laser offers a cost-effective way to produce such unique items. This is a huge advantage when it comes to meeting the increased demand for personalisation.

The beauty of laser cutting technology is that everything is digitised and there is no tooling, and therefore no costly preparation and servicing of tools involved. It's very quick and easy to adapt artwork and cutting files according to customer needs, even across varying substrates. For example, you could easily be working on a large order for contour cutting printed acrylic POS [point of sale] displays, and then switch straight over to cutting and engraving some cut-out lettering on MDF. There's very little downtime between the switch due to minimal set-up time.
Are there any limits to what materials can be laser engraved or cut?
As with almost any form shaping and separating technology, there are limitations. First and foremost, the operator must not be exposed to toxic fumes which are produced when processing some materials, such as PVC – which releases chlorine gas – PTFE, certain phenols and thermosetting resins.

Thankfully, there is now a wide range of PVC-free material available that can replace the traditional choice of vinyl and are suited for printing and laser cutting. These are often polyester-based materials that have the additional benefit of being made partly from recycled PET (bottles).

When talking about cutting and engraving plastics, one thing to watch out for is the inclusion of flame retardants, as these often contain bromine. Due to the numerous variants available in the market, it's important to take a detailed look into the formulation of the plastics. We support our customers about the safety of materials processing through evaluating, testing and recommending suitable materials for laser processing.
What precautions have to be taken with specific substrates?
The exhaust power, constant air flow and filtering is key to achieving an appropriate safety standard. It's important to de-dust the cut area and the surface of the material in the best way possible.

It is mandatory to check a material's safety data sheet prior to processing it. This is pertinent for anybody taking care and responsibility for the working environment on the shopfloor. In addition to this, we highly recommend that laser systems are not run unattended.
What problems do potential customers have that they are thinking about turning to laser?
I would not call it a problem, but more a necessity to understand the principle and specialties of laser processing and therefore also the required workflows and safety regulations and so on – as with any technology. A newcomer to CNC [computer numerical control] routing would also have to learn the basics and work to the guidelines and within the bounds of the technology's capabilities.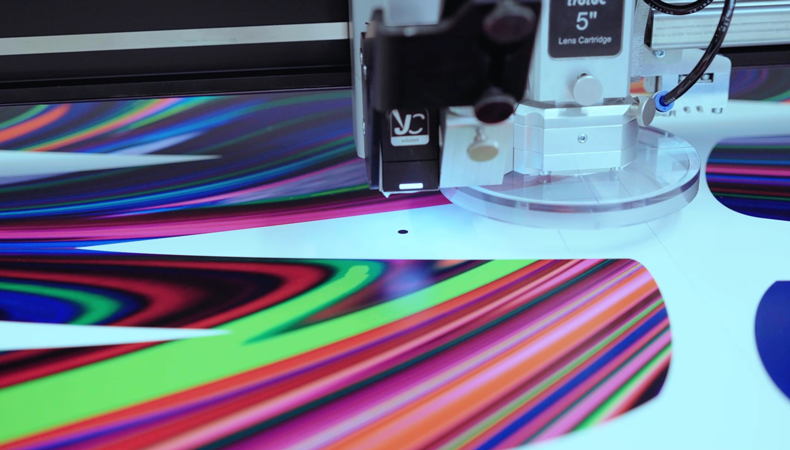 The main difference with laser processing is that, unlike other cutting methods, it's an optical system. It cannot stand any amount of dust or detergents on optical parts like mirrors. There is nothing to be afraid of here – we will support, guide and train the customer and their team to take full advantage of their laser system and ensure a long and healthy lifetime for it! It's really quite low-maintenance in comparison to other types of cutting systems.
Would you recommend a combined printer/cutter or a cutter on its own?
We find that businesses come to us when they are looking for a solution to the quality of end-product or throughput from their existing technology. For example, if a business is finding an increased demand for acrylic processing, then this can put strain on the workforce due to the additional steps needed for flame-polishing, machine clean-downs and retooling on a CNC router. Rather than expand workforce or outsource the work, our customers have found cost-efficiency in introducing a large format laser to their production equipment (or replacing outdated laser technology).

The versatility of the system and the fact it delivers a high-quality finished end product, which can basically be shipped directly to the customer without any further processing, really saves time and sets the business up to be able to handle last minute requests or switch easily between substrates.
In some businesses, it makes sense to use the laser alongside a cutter as there are application-specific benefits to each of them and utilising them smartly together can really improve production output. Generally though, a laser is able to achieve better detailing, is cleaner and more adaptable. We have customers who no longer require a separate cutter but we also have customers who use the cutter and laser in tandem.
What is the next step in laser technology?
I can't speak for the entire laser industry, with its enormous range of applications and vast improvements in production, crafting, design and much more. However, the trend seems to be making the systems easy-to-use, accessible and safe.

As the world of laser cutting and engraving continues to grow, we design and engineer our laser systems to be sturdy, long-lasting and safe with a focus on high flexibility.

Our Ruby® laser software is a key element to enable the customer to get started quickly. We developed this software to deliver on market requirements, offering a tool which combines some job design capabilities with machine controls and embedded automated workflow options.

At Trotec, we'll continue to update and expand the feature set of Ruby® software three to four times a year. In addition to this we will, of course, further develop the hardware with a strong focus on improved workflows, productivity and modern approaches to production. We have several trade shows coming up in 2024 where we are very happy to evidence these developments.
For more information, visit troteclaser.com
Become a FESPA member to continue reading
To read more and access exclusive content on the Club FESPA portal, please contact your Local Association. If you are not a current member, please enquire here. If there is no FESPA Association in your country, you can join FESPA Direct. Once you become a FESPA member, you can gain access to the Club FESPA Portal.