People in Print
Sweet smell of success: strawberry-scented graphics on the London Underground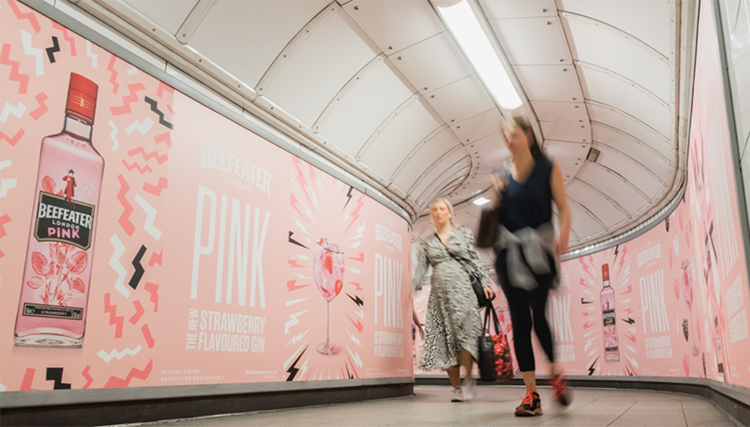 Club FESPA spoke to VGL about the Reading-based firm's win in the Posters category at the 2019 FESPA Awards.
What was your winning entry?
We produced and installed strawberry-scented posters throughout Oxford Circus underground station in London as part of the launch campaign for Beefeater Pink Gin.
What was the brief?
The client, Pernod Ricard UK, asked for two 10-metre wide walls to be installed with eight four-sheet sized scented posters side by side. Covering approximately 150 square metres, each corridor of Oxford Circus Underground displayed the scented posters for the two-week campaign. Lining the walls of the exit corridors, the strawberry scent was most prominent when passengers left the station.
What software did you use?
The artwork was divided into panels with printed overlaps and output using Caldera RIP software to ensure colour matching and quality assurance.
What hardware did you use?
We printed on our Durst Rho 512R roll-to-roll UV digital printer, using Durst digital print ink 30DM. The posters were then screen printed with specialist varnish developed by scent suppliers Aromaco to infuse the scent into the posters. Using a 'pure capsule aroma' and a water-based UV coating, the scent was infused into the ink and printed onto the dry-posted poster. Infusing the graphics with the strawberry scented varnish, the touch to smell technology uses encapsulation to create aroma solutions in print. Aromatic oil is formulated into a specialist printing medium which forms an invisible layer of microscopic bubbles onto the substrate.
How did this print on to paper?
We printed on dry posting 'performance paper', uniquely developed by Lahnpaper for London Underground and requiring no glue. Each wall is coated in a layer of tape adhesive, which is refreshed between applications, the dry posting paper is then installed directly on the wall.
How long did the process take?
Six weeks to test the scent, a week to print and produce the graphics. Installation took place at Oxford Circus across two nights.
How successful was the project?
The campaign garnered vast attention on social media, with many passengers asking why the tube smelled of strawberries.
How has the award changed things for you?
Entering awards gives us an opportunity to talk about our latest projects, highlights innovation taking place within our organisation and reminds your clients what we're doing and the how our services we offer may align with their needs.

We see the award wins as formal recognition of the drive, energy and creativity of the fantastic people that work within our company. Without them we would not be in a position to enter in the first place.
What would you say to people thinking about entering the awards for next year?
Winning an award brings no guarantee of securing additional sales, but it does establish your business as a quality supplier to the market which is always a good thing. We work on many bespoke projects and undergo a lot of R&D work. Some of these projects have successful commercial outcomes and some don't, so with the huge success of the large format scented graphics campaign, it has motivated the team further to work on future innovative concepts.


The FESPA 2020 Awards will be announced at the FESPA Global Print Expo in March 2020. fespaawards.com
Become a FESPA member to continue reading
To read more and access exclusive content on the Club FESPA portal, please contact your Local Association. If you are not a current member, please enquire here. If there is no FESPA Association in your country, you can join FESPA Direct. Once you become a FESPA member, you can gain access to the Club FESPA Portal.