People in Print
Springing to life: spectacular high-street signage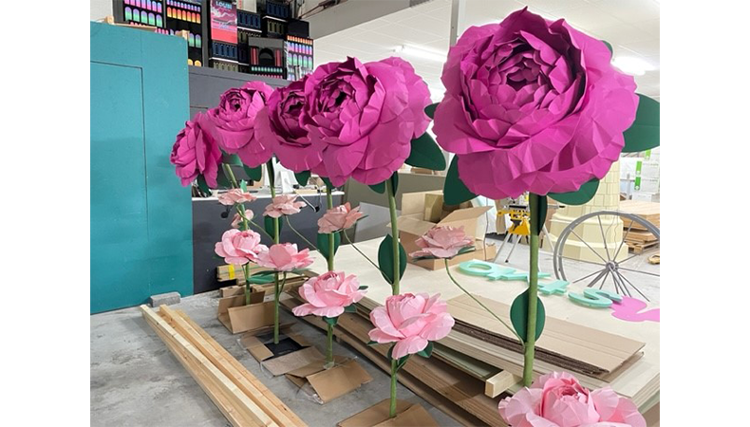 Simon Wheeler at Stylographics explains the processes that led to an award-winning signage campaign for UK fashion brand Hobbs.
This work won a FESPA 2023 Gold Award in the non-printed signage category. Forty flower stands for Hobbs retail stores were crafted from paper and created using Zund CAD cutting after being prepared in Adobe Illustrator. This eye-catching Spring and Mother's Day campaign was built around metal supports wrapped in crepe paper, with each petal hot glued to form oversized theatrical versions of their natural forms. We spoke to Simon Wheeler, Managing Director at Stylographics, about the challenges of creating the campaign.
What was the brief, and what were you attempting to achieve with the work?
The goal was to create a layered floral backdrop to complement Hobbs's occasional range. The display needed to be a combination of print and prop to create a layered effect, and the materials needed to be lightweight and easily assembled by store staff with sustainability in mind.
How were you inspired to do the work?
We were supplied with rough scamp visuals directly from the design team, which we transformed into 3D renders for sign-off purposes for each store: there were a total of 20 flagship stores.
How long did you have to complete the project?
From initial scamp to delivery, we had a period of three working weeks to finish the project.
What are the benefits of the material choices you made?
A double-sided day-night-day printing technique was used to create the individual flowers directly on the windows as the display could be seen inside and outside the store. The giant roses were fabricated aluminium stems wrapped with crepe paper with hand-formed origami card flower heads.
What were the key challenges involved in the project relating to technology, materials, installation, design and sustainability?
Creating a lightweight, sustainable 3D giant rose that can be easily assembled by store staff was the biggest challenge.
How did you overcome those challenges?
Our design and in-house fabrication team, who have over 25 years of experience in fabrication and production techniques, had team discussions and prototyped different materials.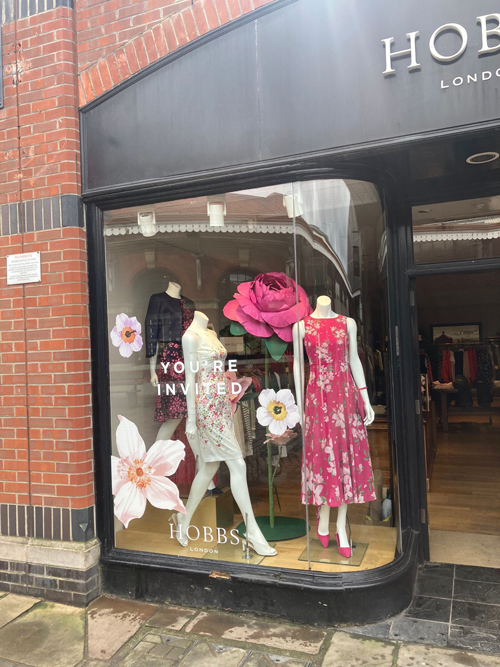 How many people were involved in the project?
We had 10 to 15 people involved.
What was your favourite aspect of the product?
The final finish of the roses not only fitted the brief but looked beautiful alongside well-dressed window beds and great product.
What do you think you offer to clients that competitors don't?
We always face every challenge with a positive attitude and always rise to the challenge. When we receive numerous requests from a client, it is difficult to meet every request, but the team worked through the brief and managed to fulfil the client's needs.
What will happen to the display now – can it be recycled?
Yes, the display was recycled easily by the store teams.
What does winning the award mean to Stylographics?
Winning this FESPA Award has been fantastic. For the whole company to be recognised for its hard work and dedication to the industry is astounding.

The FESPA Awards will return in 2025 – for more information please visit here.




Become a FESPA member to continue reading
To read more and access exclusive content on the Club FESPA portal, please contact your Local Association. If you are not a current member, please enquire here. If there is no FESPA Association in your country, you can join FESPA Direct. Once you become a FESPA member, you can gain access to the Club FESPA Portal.