People in Print
Signage team shows true colours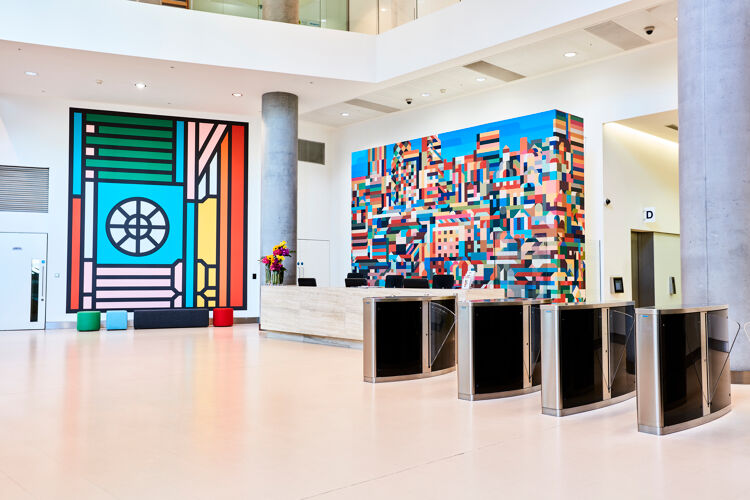 Greg Bailey, Senior Product Manager at Signbox, explains how colourful and distinctive decals breathed new life into a drab office block.
Signbox printed and installed 39 graphic artworks from five contemporary artists at the London HQ of global marketing communications firm Cardinia Real Estate, creating a coherent, distinctive working space that led to a 2018 FESPA Gold Winner Award.
What brief was given for the 39 artworks beyond adding colour and character?
The decision to commission artworks from a selection of prominent active artists was not only to bring colour to the otherwise insipid white-box interior of the property, but also to add context to the vibrant, creative environment that tenants live and breathe in – the property is located in London's Bankside, home of the Tate Modern gallery.
How were the five artists involved chosen?
Artists were selected by a creative design steering committee made up of senior agency leaders resident in the Bankside property. They chose the final selection of artists from a carefully curated shortlist.
What were some of the key challenges involved in the project relating to materials, installation and design?
In the atrium area, two massive multi-drop wall graphics measuring 14.2m wide by 3.8m high required the use of high-level access platforms and specialist application processes. We needed to take great care that the wall covering was installed accurately and not stretched in application, as even a movement of a few millimetres would have affected the intricate geometric pattern.
How many people were involved in the printing and installation elements of the project?
In-house, the print and finishing work was delivered by two of our senior graphic technicians. On-site, the team consisted of 10 experienced vinyl graphic and wallcovering installers. All installations were carried out over two consecutive weekends so as not to impact on the day-to-day operations of the property.
How long did the project take in total?
The project ran over around three months in total; however, the manufacture and delivery period was around four to six weeks – typical for a project of this size and nature.
What are the benefits of the material choices that you made?
Digimura 2.1 was our treatment of choice for the wallcoverings because of our extensive experience of latex printing large-format graphics for commercial interiors. Most importantly, Digimura has a Class 0 fire rating and is a long-lasting print media that's easy to maintain.
What are the key changes in tech that are influencing the industry right now?
The use of latex water-based print technology is now a major influencer for large-format print, with low VOC emissions, vibrant colours and ink optimisers for UV protection. This type of print would have been difficult to achieve five years ago using solvent print technology.
Where do you see Signbox's business expanding in the next five to 10 years?
We have always worked in a fairly niche market sector that demands innovative materials and techniques, so we constantly research new media and print technologies to push the boundaries of design and our product offering. This will ultimately lead the business into interactive print and light-emitting electrochemical cells. The ability to print a light-emitting device inexpensively on cathode-coated-roll media will lead to very exciting opportunities for signage.

To enter the 2019 FESPA Awards, click here
Become a FESPA member to continue reading
To read more and access exclusive content on the Club FESPA portal, please contact your Local Association. If you are not a current member, please enquire here. If there is no FESPA Association in your country, you can join FESPA Direct. Once you become a FESPA member, you can gain access to the Club FESPA Portal.