People in Print
Roll-to-roll branding at the ANOC World Beach Games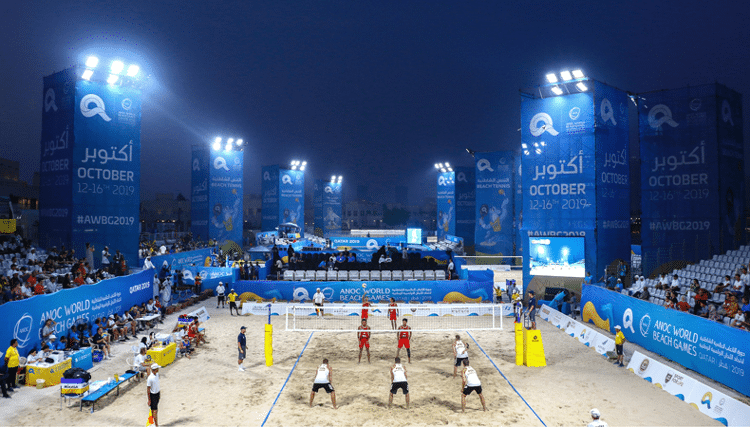 The Look Company won a 2020 FESPA Gold Award in the roll-to-roll printed textiles category with this event branding project for the ANOC World Beach Games, and also won the Best in Show Digital Award. We spoke to Jacob Burke, President of the Look Company Middle East, about his double success.
"The global expert in event branding." That's how the judges hailed The Look Company for its project for the ANOC World Beach Games in Qatar. The work combined more than 28,600 square metres of branding, covering 34 light towers 15m tall and perimeter advertising, hoarding and event signage built around 213 Autocad drawings. On-site fitting required 23 installers. The work was printed using dye sublimation and EFI Reggiani and Mimaki printers, and subsequently Monti Antonio heat pressed on to 10% polyester using dispersed dyes for B1 fire rating. The majority are finished with grommets every 50cm. In addition, 110 buses and more than 300 square metres of flag fabric were branded .
What was the brief, and what were you attempting to achieve with the work?
The brief we were given was to give our professional solutions on how to provide maximum coverage of branded visuals that would make the event, which was made with temporary structures, look full and vibrant. We achieved this by ensuring our work was placed in the highest visible areas and stretched in a way that gave the venue a tailored look and feel.
What are the benefits of the material choices that you made?
The main benefit of utilising printed polyester fabrics were visual: since the branding was strategically placed in the main camera sight lines, the fabric offered a glare-free surface partnered with a very bright and vibrant colour consistency. We utilised a combination of perforated and tightly woven dye sub textiles with reinforced finishing techniques that allowed wind load relief for the large free-standing structures that were situated alongside the beach shoreline and were potentially vulnerable to strong wind gusts.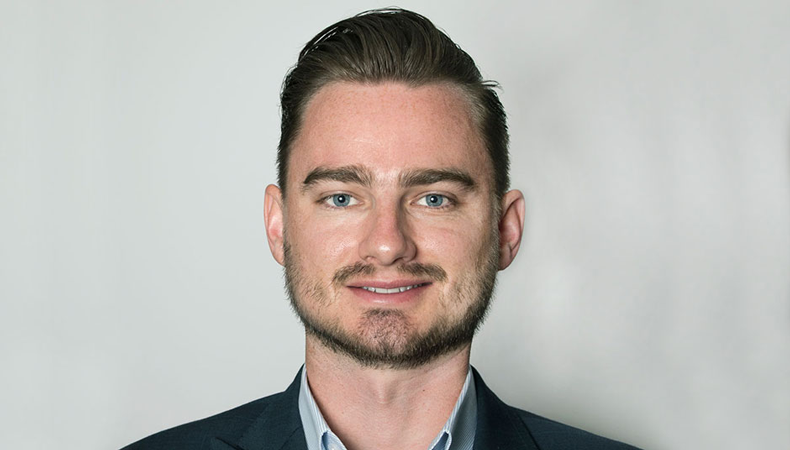 Jacob Burke, President of The Look Company Middle East
What were the key technical challenges involved in the project?
Since the project was created on a beach, 100% of the branded structures we worked on were all set up temporarily with modular hardware, meaning we were the last department of service that could bump in to complete our work. It wasn't until everything was built and in the final position that we could start our process of technical scoping, design, print and installation.
How did you overcome those challenges?
We had to set up multiple site teams so that we would have a crew on-site at all hours of the day and night. We also utilised a number of technical textiles for each application.
What do you think you offer to clients that competitors don't?
We can create and execute programmers of this size within a short amount of time and at what we call an "Olympic standard" level of work. We have a team of over 130 full-time employees in Qatar that have worked on multiple events of all shapes and sizes, so we can hit the ground running faster than anyone we know in our industry and deliver on time and on budget. We also have some of the best and latest technology in the world that gives us a capacity to deliver any size of event when called upon.
What are the key changes in technology that are influencing the industry right now?
Large format digital printing is now allowing us to deliver higher-quality and more complex designs in larger capacities without limitations. We are also combining different types of tension hardware and LED solutions that integrate traditional static branding with backlit and interactive graphics.


How will winning this award change things for you?
Being awarded Gold in roll-to-roll textile printing alongside the Best in Show award by a globally renowned organisation such as FESPA cements our position as an industry leader in the branding industry and gives our customers around the world the confidence in hiring us for similar projects.
What projects are forthcoming?
We have a number of world-class football, tennis, athletics events within Qatar and around the world – and hopefully the next World Beach Games.
How do you see your business expanding in the next five to 10 years?
We continue to push the envelope within the global sporting event branding market and look to continually expand our expertise into other related markets such as advertising, retail and architectural interior solutions.

Become a FESPA member to continue reading
To read more and access exclusive content on the Club FESPA portal, please contact your Local Association. If you are not a current member, please enquire here. If there is no FESPA Association in your country, you can join FESPA Direct. Once you become a FESPA member, you can gain access to the Club FESPA Portal.