People in Print
Pushing the limits of paper engineering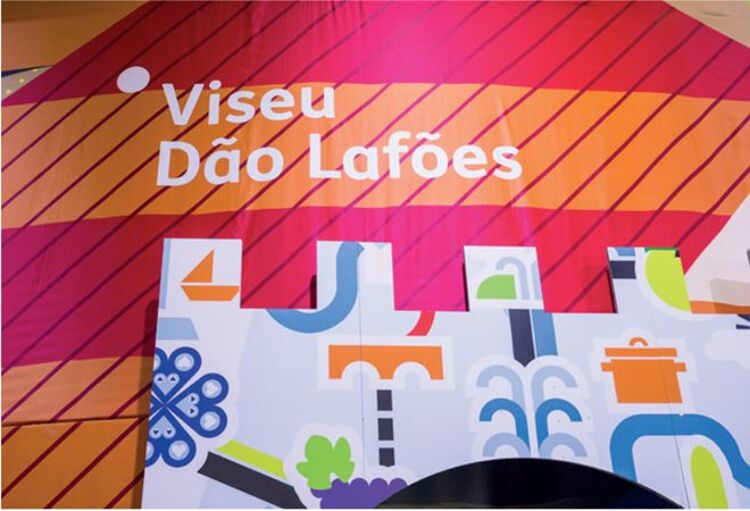 Ocyan constructed and implemented a 650 square-metre stand for the Turismo do Centro de Portugal at the International Fair of Lisbon.
Hugo Fernandes is Director for New Business and Marketing at Ocyan, a Gold Winner at the 2018 FESPA Awards. Here, he describes the project management challenge of building a large, complex structure from cardboard.

How did Ocyan's commission come about?
We'd previously produced two stands for the Turismo do Centro de Portugal, using printed 18mm cardboard, so by now everybody was aware of the great possibilities of this medium. We felt comfortable with the challenge because we had already completed many smaller projects in which the cardboard had shown itself as an intelligent and rational material in comparison with wood or metal, with the added advantage of sustainability and cost.

Of course, this project was a big challenge – 2,400 square metres of honeycomb cardboard and 1,200 square metres of printed textile – but it meant building exhibition structures for commercial use much more aligned with their lifecycle, and allowing the budgets of our customers to stretch what they thought was impossible to do into the possible. In addition, you have the environmental advantage. It's all about pushing the limits of paper engineering.
What brief was given?
The brief was very simple: you've already used printed cardboard in the past two years to make the difference in ecologically sound production. Can you go any further?
How long did you have to complete the project?
From the drawing stage up until installation of the stand, we had two weeks. That's not a desirable deadline for a project like this one!
What were the key challenges involved in the project?
Regarding the materials, it was very important to make sure the foundations of the structure were waterproofed. That was a great challenge but had to be done, or the stand could collapse easily. The whole structure was designed and produced to be assembled by fitting structures, so we had to create a very complex assembly instruction manual for installation. And during the design process we had to prototype some pieces for assembly to ensure the structure because the stand would need to cope with an expected 15,000 visitors a day over five days.
How many people were involved in the project?
Two industrial designers, two graphic designers, one project manager, four digital inkjet UV-led printers in two shifts, four cutting-table operators in two shifts and a team of eight people for installation. For the disassembly, we contracted the company that collects the paper in our factory every day because it all ended up in recycling.
How many people visited the installation?
About 78,000 visitors saw our work.
How do you see Ocyan's business expanding in the next five to 10 years?
Making predictions for the next 10 years is like writing a science fiction novel, but I predict that in five years we will be building a lot of furniture in printed cardboard, perhaps waterproof and flame retardant. In digital large print, digital offset and industrial offset, we will sell something like 60% of our products in B2B online solutions, maybe through differentiated B2C online solutions, and another 40% in added-value printings. We are also going to expand the services area to add value to our printing business area.

To enter the 2019 FESPA Awards, click here
Become a FESPA member to continue reading
To read more and access exclusive content on the Club FESPA portal, please contact your Local Association. If you are not a current member, please enquire here. If there is no FESPA Association in your country, you can join FESPA Direct. Once you become a FESPA member, you can gain access to the Club FESPA Portal.