People in Print
New York's finest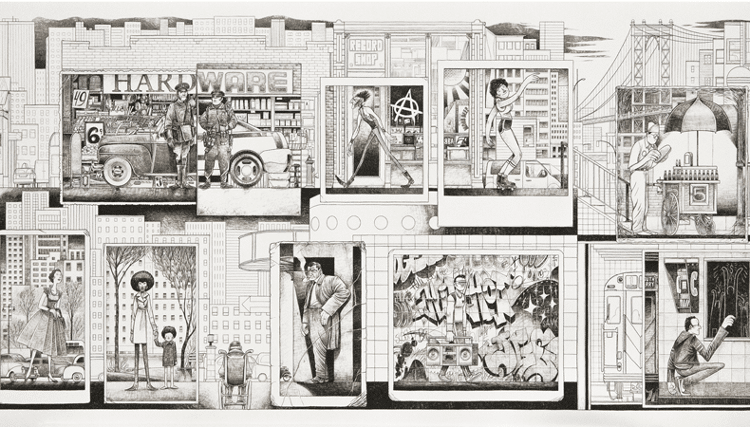 Christian M Walter in Spain won a 2020 FESPA Gold Award in the serigraphies and fine art category with this limited edition portfolio, and also won the Best in Show Screen Award.
This fine art limited edition portfolio contains 12 serigraphs and a frontispiece and has been case-bound with binder screws. All printed using stochastic (FM) screening, these 52cm x 100cm prints have been screen printed in two water-based inks onto 240 gsm mineral paper.
What was the brief, and what were you attempting to achieve with the work?
Our first and most important goal was to reproduce an outstanding artwork properly. Sergio García Sánchez is a highly talented illustrator and draughtsman, whose work is usually published in the The New York Times and The New Yorker. His latest, monumental work inspired by Picasso´s Guernica, "La Guerre", can be admired at the Picasso Museum in Paris this autumn.

"New York" was also conceived to be displayed on the walls of a museum and was exhibited at the Centro José Guerrero in Granada in spring 2018. We took this extraordinary work, which was originally drawn on an iPad, from the wall and put it in a book at a scale 2:1, from which it again can be taken out to be displayed on a wall.

Our print studio has been dedicated to fine-art prints since our foundation in 1986. We provide print services to artists and galleries, and also publish prints of artists we like or believe in.
We are very proud of this release, which was already distinguished by FESPA España in November 2019.

What are the benefits of the material choices that you made?
Twelve years ago, we started using water-based and biodegradable inks that allowed us to print extremely fine details. The surface and properties of mineral paper, manufactured without water or bleaching agents, turned out to be ideal for this project.
What were the key technical challenges involved in the project?
What we try to do is adapt our technique to the artist, not the other way round. As ever and with all the jobs we undertake, proper use of the tools, patience and precision are paramount.
How did you overcome those challenges?
Teamwork is key. It was a great experience to collaborate on this project, alongside the artist Sergio and our wives Lola and Loli. This award really belongs to the four of us.
What do you think you offer to clients that competitors don't?
A sensitivity to the artistic aesthetic, along with empathy and versatility. FESPA´s motto in 2017 was "Dare to print different". This is exactly what we do with our clients. Our studio is a special place: no big business for sure – but cool.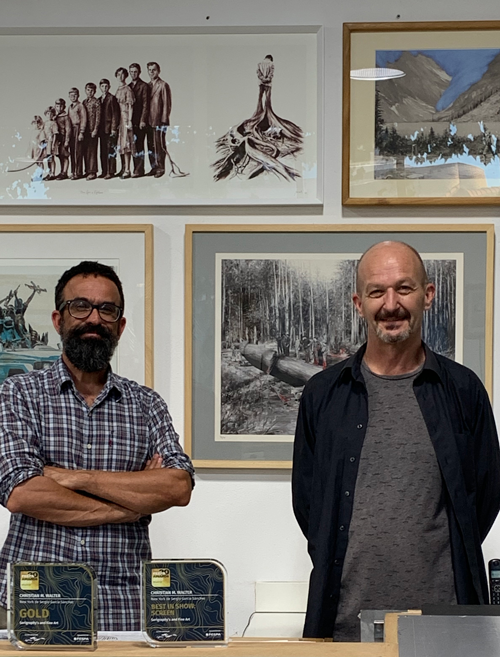 Artist Sergio (left) and Christian
How will winning this award change things for you?
We have won some FESPA Awards before, three of them with prints of the Granadian painter Paco Pomet (who displayed his work at Banksy's Dismaland in summer 2015), and which is on display at FESPA headquarters in the UK. But never up to this point: Best in Show! Wow! We feel very honoured with this prize and grateful to the judges for having taken in such high consideration what we`ve done.
How do you see your business expanding in the next five to 10 years?
COVID-19, Brexit, political transition in the US, climate change… in 2020, nearly everything is changing, so we're looking forward to 2021. In Gran Vía in Madrid, 30% of shops have already closed, so if I was offered the chance to carry on doing business as usual, just like it has been over the last few years, I'd take it! We aren't mass producers, but we make things that people appreciate and love and want to keep for years, and we do this in the most sustainable way we can.

What's the most important business tip or trick you could pass on to our readers?
Be true. Be honest. Share. Enjoy yourself.
Become a FESPA member to continue reading
To read more and access exclusive content on the Club FESPA portal, please contact your Local Association. If you are not a current member, please enquire here. If there is no FESPA Association in your country, you can join FESPA Direct. Once you become a FESPA member, you can gain access to the Club FESPA Portal.