People in Print
New heights in t-shirt design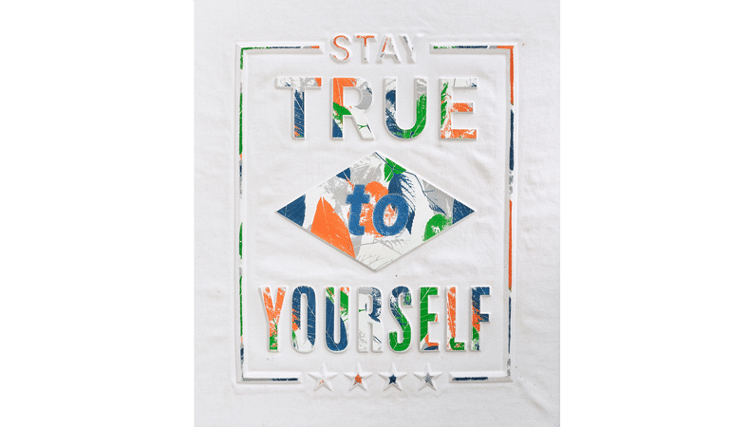 Elixir Unlimited in India won a 2020 FESPA Gold Award in the special effect on t-shirt, garments and other textiles category. We spoke to the firm's owner, Pradeep Periwal.
This 3D raised relief design, printed at 220mm x 280mm, was achieved with two-part mould and silicone, then overprinted in-line using plastisol ink. The centre letters were filled with clear silicone with dispersed caviar beads. Judges said that the deep embossing raised the print to the next level, "and the caviar ink just tops it off".
What was the brief, and what were you attempting to achieve with the work?
It was a 3D raised design on t-shirt fabric using a concave-convex mould and screen printed with spot colour plastisol ink on the top of the raised surface of the fabric. Throughout the process, we wanted to achieve application of the multicolour screen printing on the raised surface of the design.
What are the benefits of the material choices that you made?
For creating deep embossing and screen printing on fabric, we selected the knit fabric because it can be formed to a specific shape and screen printed using screen frames.
What were the key technical challenges involved in the project?
To apply 4-spot colour on the raised t-shirt fabric using screen frames.
How did you overcome those challenges?
We thermoformed the plastic sheets of the same design and used the same as a base for support for applying a spot colour of plastisol ink.
What do you think you offer to clients that competitors don't?
We believe in creating, not following. We work out what we can offer clients, always looking for what is new and different.
What are the key changes in technology that are influencing the industry right now?
Digital print technology is driving technological changes in the printing industry as a whole, but in garment decorations its impact is weaker.
How will winning this award change things for you?
The award will add to our goodwill and reputation. It will further support our aim to remain a trend-setter in garment decoration.
What projects are forthcoming?
We are playing with different materials, machines and concepts to create something new. We are looking at the use of tufting, needle felting, laser engraving and high-frequency welding flocking on 3D surfaces.
How do you see your business expanding in the next five to 10 years?
We aim big, and always strive to maintain quality and provide new products to our customers.
What's the most important business tip or trick you could pass on to our readers?
Never get complacent, and try to go beyond what you can initially see – things get clearer as you get nearer.
Become a FESPA member to continue reading
To read more and access exclusive content on the Club FESPA portal, please contact your Local Association. If you are not a current member, please enquire here. If there is no FESPA Association in your country, you can join FESPA Direct. Once you become a FESPA member, you can gain access to the Club FESPA Portal.