People in Print
Making metal printing precious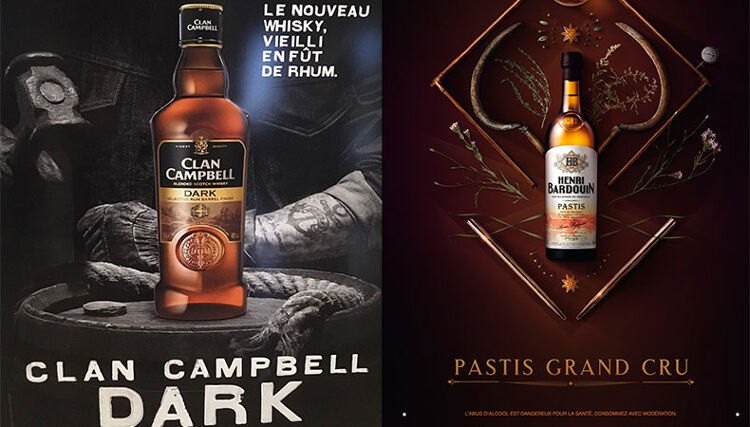 Skilful staff and tech and material know-how earned Kroma Gold and Silver Winner status at the FESPA Awards.
Guy Soffientino, managing director of French firm Kroma, believes that screen printing has a healthy future against digital.

What was the brief, and what were you attempting to achieve with the work?
We had to print 0.8 mm aluminium plates to the best possible standard for Pastis Henri Bardouin, using screen printing technology; and for Clan Campbell whisky, employing digital technology.

What are the benefits of the material choices that you made?
Our six-colour Conquest M&R machine 1300 x 1000 is perfect for our screen printing jobs, and we used the slower way of digital printing on an HP FB550.

What were the key challenges involved in the project?
We had to give our customers a final product the best result of impression in function of the quantity and the type of creation. Clan Campbell had a smaller quantity of plates (around 250), and all the different intensities of black colour made us choose the digital way.

How did you overcome those challenges?
A good idea, good treatment of the file, a good machine, good people to print… an old-fashioned use of screen printing.

How many people were involved in the project?
Four people on each.

What do you think you offer to clients that competitors don't?
Very good-quality screen printing technology with a near-digital result. Don't forget that for more than 100 square metres, the most cost-effective choice is screen printing.

What are the key changes in technology that are influencing the industry right now?
Digital printing allows many things, but the limit is the cost by square metre. This cost varies depending on the type of machine and this is the main problem: in France, with an HP 11500, you can sell at around €3 per square metre, but with an Arizona or Annapurna you have to sell at least €20 per square metre. Many are wrong-headed about this and are selling jobs produced on small machines at €5 per square metre. There's no future in taking this attitude.

What is the future of screen printing?
I think screen printing has a future because of the cost of digital printing. The quality of the results for PMS colours is better in screen printing, and some products cannot be digitally printed correctly. For several years, many screen printers have stopped working while others have switched over to solely digital printing. So we screen printers have enough work to keep us happy.

What projects are forthcoming?
We are going to go on investing in materials: a new guillotine, a new machine for cutting rolls, a new machine for used water and a thermoimpression image-setter. Maybe I'll sell the company or buy other companies!

How do you see your business expanding in the next five to 10 years?
If business managers/owners have a good vision, they should merge several companies to offer a complete service to the customers. If not, like Kroma does itself, they should limit themselves to their own specialised activities, producing the best marginal cost possible.

What's the most important business tip or trick you could pass on to our readers?
Do what you know the best and sell your production at the real price! And yes, you can say "no" to a customer!

To enter the 2019 FESPA Awards, click here.


Become a FESPA member to continue reading
To read more and access exclusive content on the Club FESPA portal, please contact your Local Association. If you are not a current member, please enquire here. If there is no FESPA Association in your country, you can join FESPA Direct. Once you become a FESPA member, you can gain access to the Club FESPA Portal.