People in Print
Hi, Robot: making a lightweight iron giant wins FESPA Gold Award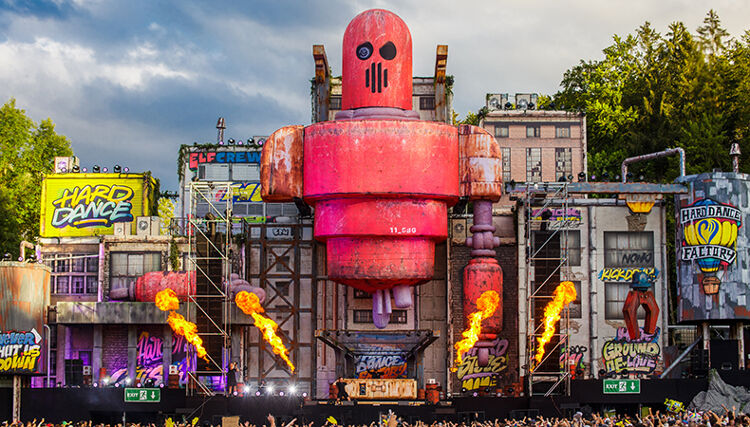 Belgium's X-Treme Creations constructed a huge, rusty-looking inflatable robot for a music festival.
X-Treme Creations won the FESPA Gold Award for its Electric Love Robot. The 18-metre high, 'rusty' inflatable robot was manufactured for the Electric Love Festival in Salzburgring, Austria. Revolution Event designed the Hard Dance Factory to look like an abandoned robot workshop, at which this was the centrepiece. It was printed on 195gsm fire retardant polyester fabric on a Durst 512R LED printer and cut on a Zund D3 cutter. The components were then sewn together to form the finished inflatables. This approach provides a sustainable alternative to the massive volumes of polystyrene previously used for sets at festivals.
Give us a short description of your company.
Since 1994, we have specialised in the production of tailor-made inflatable objects for festival stages and event decoration. In three decades the technologies have advanced from handcrafted models to computer-aided design, from heavy PVC to light-yet-resistant polyester weaves, and from painting to dye sub and LED printing, resulting in stunning results.
What was the brief for the Electric Love Robot, and what were you attempting to achieve with the work?
Revolution Event was looking for a more cost-efficient alternative to the traditional use of polystyrene, metal and wood for large 3D elements. The brief was to make an inflatable that "doesn't look like an inflatable".
How were you inspired to do the work?
When working with festivals and their designers, the briefing and design are usually very fixed. Creativity lies in finding technical solutions for the customer's desires, rather than in artistic concepts.
How long did you have to complete the project?
After COVID-19, festivals were hesitant to make big investments and commitments. By the time the decision was made, we had about four weeks to produce the giant robot.
What are the benefits of the material choices (printers, inks, substrates etc) that you made?
The Samba fabric is light enough to make an enormous inflatable – it can be manhandled yet is strong enough to handle its own internal pressure.
What were the key challenges involved in the project relating to technology, materials, installation, design, sustainability, etc?
The goal with this type of project is to create an inflatable shape that doesn't look inflatable.

This robot is enormous, but to install it hanging in a construction of scaffolding and truss, it was important to keep an eye on the weight and volume of the inflatable. After production, the next challenge was installation. Typically for festival inflatables, it had to withstand heavy winds because it is impossible to dismantle in a very short time.
How did you overcome those challenges?
To give the robot a very realistic look, we used a second layer of textile on certain parts. In combination with good artwork, we managed to make the robot look like an enormous rusty metal construction. We used a light polyester fabric. All the parts, accessories and installation tools fitted comfortably in a small panel van. To install an inflatable like this during any weather conditions requires a great deal of experience.
How many people were involved in the project?
The print shop is operated by three people, while in the stitching department six to eight people worked on this project. Because of the logistic efficiency, this giant could be installed on site by a small team of two riggers.
What's your favourite aspect of the product?
The festival business is a small world. Hearing how seasoned stage design professionals did not believe ELF's robot was an inflatable was the biggest compliment for our team.
How sustainable were your processes?
In recent years X-Treme has been using mainly polyester fabrics, rather than PVC, and by using the Durst LED printer, we could print solvent-free. The workshop runs almost completely off solar power, especially in summer, which is the high season for inflatables. The robot might be giant, but his footprint is definitely not!
What does winning a FESPA award mean to the company?
Winning a FESPA Gold Award again after a few years without entries confirms that our projects are still considered innovative. As an outsider in the FESPA community, it's nice to be valued for our work.

Become a FESPA member to continue reading
To read more and access exclusive content on the Club FESPA portal, please contact your Local Association. If you are not a current member, please enquire here. If there is no FESPA Association in your country, you can join FESPA Direct. Once you become a FESPA member, you can gain access to the Club FESPA Portal.