People in Print
Graeme interviews Michel Caza, founding father and former President of FESPA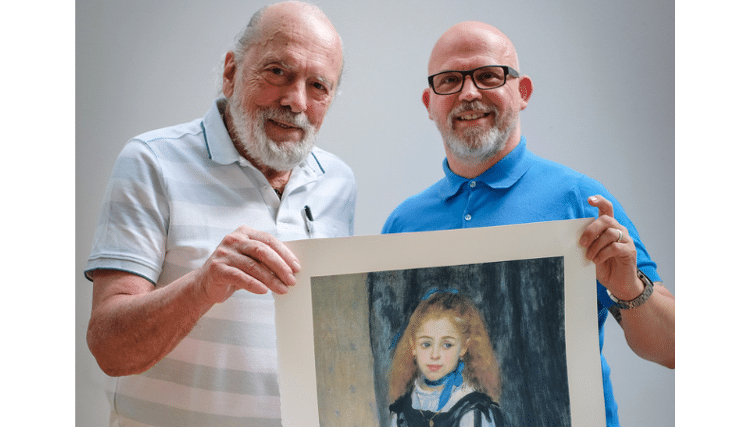 Graeme Richardson-Locke visits Brighton to interview Michel Caza. Michel shares his views on screen and digital printing and the opportunities available for promoting these printing processes.
One of the great privileges of my role as Technical Support Manager at FESPA is that I get to spend time with some of the most respected and experienced figures in our community.

I took the opportunity to ask Michel Caza, one of the founders of FESPA, if he'd be willing to meet with me to exchange views on screen and digital printing. I also wanted to know where he sees the opportunities to promote these most flexible of printing processes.
When did you first hold a screen-printing squeegee?
Over 63 years ago, in May 1955 (I was 20 years old). As I recount in my book, a student job at BMJ, a famous and technically advanced workshop in the very centre of Stockholm, Sweden.
When did you realise that you'd found a job that would become a life-long passion?
After these nights of "casual" work, I found that screen printing was much more fun and interesting than the psycho-sociology that I was supposed to study at university and I asked to be hired full-time in November 1955 – and since then, I have not stopped screen printing.
What pearls of wisdom would you offer to the younger members of our community looking to establish their future in print?
So, offering pearls of wisdom is not really my thing! On the contrary, I would say: "Don't be too wise, try everything, do stupid things and make mistakes, but ... DARE!"

Especially never listen to people who tell you with a bunch of "facts" that "it's impossible" ... A very big part of what I've tried, done, searched for, found is "impossible" for a bunch of very competent specialists at my suppliers over the years! UV screen printing or digital ... impossible. UV ceramic ... impossible, screen print 300 lpi ... impossible, print halftone without dots or now in stochastic 15 microns ... impossible, print in aqueous UV in 300 lpi on cotton ... impossible, make an ink "thixotropic" ... impossible, limit the dimensional changes related to the IR heat emitted by UV lamps ... impossible, create ICC profiles for screen printing ... impossible, start using digital in screen printing prepress (since 1988 for me) ... impossible, etc.

All these examples and others in the improvement of squeegees, machines, fabrics, frames and their tension, replace the "length of time" for exposing the screen by "measured doses of light", and heaps "of special effects".

I always said: "What you say is impossible – I do it every day in my company". At one time I even became the specialist in "five-legged sheep"!
What has motivated you to solve challenges where others may have just changed direction?
Maybe my ego! And especially what I just told you about "the impossible".

My way of doing "technically" was and still is "doing things" and then explaining why it works: practice first, theory afterwards.
While it is known that you prefer not to judge the artistic value of the work you print, were there any projects that made you particularly happy?
In art, I do not judge "artistic quality" or "style" ... I simply say "I like, or I like less (or not at all)" and this can be in any existing artistic style ... So there are lots of works of art, of course, but also in advertising, POP prints, ceramics, the electronics industry or the glass industry, whose success has made me happy. Impossible to choose one!
In 55 years in print you must have had a bad day or two. What has been the cause of your greatest frustration?
Of course! But as always for me, these disappointments or problems helped me to "bounce back" with more experience. In 1968, the student and workers' revolution and its consequences killed my first company, so I created a new one (more of this in my book). In 1978, I was a little fed up with the pressure of the management of a company and its constraints. I wanted to do only technical research and R&D; however, a large order for art prints happened. That "forced" me to return to screen printing in art first, and then once more in advertising.
Do you feel that environmental responsibility is a pre-requisite for any company trading or a luxury to be enforced by the government?
I started to improve by refusing to use solvents, and this led to developing UV curing screen inks. To be perfectly honest, at the time in 1976, I still saw above all the enormous technical advantages of UV screen printing rather than a focus on environmental progress.

Then, in 2001, I became more involved in supporting the protection of printers' health and the environment by writing Screenprinting: A Guide for a Clean Planet. It was translated into English in 2006 and went on to become the FESPA Planet Friendly Guide in 2008 following my collaboration with Paul Machin and extended to cover digital printing. We have been updating regularly for 10 years and now FESPA will develop a new revision in 2019.

So, for me it's obvious, an absolute necessity and above all not a luxury! In addition, as more customers and end users are looking at sustainable supply chain management it is an essential component of your business plan.
I noticed in your book that one project required the application of pubic hair to embellish some prints! What other unusual materials have you worked with?
Apart from the fact that in the amusing case of this print, embellished, by the artist himself with donkey hair to mimic pubic hair, I actually happened to use a number of unconventional products in addition to the pure screen printing. These have included dust, coal grains, sand, gravel, gold leaf, and I'm certain other products that I've forgotten.
You are credited with the commercialisation of UV curing inks and super-fine halftone screen rulings. Do you wish to comment on these and are there any other achievements that may have been overlooked?
As I have already mentioned previously, regularly doing the 'impossible' has become standard. I have been involved in writing articles and presenting at conferences around the world to explain these technical improvements for many years, but also have contributed in their development and invention.

As I often explain, many of these inventions, findings or improvements have been made through collaboration with others. An exception to this is halftoning without visible dots, the ultra-fine screen ruling and the related ICC profiling (prior to the term existing) for which there was no help for me at the beginning, in this, I worked alone.

I worked with Jacques Mounier and Jean-Pierre Vivès at Dubuit Inks in France to develop thixotropic UV inks. Then with SS Thal (which became Sefar) in Switzerland to develop colored screen mesh and beyond to 'calendered' mesh for UV. I also worked with Don Newman in the US to improve the Newman Roller-frame known for its ability to re-tension screen mesh to achieve very high tension.

Through my long career I've supported the improvement of automatic presses, working with Åke Svantesson at Svecia in Sweden and especially with Umberto Brasa of SiasPrint in Italy for its screen presses and for the first UV digital press. I was involved in the development of UV glazes for ceramics and glass with the Jonson-Mattey company. Alex Zuckerman of Fimor and I created more stable high-performance squeegees that are still respected and widely used in demanding applications. Almost finally – but as I'm not finished not finally – I helped in the process of 'cooling' of the UV inks after passing under the lamps in the curing unit from Machines Dubuit then with Siasprint.

I have always thought and prompted machine and product manufacturers to understand that it was up to us, the printers, to tell them what we need and not them to impose on us things they consider 'good for us'!
I am interested to understand whether you think it better to choose a 90 lpi over a 120 lpi AM screen if it will allow you to control TVI (Tonal Value Increase) better on press?
In my view, both are bad! It would be better to choose between 100 and 125 lpi. That said, it's absolutely not a problem for me! I control these screen rulings as well as 150, 175, 200 or 300 lpi AM. To be quite honest, I do not see a problem.

Regarding the number of lpi, I never use inch-derived lineature like 90 or 133 lpi, but always multiples of 25 that better match the number of threads of screen fabrics always woven in centimeter, among others to help solving problems of primary moiré.
As a founding father of FESPA and former President do you feel that the federation is still as relevant as it was before YouTube and the Internet disrupted business networking?
I think FESPA faces challenges to grow its influence and keep building on its success, but in my view it has nothing to do with the advent of the internet or YouTube. FESPA uses these channels but is still realising full engagement with its member associations. The strength will come from greater business advisory, technical and market intelligence content online in an always accessible 'FESPA Cloud' like the current extranet. This would widen the scope and reach of FESPA and improve its reputation with its members associations – and in turn, the members of the national associations.

In addition it could strengthen the bonds with exhibitors of its exhibitions and their visitors/clients, not necessarily members of FESPA associations.

As FESPA implements its strategy to lead and extend its value, it will have to continue working hard to develop its links to tangental markets who are newer to the disruptive benefits of roll to roll digital imaging such as interior and exterior decoration and textile. As a counterpoint, screen printing is enjoying growth in garment decoration and industrial applications. All sectors are relevant to FESPA and developing fast across these imaging technologies.

FESPA would also benefit from promoting the huge array of applications both creative and functional that fall with its member talent pool and I trust that the team will defend the decades of work that have taken place to establish FESPA's reputation and carry it forward to meet the challenges ahead.



Become a FESPA member to continue reading
To read more and access exclusive content on the Club FESPA portal, please contact your Local Association. If you are not a current member, please enquire here. If there is no FESPA Association in your country, you can join FESPA Direct. Once you become a FESPA member, you can gain access to the Club FESPA Portal.