People in Print
SERICHROMA halftone printing reinvigorates a classic car image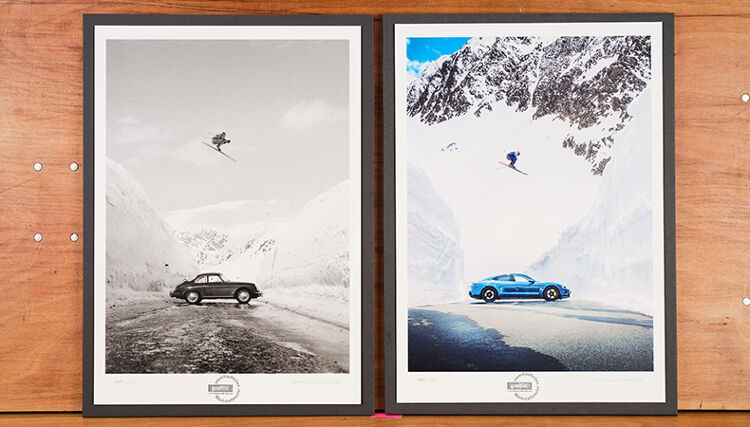 German company Graffiti Siebdruck won a FESPA Gold Award by applying the SERICHROMA technique to screen print both colour and black and white entries.
The work was created after Porsche commissioned two screen printed editions on Canson BFK Rives 300gsm natural cotton paper celebrating the legendary 1960 picture by Egon Zimmermann, 'Der Porsche Sprung', and its modern counterpart from 2021. Using colour separations in Photoshop to generate the finest halftones, the reproduction of the original photo screen was printed in seven shades of grey and the recent version in 14 colours on a Thieme 3020 press using 120 mesh.
What was the brief, and what were you attempting to achieve with the work?
The client wanted an outstanding edition of outstanding photography. We felt that our special method would perfectly fit to this task.
How were you inspired to do the work?
For years we have aimed to achieve an almost continuous halftone print. By refining the required processes, we developed our SERICHROMA Halftone Printing, which was used in this edition. The customer's request of a printed version of the original 'Porsche Jump' and its 2021 remake presented a perfect opportunity to use this technique.
How long did you have to complete the project?
It took us six weeks.
What are the benefits of the material choices (printer, inks, substrates etc) that you made?
The combination of special paper inks on handmade fine art paper gives the best results regarding the flatness of the printed sheet, and also produces the highest accuracy in image registration.
What were the key challenges involved in the project relating to technology, materials, installation, design, etc?
Having two pictures, one in black and white and one in colour, required a completely different approach to the separations. The focus had to be on the linearity of the several layers of each colour printed – first in the separation process and later during printing. The stability of each single layer had to be guaranteed in order to get consistent results.
How did you overcome those challenges?
We have produced plenty of editions using our SERICHROMA process. Over time this process has been refined and significantly improved, and it is now something we're very comfortable with and proficient at.
How many people were involved in the project?
Five people were involved.
What's your favourite aspect of the product?
There is no other printing method that can fill an uncoated paper with the brilliance and saturation in the way screen printing does. Being able to reproduce even the finest gradations from light to dark is an extremely satisfying aspect.
What do you think you offer to clients that competitors don't?
I believe we have a clear understanding of an original brief – we ensure this is realised and are patient enough to excel.
How sustainable were your processes?
We have been aiming to avoid excessive waste for years by reusing printing materials, recycling components and using renewable energy.
What does winning a FESPA award mean to you?
Winning a FESPA award is a fantastic recognition of our artistic approach toward screen printing from a panel of worldwide experts.
Become a FESPA member to continue reading
To read more and access exclusive content on the Club FESPA portal, please contact your Local Association. If you are not a current member, please enquire here. If there is no FESPA Association in your country, you can join FESPA Direct. Once you become a FESPA member, you can gain access to the Club FESPA Portal.