People in Print
Debbie McKeegan: inspiring interiors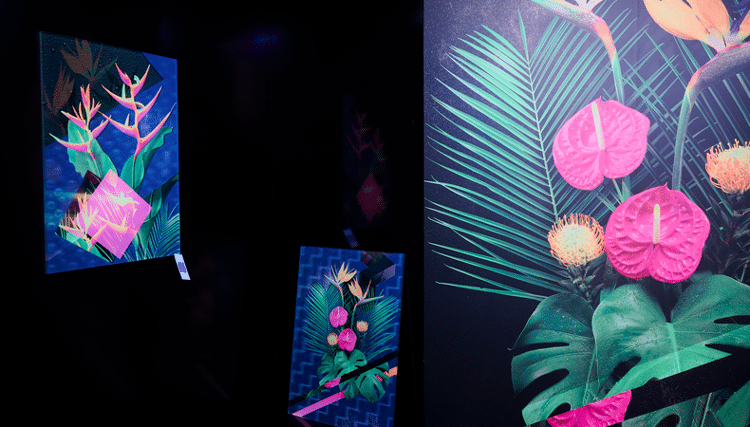 The Printeriors curator on bridging the gap between graphics and the interior décor industry.
Originally created in 2019 and put on ice for two years because of Covid-19, this botanically-inspired collection was one of the top draws at the FESPA Global Print Expo 2021 held in Amsterdam on October 12 to 15.

Standout exhibits included textiles, lightboxes with touchable, interactive elements, neon and lenticular wall prints, and striking wallcoverings, glass, ceramics and digitally printed fabrics using the latest sustainable, customisable technology. The almost other-worldly colours and shapes of the plant world were depicted on a variety of surfaces.

The Printeriors showcase was styled and curated by Debbie McKeegan using designs from Jasper Goodall to push the boundaries of what is possible in the world of interior décor. We caught up with Debbie in Amsterdam.
Compared to the rest of the FESPA Global Print Expo, the Printeriors spaces is like a beautiful, calming oasis. Was that deliberate?
Debbie McKeegan: What we've created here in Printeriors is a visual bridge between the graphics and the interior décor industry, because in reality they are very different marketplaces. They use different materials and require completely different aesthetics as far as design goes, because in an interior, you attempt to create an ambience, a drama, a mood or a lifestyle, or a brand identity for a unique targeted environment hospitality for example. The wide format industry is driven by printing statement graphics, and artwork for events that create a unique pop-up for a moment in time.
How sustainable is this Printeriors exhibit?
We have tried to source environmentally responsible products wherever possible. We are showcasing lots of cellulose biodegradable materials as well as rPET, recycled polyester substrates.

The modular frames that the pieces are displayed on are made of low-carbon aluminium. We are still waiting to calculate the exact carbon footprint of the stand, which won't be perfect this time around because, unfortunately, due to Covid we've had to move to different venues. But it was in the brief right from the beginning that we should use as much sustainability process as possible.

Looking ahead in two or three years we would anticipate that the carbon footprinting of Printeriors will see considerable progression. Our aim is to attribute the carbon cost of as many printed products as possible and avoid subjective greenwashing. Customers are becoming interested in increased transparency both in terms of environmental impact and the supply chain. A lot of the brands are selectively using carbon footprint data to give a better impression of their sustainability. If you take a close look, many brands have achieved more limited goals that distract attention from larger systemic problems.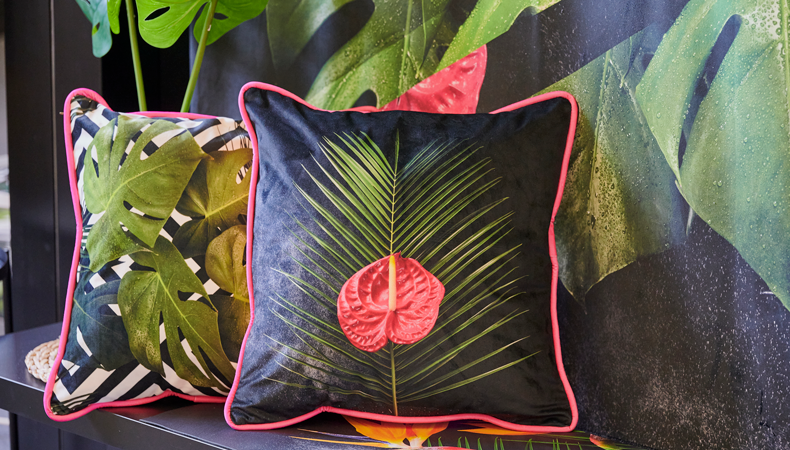 What can you tell us about some of these products?
We have collaborated with lots of vendors. Technologies range from pigment, Latex, dye sublimation and UV. Across the showcase we have environmentally sourced materials utilised inline with eco-friendly digital printing technologies.

HP Latex technology is driving the agenda not just with the inks they use or the amount of energy used in printing, but also in respect of the machines being engineered using recycled polyester, recycled plastics and recycled metals.

Wherever you see the little green symbols on the cushions or rugs or wallpapers, those are sustainably sourced responsibly produced textiles and wood.

These patterns projected with lights onto a chair, for example, create a glimpse of the future, a nod to AI, 3D rendering, customisation and e-commerce.
How did you choose the specific technologies to showcase here?
I know all this technology and the marketplaces in depth. I had my own digital textile printing facility for 15 years, having spent my entire career in textile design and production. I remain a passionate pioneer for the digital printing process and its application across fashion, interiors and the events industries. I bought my first digital printer in 1998. So having an understanding of the technology, the markets, design and production process and materials makes it easy for me to produce the ranges.

My experience means I know all the appropriate technologies for each application and the materials intimately, which allows me to be experimental and also to deliver the right products for the interior marketplace. And that makes a huge difference because in the textile industry and in the interior industry, the markets are looking for new substrates, new processes and applications – sustainably sourced and recycled products are in demand. The industry has an established supply chain utilising a core of substrates that conform to fire regulations and durability standards – these are also reflected here in the Printeriors showcase.

I'd define my role as bridging the gap between design and production. I also aim to inspire and shout out the key trends driving our industry forward.

Enviromental production is now paramount. The Organic collection, for example, showcases products printed with Kornit technology using pigment without the need for large volumes of water.
What does FESPA Global Print Expo next year hold for Printeriors?
We've been listening carefully to the Printeriors audience, who are very engaged this year. There is a new impetus in our industry, and a quest for knowledge. Visitors want to see new materials, technologies and applications. A lot of the questions I'm getting are: where can I buy that fabric, how should I print on it? Visitors see the interior décor sector as a huge growth opportunity – and they are right!

Become a FESPA member to continue reading
To read more and access exclusive content on the Club FESPA portal, please contact your Local Association. If you are not a current member, please enquire here. If there is no FESPA Association in your country, you can join FESPA Direct. Once you become a FESPA member, you can gain access to the Club FESPA Portal.