People in Print
Celebrating talent in the Associations Pavilion at FESPA Global Print Expo 2022: Thailand and Spain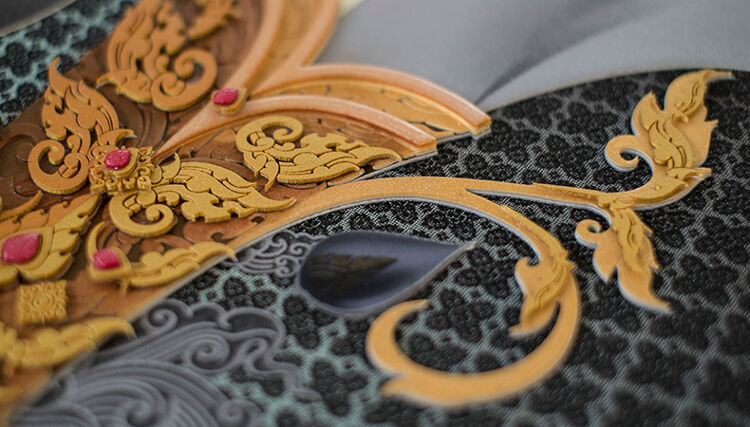 The Associations Pavilion at the FESPA Global Expo 2022 in Berlin (31 May–3 June) gives members the opportunity to showcase samples of work both digitally and screen printed. Visitors to the Messe Berlin will learn how diverse applications were printed and finished by members from 16 countries, including Thailand and Spain.
Thailand (TINPA)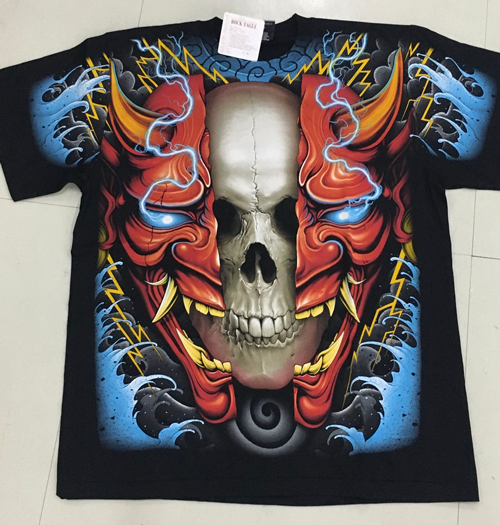 Demon-Inside-Kabuki Art
Kabuki is a Japanese performing art utilising dance, drama, costumes, and make-up. Colourful kabuki emblems have been applied to the body as tattoos, which sometimes appear frightening, as if there was a demon inside the body full of evil. The designers of this work attempted to access that dark side of the imagination in this T-shirt.
Made by Theraprint Co Ltd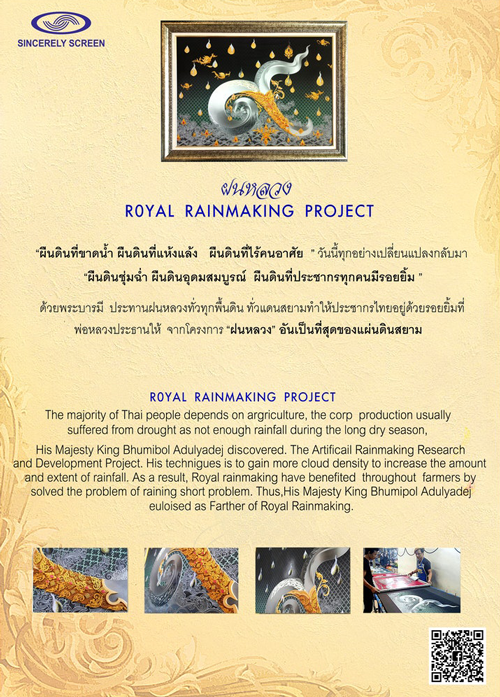 Royal Rainmaking Project
Most Thai people depend on agriculture, but crop production often suffers from drought because of a lack of rainfall during the long dry season. His Majesty King Bhumibol Adulyadej (who died in 2016) inaugurated the Rainmaking Research and Development project, intended to increase cloud density and the amount and extent of rainfall.
Made by Theraprint Co Ltd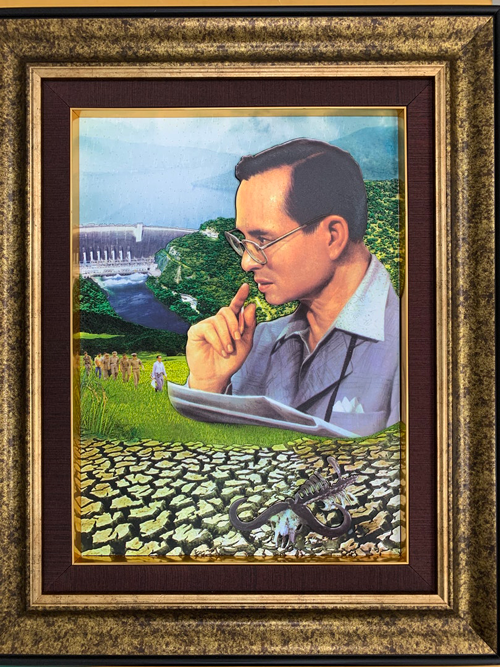 King Bhumibol the Diligent
Picture commemorating His Majesty King Bhumibol Adulyadej, who dedicated research and development in Thailand for over 70 years.
Made by Theraprint Co Ltd

Spain (FESPA España Asociación)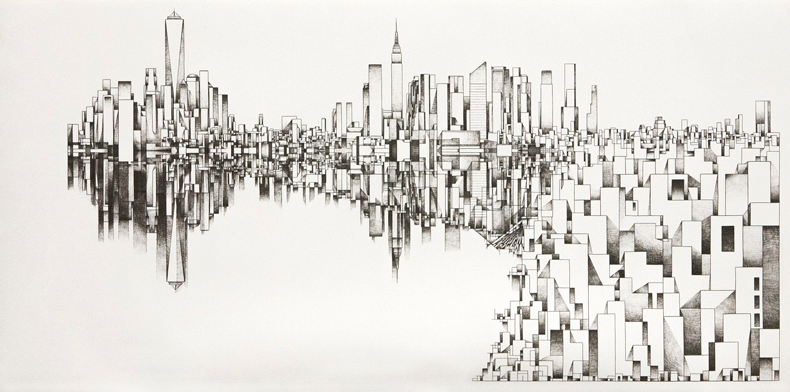 New York by Sergio García Sánchez
The original project for this 12-act graphic novel was displayed on the walls of a museum (Centro José Guerrero, Granada) as part of an exhibition entitled The Overflowing Vignette, where the authors Sergio García and Max scattered their drawings throughout the building and the museum.
Made by Christian M. Walter – Taller de Serigrafía – Edición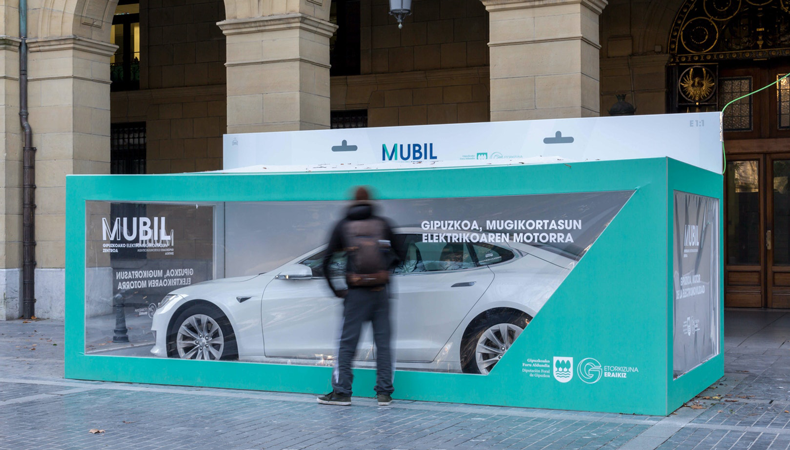 Large textile printing format, including sublimation on canvas for outdoor advertising
A life-size car box created within the framework of the campaign designed for MUBIL by advertising agency Dimension, Druck has manufactured a support that exposes an electric vehicle (Tesla) to people who walk past. Different rigid and flexible materials were used to manufacture the structure of the box and produce the graphics that surround it. The particularities of this support are precisely the dimension and the specific requirements of the project: real-size manufacturing designed to remain outdoors for a long time through durability and resistance.
Made by Druck Facktoria Grafika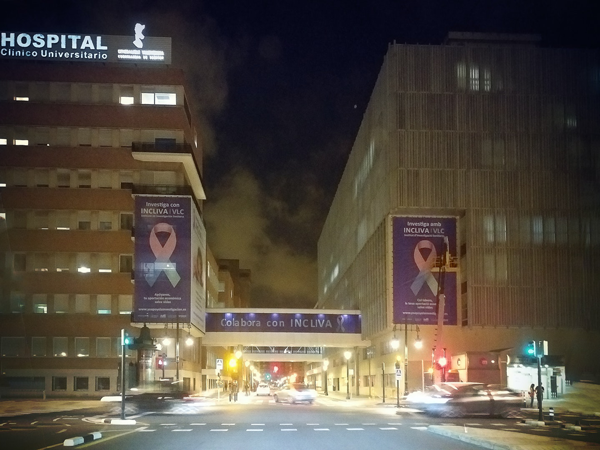 Valencia Clinical Hospital
Covering part of the façade of this hospital featuring 209m2 of canvas was a challenge. The substrate was printed and micro-perforated with double reinforcement and TIR eyelets every 50cm. The choice of technique is intended to ensure durability in windy and rainy conditions and quick installation once the frame is mounted. The canvas was printed on 3.2m-wide micro-perforated canvas coils using Ynta ecosolvent and heat-sealed together. The cloths are heat-sealed together to achieve large-sized canvases.
Made by Molcaworld
Become a FESPA member to continue reading
To read more and access exclusive content on the Club FESPA portal, please contact your Local Association. If you are not a current member, please enquire here. If there is no FESPA Association in your country, you can join FESPA Direct. Once you become a FESPA member, you can gain access to the Club FESPA Portal.