People in Print
Best in show at the FESPA Awards: All About Graphics immersive Printeriors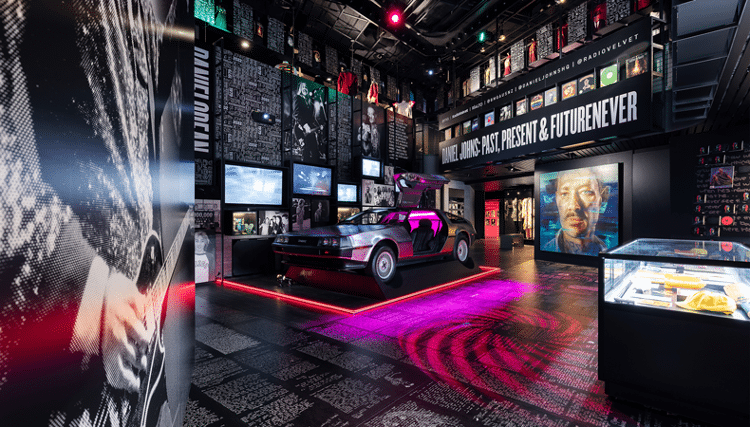 All About Graphics won a Gold Award in the Printeriors category and the Best in Show for its stunning multi-media, multi-level experience. We spoke to the team at AAG and part-owner Mark Burley.
What was the brief for your award-winning entry, and what were you attempting to achieve with the work?
The 'Daniel Johns: Past, Present and FutureNever' exhibition was created by the iconic Australian musician, primarily to promote the release of his album FutureNever. It also provided Johns with a personal way to engage with his audience after his hiatus from traditional touring. The opportunity aimed to reinvigorate Melbourne as the city emerged from the world's most prolonged lockdown due to COVID-19. Located on a prime corner of Collins St, Melbourne, the large, vacant space had sat idle during the pandemic and was subsequently chosen to house the exhibition.

The space was transformed into a multi-level immersive experience that invited viewers to journey through time, surrounding themselves in Daniel Johns' creative world of art, memorabilia and music. The project involved collaborating with a wide range of creatives, including artists, designers, lighting specialists, photographers and projectionists. All forms of print media, combined with custom-built displays and sets, created a truly opulent experience that was both emotionally driven and visually impactful. The team worked to overcome the many challenges presented by the vacant space, often adapting and redesigning elements to ensure the best visual result. The ground-breaking exhibition surpassed all expectations, and the album FutureNever became Australia's best-selling album in 2022.
How were you inspired to do the work?
Inspiration simply came from the challenge we were given. We had many different areas of presentation – mixed media, spaces, print, projection, music, displays – so inspiration was easy to come by!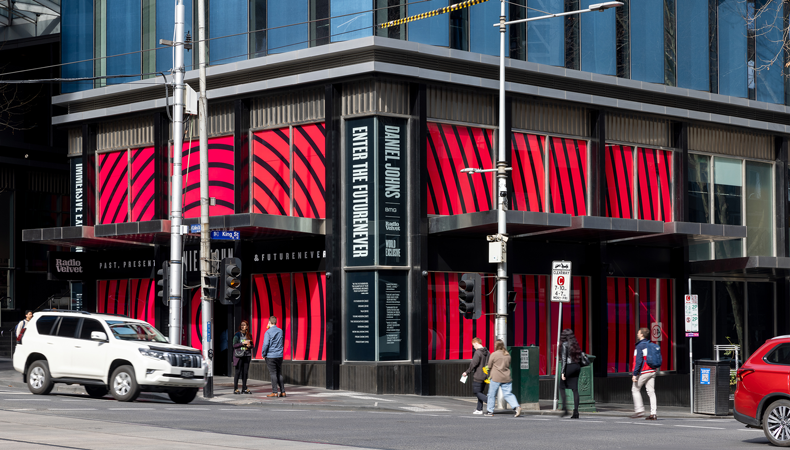 How long did you have to complete the project?
The production timeframe was initially set for three months, but the actual timeframe for the team to produce and complete this installation after delays (out of our control) was three weeks. This obviously became a massive challenge, which we overcame by sheer persistence.
What are the benefits of the material choices that you made?
Printing and production were highly varied due to the nature and size of the exhibition. The works incorporated fine art printing, wall/floor/window vinyl graphics, wallpaper printing, signage printing/ manufacture, and display and set production.
Fine art – printed onto SIHL IvoryColor 210 using Canon PROGRAF PRO-4000 with Lucia Pro pigment ink.
Printed wall vinyl (and various surfaces) – Utopia removable grey back easy apply mono SAV printed via HP Latex 700 W.
Printed Mounted Graphics – Arlon 510 mounted onto 10mm Evirocor (hexacomb board) or 3mm composite panel, printed via HP Latex 700W and mounted onto board via Bobis Multi Applicator.
Printed Window Graphics – Fluoro pink vinyl printed on Canon Colorado 1650 – Orafal 7510 – 046 pink fluorescent & Silver chrome vinyl – Aslan CA30 Silver mirror printed on Epson S80660L and mounted onto 5mm Kapa mount.
Printed Floor Graphics – Avery MPI 6021 removable anti-slip floor vinyl printed via HP Latex 700 W.
Acrylic display manufacture – a combination of 3mm and 4.5mm acrylic display manufacture, CAD design, Multicam CNC Router cut and hand assembly of displays.
Display stands and set/stage manufacture – printed graphics via HP Latex 700 W onto Arlon 510 and mounted onto various panels via Bobis Multi Applicator, display stands designed in AutoCAD, panels CNC router, cut to shape and assembly completed on-site.
What were the key challenges involved in the project?
A key challenge was translating award-winning Art Director Eddie Zammit's artistic vision into a high-visual-impact exhibition, balancing site constraints, production techniques and managing the budget.




One of the biggest challenges when we started this project was that not a single screw could be placed anywhere. The venue had to be returned to the identical condition it was in when we started – not being able to fix anything to the walls or floor meant that everything had to be designed to be free-standing and removable so that it could be assembled inside the space and disassembled after the exhibition. It also had to meet the highest safety standards, with thousands of visitors passing through the exhibition.

To give an example of the complexities, almost every surface had to be wrapped in removable self-adhesive vinyl. We needed to use a special silicon adhesive for the bottom plates of wall partitions on the concrete floors so they could be removed without damaging the floor. Free-standing screens were built to cover areas of the venue that were not to be seen. Regarding window graphics, external access was an issue, so we opted to construct double- sided panels, printed on both sides, which were inserted into the oversized window frames. We even built a free-standing "laundrette" on the mezzanine level – it was like creating a film set that needed to cope with an audience passing through on a daily basis.
How did you overcome those challenges?
All of the challenges with production time and installation were overcome by the 3 Cs: communication, collaboration and compromise.
How many people were involved in the project?
Approximately 25 people were involved with the main fit-out and disassembly.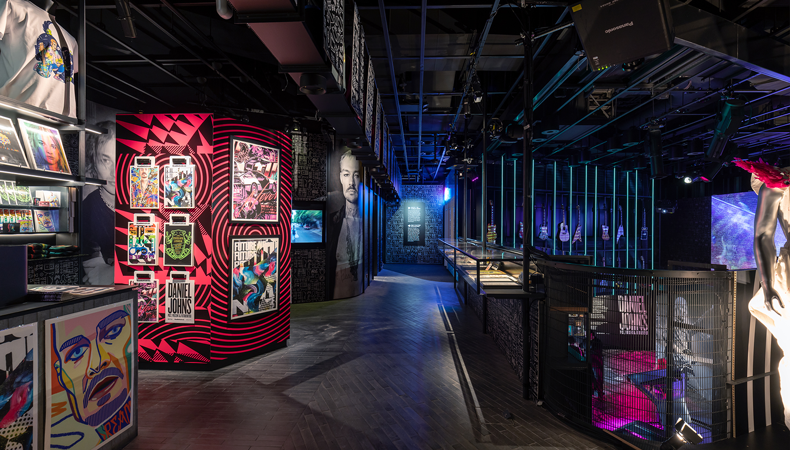 What's your favourite aspect of the product?
My favourite part of the exhibition was walking into the vast completed space as a visitor and being overwhelmed by the visual display of all the products working together – a truly immersive experience!
How sustainable were your processes?
Given the specific requirements of the products for the exhibition, we were unfortunately unable to use as many sustainable products as we would have liked; however, we did implement wherever possible. The main priority for this exhibition was high impact with durability and, most importantly, removability to return the site back to original condition.
What does winning a FESPA award mean to the company? Especially as you haven't won one before!
We were completely blown away with winning Gold for both "Printeriors" and "Best in Show" – it was completely unexpected. Not that we didn't have any faith in what we had produced as an exhibit but more because we had never entered for any awards before and were completely unfamiliar with the process and knew there would be entries from all over the world.

From a company perspective it reinforces the quality and expertise of our staff and business to our existing – and hopefully future – clients. We are now in uncharted waters and are currently looking at how best to promote this amazing FESPA award to maximise interest in the quality work we can produce. We are looking forward to presenting new projects at FESPA in the future!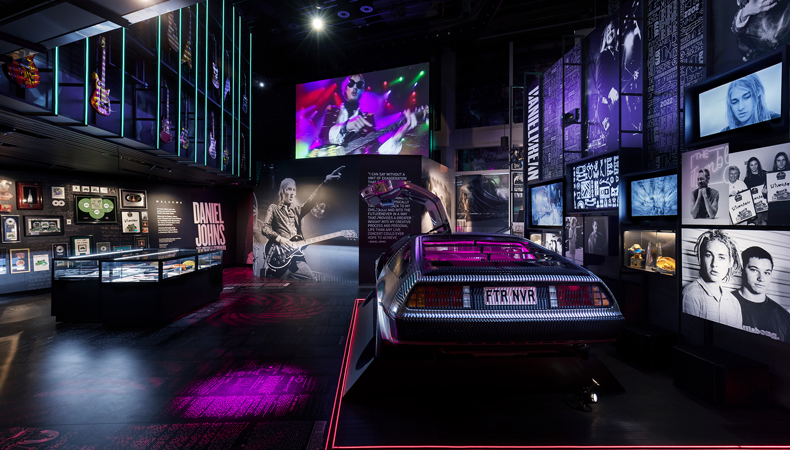 Tell us briefly about All About Graphics.
All About Graphics was founded in 1997 and originally set up to specialise in the corporate graphics/printing space. In a short space of time, we acquired a large format colour scanner and mated it to a HP wide format printer to enable large format colour copying, scanning, and printing. This quickly shifted to fine art printing and, shortly after, wallpaper printing. Our work then progressed into the display, exhibition. Commercial and residential space. After approximately 25 years we have cemented ourselves in fine art production, corporate display, exhibition and event, domestic interiors and signage/display manufacture.

All About Graphics has remained a small business averaging around four employees plus two owners; however, we have formed connections with installers, fabricators and some printing companies (similar to ourselves) in every Australian state and New Zealand to enable us to work on all sorts of projects in every location required.

The FESPA Awards will return in 2025 – celebrating the achievements of printers and signmakers from across the globe and recognising their skill, talent, creativity and innovation. Each year, hundreds of outstanding entries are received, covering 18 speciality categories, judged and shortlisted by our panel of experts. As the longest-standing and only independent print industry awards, renowned throughout the world of print and signage as the place where industry standards are set, the FESPA Awards provide the ultimate platform for businesses to showcase their work.
To discover the latest innovations, technologies, case studies and market trends surrounding the interior décor industry, explore FESPA Printeriors.
Become a FESPA member to continue reading
To read more and access exclusive content on the Club FESPA portal, please contact your Local Association. If you are not a current member, please enquire here. If there is no FESPA Association in your country, you can join FESPA Direct. Once you become a FESPA member, you can gain access to the Club FESPA Portal.