People in Print
Avengers assemble: superhero garments win special effects FESPA award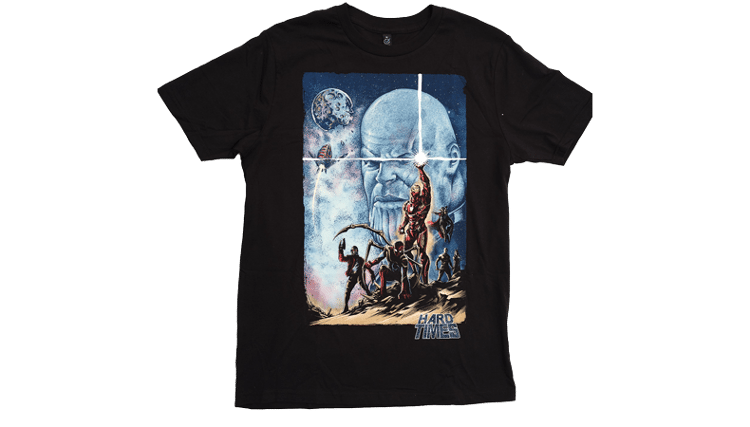 Monster Press blends two separate fantasy worlds to create eye-catching garments.
An Avengers and Star Wars "mash-up" won Monster Press the FESPA Gold Award for Special Effects on T-Shirts and Garments. Based on the first Star Wars poster designed and painted by Tom Jung in 1977, it was designed by Indonesian artist Megan Mushi for Hard Times Clothing. This is a seven-colour screen print with a discharge underbase, which helps the halftones blend and provide a soft and vibrant finish through a 90 mesh with Magna water-based discharge and Wilflex MX Pantone colours. It was printed on continental EP01 organic cotton T-shirts on a MHM S-Type Xtreme 10 colour with Calmatech Quartz flashes.
What was the brief/inspiration, and what were you attempting to achieve with the work?
This was an active print job for a customer we've been working with for the past 10 years, Hard Times Clothing. They have some great artwork from excellent designers, so they are always a pleasure to work with. The concept is a "mash-up" of an iconic 1970s Star Wars poster… and The Avengers. As with all our work, we strive to make sure that everything we print for customers meets our high expectations. This means that the following factors are achieved: vibrancy, hand feel and detail. We believe this print is a prime example of the quality of work we produce.
What inspires you in your work?
We are consistently inspired to progress within this industry, and we have come a long way over the past 15 years, but our attitude is we always have something that can be improved.
How long did you have to complete the project?
In terms of production time, a job like this would typically take around two and a half hours from set-up to completion.
What are the benefits of the material choices (printers, inks, substrates etc) that you made?
We decided to print the entry on EarthPositive classic tees as we have found them to be one of the most consistent shirts to print with discharge ink. We chose to go for a discharge underbase with Wilflex MX plastisol top colours. This combination allows us to strike an optimal balance between colour accuracy and softness. It also enables smoother blending of the inks into the base and shirt than using a plastisol underbase.
How many people were involved in the project?
We have a team of seven production staff, so everyone contributed to the project.
What's your favourite aspect of the product?
It was a cool design concept, and we liked how nicely the colours blended together into the shirt.
How sustainable were your processes?
While we used EarthPositive shirts for this project, which are well known for their sustainability, we don't strictly identify as an eco-friendly shop. Full sustainability can be elusive in this industrial process, given the vagueness of the term "sustainable". Nevertheless, we are committed to managing our waste responsibly, reusing and recycling where possible, and minimising our water and power consumption.

Our sustainability strategies include adopting direct-to-screen (DTS) technology over traditional film methods, using a self-contained auto reclaimer to filter out harmful substances, implementing LED lighting, and some of the most energy-efficient dryers, machinery, and equipment available on the market. We ensure that misprints and excess stock are either repurposed or donated. Despite the ongoing challenges, we continuously consider the sustainability of our processes and strive for continuous improvement.
What does winning a FESPA Award mean to Monster Press?
Winning a FESPA Award is a significant achievement. It serves as a testament to the dedication, skill, and hard work of our entire team. We see it as a validation that we're on the right track – our efforts are making an impact, and our commitment to quality is recognised. It's certainly a morale boost for us, encouraging us to strive for even greater heights in our industry.

Become a FESPA member to continue reading
To read more and access exclusive content on the Club FESPA portal, please contact your Local Association. If you are not a current member, please enquire here. If there is no FESPA Association in your country, you can join FESPA Direct. Once you become a FESPA member, you can gain access to the Club FESPA Portal.