People in Print
A touch of glass: the secrets behind this award-winning bottle design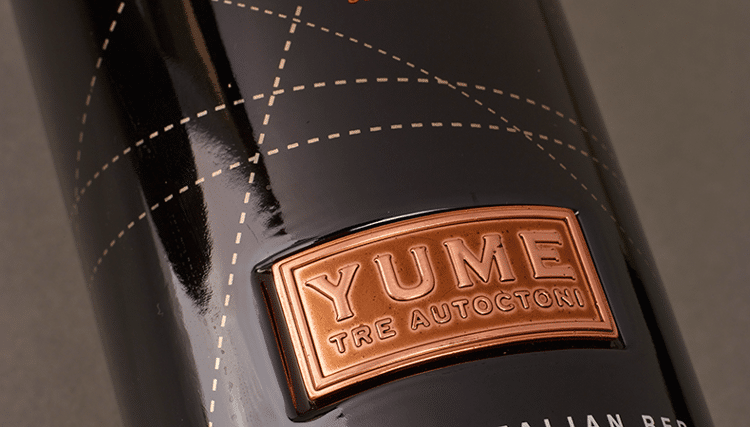 P&P Promotion used hot foiling, thermal fusion and Italian style to print its Yume (Farnese) wine bottles and won the 2019 FESPA Gold Award for direct printing on 3D products.
What were you attempting to achieve with the work?
To give our customers an original and sustainable packaging design on glass. The bottle had to be recognisable among millions of others, so it needed a special and elegant decoration, which proved to be innovative in the final result, as well as in the process.
What inspired you?
One of the most attractive details of the bottle is the copper plaque on the front. We thought the customer would like to have something really new. For this reason, we decided not to use well-known techniques such as applying aluminium plaque or pewter adhesive. We thought about Italian fashion and, in particular, about the footwear industry. We were inspired by the buckle on a shoe, so we projected a special die-cast pressure plaque in copper colour to be inserted in the bottle. This would give the bottle a 'made in Italy' style.
How long did the project take in total?
The project took six months for tests – graphical adaptation, material testing, printing test. The production took 20 days in total for a batch of 30,000 bottles.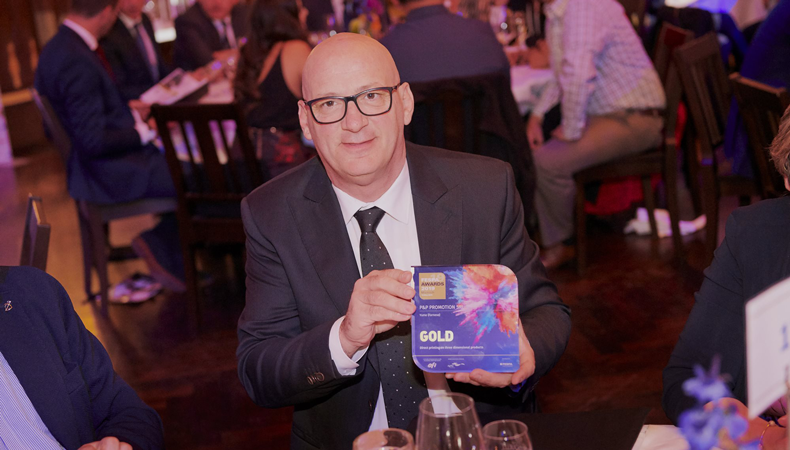 Paolo Lorusso, CEO and founder of P&P Promotions, with the firm's FESPA Award
How many people were involved in the project?
Five people in the starting test, two of whom were in charge of the graphics. Then, on the production line, four people were dedicated to each step, including printing process, quality control, production management.
What were the key challenges involved in the project relating to technology, materials, installation, design, sustainability, etc? And how did you overcome them?
The project was very difficult to realise due to the great number of different steps.
The first challenge involved the conical shape of the bottle, which had several non-uniform diameters because of an insert in the bottle, projected for the application of the die-cast pressure plaque. The management of this factor was challenging because of the bottle's rigidity. Dashed lines have been printed in real platinum and copper foil (with colour matched to the inserted plaque). In addition, we used our patented-system molecular change in glass colour technique with coloured dust powder, 100% sustainable. The result is an indelible, highly mechanically and chemically resistant decoration.
The process involved high temperatures, which are very difficult to co-manage with the other steps because different materials have different reactions towards heat. The process was a success thanks to our skilled team, who worked hard to create innovation in glass packaging: an example has been our development of fast hot-foil printing in our factory.
What were the benefits of the material choices you made?
All the materials chosen were 100% natural. We use glass powder and real precious materials. The benefits are better resistance, no scratching and sustainability.
What projects are forthcoming for you?
We have just made some investments in a flaming system and in a new eight-glass colour and four-UV colour machine. This latest-generation rotative machine is able to print up to 80pc/min on conical, oval, squared, cylindrical and rectangular shapes with an electronical control and a camera centering. Now, we are progressing towards the installation of a new line for our patented CMCV process.
How has the FESPA award changed things for you?
The FESPA Awards provide us with prestige and we have received attention from important brands. Moreover, it has given us the possibility to meet up with experts and creative agencies.
What would you say to people thinking about entering the awards?
It is very challenging and gratifying to be judged by such important experts in printing sectors. Moreover, the prize-giving at the gala dinner has been one of the most wonderful memories in our company history, a real emotion which we will never forget.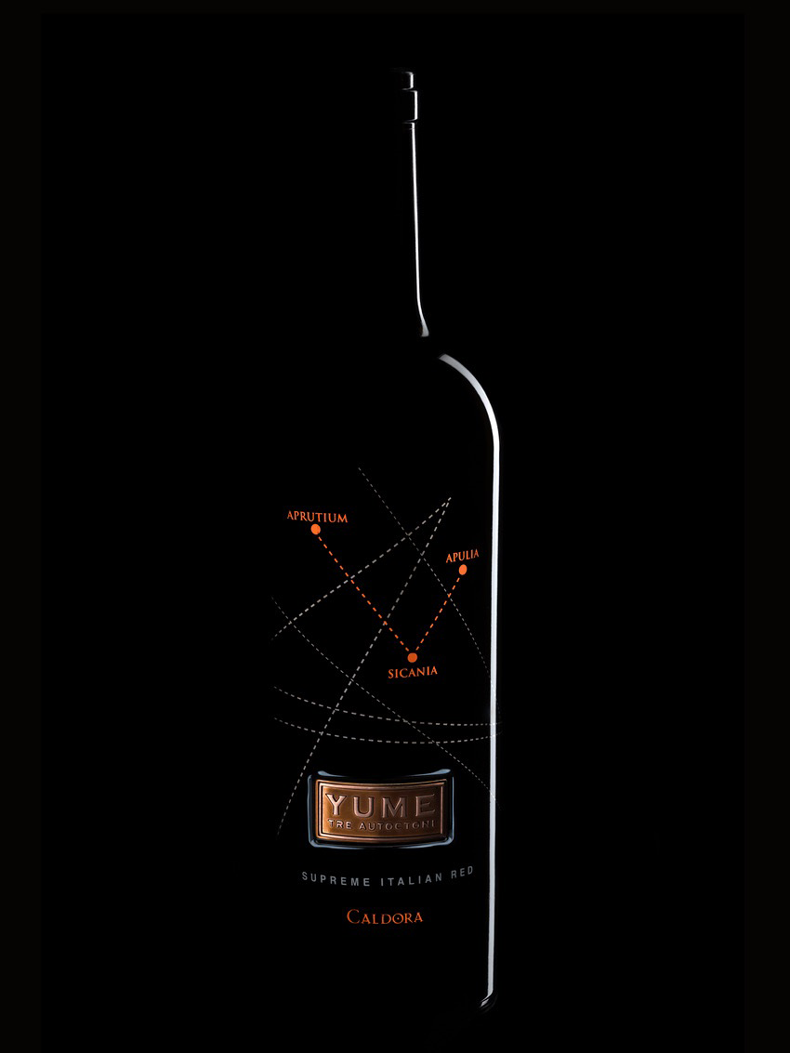 Become a FESPA member to continue reading
To read more and access exclusive content on the Club FESPA portal, please contact your Local Association. If you are not a current member, please enquire here. If there is no FESPA Association in your country, you can join FESPA Direct. Once you become a FESPA member, you can gain access to the Club FESPA Portal.