How to Guides
Seven wonders of the printing world: 1. Rotterdam Markthal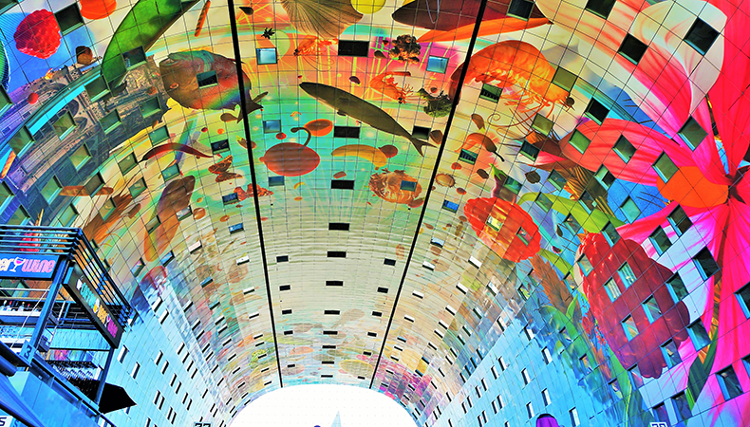 It's been called the "Sistine Chapel of Rotterdam", but how did printers cope with the challenges of rendering an 11,000 square-metre artwork onto this dizzying 40 metre arch?
Visitors to the Rotterdam Markthal (or market hall) might be forgiven for forgetting their shopping list. Towering over them, curved around a 40-metre-high arch, larger-than-life strawberries, plump cherries and silvery fish – a cornucopia of succulent produce – seem to tumble from the inner facade.
The market hall, an icon of the city and already a modern classic, is a horseshoe-shaped shopping, working and living complex already dubbed the "Sistine Chapel of Rotterdam" and "the largest artwork in the world". If the building is a triumph of architecture (credit to MVDRV), it's also a triumph of art, logistics – and the sublimation skills of TS Visuals, which earned the plaudits of judges at the 2015 FESPA Awards and was named overall winner.
Dutch artist Arno Coenen created the artwork for the inner facade, Horn of Plenty, a digital image stretching over 4,000 panels featuring gargantuan fish, flowers, fruit and vegetables measuring 11,000 square metres – or two football pitches. Below, all the pictured goods are sold on the market floor. "You feel like an insect when you stand under it," said Coenen. "That is also the idea behind it – that childish sense of wonder that you had when you used to read Alice in Wonderland."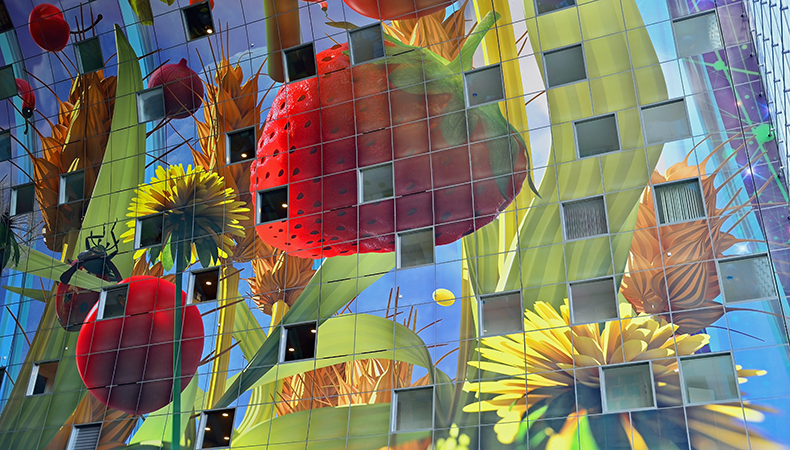 Coenen enlisted the help of animation giant Pixar – makers of Toy Story and Finding Nemo – to render his image large and sharp enough to fill the towering arch – the final file used was 1.7TB. And TS Visuals, a specialised hard substrate printing company with 20 years of experience in large format printing and dye sublimation, was selected to print the panels.
Sublime glory
With an image this size, TS Visuals needed to achieve accurate levels of colour consistency with every panel they sublimated. RIP colour management features helped match spot colours to reproduce the exact colours on the metal panels. TS used benchmarks in the production process to guarantee consistency, from making test prints and regular calibration to standardised substrates.
The artwork was then tiled and printers added crop marks and annotations to all tiled images, saving time and avoiding confusion when transferring the image to the substrate: the metal panels.
All 4,000 panels, mostly measuring 1.5 x 1.5m, but also in seven different sizes, were made of perforated aluminium – due to acoustic requirements.
TS Visuals's own research department designs its own lightweight durable panels made from glass, steel, wood or other coated surfaces that can be cut into any shape.


Each panel was coated in scratch-resistant, high-gloss powder to ensure it remained graffiti-free and given a colour profile and a unique code matching the coordinates of its position on the ceiling. Many of the panels were bent after printing, giving a 3D air to the artwork when in position. Applying the coating after perforating reduced the risk of corrosion on the edge of the holes: the Markthal looks as good today as it did when it was first built.
TLS then used sublimation – which lends unbeatable colour strength, depth and durability to the finished piece – to transfer the image to the substrate, using a heat press to bond 4,000 images to the coated panel. These techniques, honed over 20 years, created a perfect marriage of decoration and functionality, with a vibrant, long-lasting image quality.
The Rotterdam Markthal is at Verlengde Nieuwstraat, 3011 GZ, Rotterdam, Netherlands.
Become a FESPA member to continue reading
To read more and access exclusive content on the Club FESPA portal, please contact your Local Association. If you are not a current member, please enquire here. If there is no FESPA Association in your country, you can join FESPA Direct. Once you become a FESPA member, you can gain access to the Club FESPA Portal.